UCF takes on LSU in the Fiesta Bowl on New Years Day, looking to complete their second undefeated season in a row.
LSU, will be the toughest challenge for UCF this season without a doubt.
I charted every play in FBS games for both teams (only the first 2 and a half quarters of the Rice game for LSU) in order to use analytics to breakdown LSU from an offensive, defensive, and play calling standpoint.
This game is a complete contrast in styles in my opinion and for that reason is going to be a very interesting game when it actually happens.
This is going to be very long, so I broke it down by LSU's defense (what I think most people are interested in), LSU's offense, and then a couple playing calling tendencies at the end.
I'm not really including a lot of UCF information, but will mention the major defensive weaknesses that I've found throughout the season and a couple of other things here and there.
My numbers aren't strength of schedule influenced and I feel LSU's would be better if they faced UCF's schedule and vice versa, however with a full season sample size, I do believe that they are indicative of where a team is vulnerable and where they are strong.
LSU's Defense:
LSU's defense has been tremendous all season. I won't get into any raw stats, because I don't like raw stats, but if you watched any college football, you know LSU played good defense.
I'll start with what I think is the key for UCF.
Run Defense:
Everyone thinks about LSU and wants to automatically say, great running team and great at stopping the run.
I actually think, UCF has a good chance to win at the line of scrimmage in this game. I'll explain from the opposite side later, but in order to win this game, UCF is going to need to run the ball often.

I charted 255 rushing attempts (Non-QB) against LSU this season. They allowed a 51.76% success rate on these rushes. This is a pretty high % to allow and would indicate an area to attack if I was an opponent.
If you look a little further into the directional runs, you'll see that to the right tackle, they allow a 62% success rate and to the left tackle, a 58.54% success rate. These are extremely high.

Now, take a look at UCF's directional rushing (Non-QB). They have a 56.69% overall success rate on 344 attempts. They don't really have a weakness, and have been successful rushing in every direction where LSU really hasn't been great at stopping runs to any direction.
Furthering the point of running the ball, LSU allows 2.24 yards after contact per rush and 2.54 before contact. Giving up about 4.74 ypc is a good chunk.
LSU also allows a 15.24% explosive run rate (rushes of 10+ yards). Memphis had a 21% explosive run rate and were one of if not the best rushing teams in the country to put that 15.24% in a little bit of a perspective. You'll also see how low LSU's is in a little.
I also charted run disruptions and player to make first contact.

This includes QB runs, so that's why the numbers are different. LSU made first contact @ or behind the LOS on 28.39% of rushes so about 1 every 4 rushing attempts. This is a very respectable number.
However, LSU will be without two D-Linemen this game. Here is the production they'll be without.

Ed Alexander had 9 stops at or behind the line of scrimmage compared to Fehoko's 2, in which he missed both tackles.
So Alexander, who missed a lot of time due to injury, could be an impactful loss for the Tigers.
With Darriel Mack at QB for UCF, everyone knows he'll be involved heavily in the run game as well.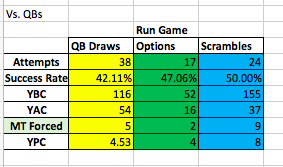 LSU has played both Kellen Mond and Nick Fitzgerald, both two really good rushing QB's and similar in running style to Mack, so I really think these numbers are a good indication of what to expect.
On read options and speed options, LSU's allowed 4 ypc to QB's and a 47.06% success rate. Pretty average from both perspectives. On designed QB runs, they've allowed 4.53 ypc and a 42.11% success rate so they've been pretty solid at defending QB draws.
Mack doesn't scramble, if he does, it's very rare, but scrambling has been effective vs. LSU.
Red Zone Defense:
I think the red zone is going to be critical for both teams. It always is, but I expect limited opportunities from both sides so FG's aren't going to cut it.
I didn't go into pass defense yet because I wanted to further my point of why running the ball will be so important.

In the red zone, LSU allows a 58.46% success rate on rushing attempts. That's not very good if you ask me. Compare it to a 34.69% success rate against passes and I think it's pretty obvious what you want to do against this Tigers defense in the red zone.
I further broke this down by personnel vs. min the box inside the 5 yard line.

There are a ton of matchups here to look at so I won't blurb a paragraph about it, as it's pretty self explanatory. I am big believer of using multiple receivers out wide to run the ball short yardage because it just gives you a better number advantage.
Some notes I wrote, about inside the 5 plays. Running between the tackles was successful 6 of 11 times. Outside the tackles, 7 of 14, so you can't go wrong.
QB runs were only successful 4 of 10 times, this is something we saw Heupel do with Mack against Memphis. Mack is extremely strong and physical, but so are Mond and Fitzgerald.
Devin White:
White is probably LSU's top defensive player and is playing in this game despite NFL dreams as well as Grant Delpit who is another stud.
I charted what White did on every snap. There were 4 options; Run defense, coverage, pass rush, and off the field.
Nothing crazy.

He played 647 snaps of the 739 that I charted. A lot of the off the field ones came when he had to sit out the 1h against Alabama due to a pretty controversial targeting call.
UCF will be lucky if he sits out a series in the Fiesta Bowl.
Of his 647 snaps, 282 of them he was in coverage. Most of these he kind of played center field for short passes as a linebacker.

In direct one on one coverage, he allowed 8 of 11 catches, a 54.55% success rate and an average 4 yards after the catch per reception.
The area to attack White is downfield. He faced 4 targets on balls thrown 10+ yards in the air, all 4 the receiver was open. Two catches, one drop, and one inaccurate throw, but on all 4 the receiver won the battle.
He rushed the passer on 93 snaps. 32 came on a blitz. You might think, he's a linebacker isn't it a blitz every time he pass rushes. I chart a blitz as a play where 5 or more guys rush the passer.
On 19 of those 93 snaps, he recorded a pressure whether it be a hurry/knockdown/sack. That's a 20.43% pressure rate. I believe Alabama and Clemson are the only two teams in the country with over a 40% pressure rate, so 20% is pretty respectable. 14 of those pressures came from the middle of the line.
On his 272 snaps against the rush, he recorded first contact 17% of the time, 2.48 yards past the line of scrimmage on average, but only recorded a 4.41% run disruption rate. He also missed 4 tackles on rush attempts.
LSU allowed a 52% success rate on plays where White wasn't in, clearly showing his impact on the defense.
White's presence is huge for LSU, but I don't believe he's a guy that's going to absolutely dominate the game, nor should UCF try to gameplan against him. He's going to have his huge plays because he's a damn good football player, but I don't expect him to take over the game single handily like Trysten Hill did against Memphis.
Pass Defense:
UCF's passing attack is lethal and has been all season, but I don't expect it to be against LSU.
First off, LSU's D coordinator is one of the best in the country and with a month to prepare, he's going to have a defensive scheme that's a lot more difficult for Mack than Memphis' was.
I went through just about everything pass related to find a weakness in LSU's coverage and to be honest, there wasn't much.
Greedy Williams and Kristian Fulton being out is obviously huge.


Those guys have been lockdown. Fulton has actually been better than Greedy IMO. Only 35 combined receptions allowed on a combined 96 targets. A combined about 30% success rate against, that's just dominant.
I don't exactly know who is going to play out the outside and who in the slot for LSU so I'm just going to show all the guys I have info on.

Kelvin Joseph I would expect to see some outside snaps, a good thing for UCF. He's allowed both a 58.33% completion rate and success rate against. 11 of his 12 targets have come against outside receivers.

Kary Vincent primarily played against slot receivers, so I'm not sure if he'll stay as a slot corner or move to the outside. He's faced 40 targets and only allowed 16 receptions against. Only a 30% success rate against as well. Pretty dominant. Snelson and Vincent could be an entertaining matchup if he stays in the slot.

I expect Alexander to play on the outside, just because I watched all the games and saw him there. He's posted extremely respectable numbers overall, however has struggled against outside receivers.
Those 3 guys I expect will be the 3 primary corners for LSU, all pretty good, obviously not Fulton and Williams good, but LSU's secondary is still scary.

On to the safeties, Stevens has faced 11 targets and has 3 pass break ups. 8 of his 11 targets have been while matched up against a TE, could possibly be lined up with Colubiale.

Grant Delpit is everything advertised. He has 4 interceptions on 33 one on one targets (might have more playing as a safety over the top). He's only allowed a 30% success rate against. I would try to avoid Delpit as much as possible.

And finally, LSU's other primary LB. Another guy you can attack.

If you look at both directional passing and depth of target passing, it's impossible to find a weakness.
This secondary is consistently good in every single phase of pass coverage.

By presnap position, good against everyone. Slot Left WR could be an option as well as Slot Right/Left insider WR if you want to line up 3 WR's on one side, but that's about it.
A lot of people think UCF's RB's are going to create coverage problems. LSU has been tremendous against HB's and that's against guys like Kylin Hill who most people probably don't even know who he is, but is an unbelievable talent.

This is just broken down by personnel regardless of presnap position. Once again really good vs. RB's, but only 1 target has come more than 5 yards down field which is maybe something UCF can change. Something LSU isn't used to defending, could be something they're weak at.
Play Action:
I love play action passing and every time most likely will be worse against play action than non play action.

This is true with LSU, but they're still really good against it. They only allow 6.99 ypa on play action attempts and only 4.72 ypa on non play action. If you've read anything I've wrote about UCF's offense or matchups this season, you'll know how absurd these numbers are.
Pass Rush/Blitz:

LSU is good regardless of whether they blitz or not. Their pressure rate and sack rate is doubled on blitz', but that's the purpose of blitzing. However, ypa, completion %, and success rate are all consistently low regardless.
Where do their pressures come from?

Up the middle, LSU generates a ton of pressure. Devin White accounts for 14 of the 44 in this category.
How many guys does LSU like to bring?

73% of plays they bring 4 guys and hardly ever bring more than 5. This is a good sign for UCF because we saw how Mack is when he has time vs. when he is being pressured.
However, with such a talented secondary, it still makes it extremely difficult to throw the ball successfully on a consistent basis.

And finally blitz by down. Pretty even distribution, but they aren't scared to drop guys on third down.
Personnel:
LSU has barely faced any two back looks and UCF people know how much I love "21" and "20" personnel for UCF. With Otis on the field a lot, LSU could see a lot of looks they haven't faced.
I also would like to see Colubiale and Hescock on the field in two tight end looks. LSU allows a 55.42% success rate against rushes out of "12" personnel.
Overall, UCF needs to run the ball in this one and I think they can be effective doing so. LSU's secondary isn't going to be as strong as the numbers indicate because Fulton and Greedy are out, and UCF might be able to find a matchup they like, however I believe they have the advantage in the run game when it comes to UCF's Offense vs. LSU's defense and most people won't agree because they like to be stereotypical.
LSU's Offense:
Someone tweeted (LSU writer) when the bowl matchups came out, that LSU was going to run the ball down UCF's throats every single play. Now, everyone would probably say that's LSU's game and what they're good at.
However, their rushing attack is not very good.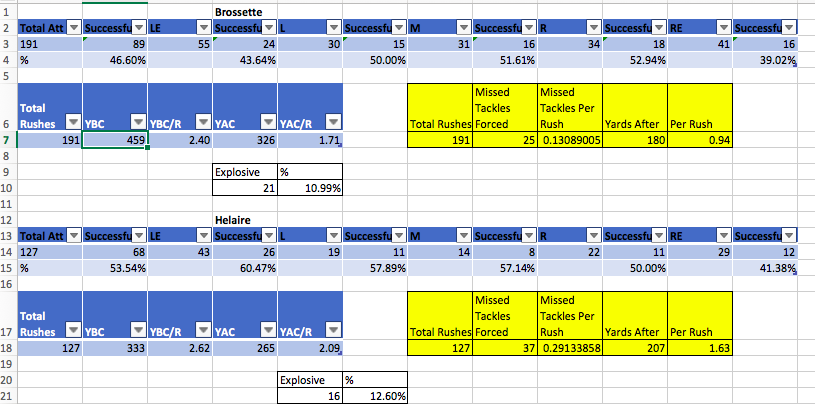 Brossette and Helaire are the two backs that have pretty much handled every carry for LSU. Helaire however, I don't expect to play after recent news.
He's probably their better back despite seeing less work.
Brossette has an average 46.60% success rate. Only averages 4.11 ypc and only 1.71 after contact. He's only forced 25 missed tackles on 191 rushes.
He also only has 11% explosive run rate. Compare all those numbers to LSU's defensive numbers I posted before if you want some perspective.
For a team that's "gritty" and wants to "ground and pound" these numbers are pretty ugly.
UCF's raw run defense numbers are not the best, but they've actually been good at stopping the run.

These are their numbers from before the conf championship game (I got a little lazy and didn't want to update them because I didn't plan on using it). What hurts UCF is allowing explosive runs, something they did at a 17.41% clip and I believe Memphis ran them at a 23% clip in the conf championship so it is probably slightly higher.
Now, UCF has faced probably the hardest opposing running backs of any team this season.

On 28.68% of runs, LSU allows contact at or behind the LOS. They allow a 14.21% run disruption rate. These aren't good numbers for the style of team LSU is.
Trysten Hill has a chance to repeat what he did against Memphis and put his name on some NFL minds. Titus Davis and Joey Connors have also been great on the line and those 3 guys could make a huge impact in this one.
Passing Attack:
UCF struggles mightily vs. passing between the numbers. From watching, it seems to be on plays where defenders try to pass off their man and there is just a lack of communication.

LSU's best two directional passing areas are between the hashes and to the right part of the field. Both are between the numbers. However, LSU's offense lacks so much creativity, that I don't exactly know if this is an area of concern.
They are extremely successful at throwing the ball between 1-10 yards in the air. They also love to do it as 44% of their passes come in this depth range.
Burrow struggles to throw the ball downfield.
The Key:
Burrow isn't going to beat you on just obvious passing attempts, but Burrow is the key to this game. Both with his feet and with his arm. And their is one common denominator.
Fakes to the running back.
Whether it be a read option or a play action pass, UCF can't bite on the fake. I've already explained why LSU's rushing attack won't beat you.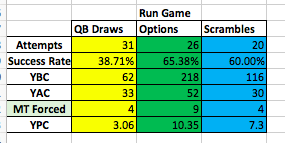 Burrow isn't going to wow you with athleticism, but if you look at him on read option runs, he averages 10.35 ypc and a 65.38% success rate. That is really damn good.

None of these completion percentages are going to wow you, but look at his ypa, adot, and success rate of play action passes vs. non play action. 100x better.
Watching every game, something I noticed is LSU loves to take play action deep shots on 1st and 10 after rushing for a first down on the prior play.
So, I looked at those plays. Burrow has a 16.71 average depth of target on those plays (would indicate deep shots) and a 9.95 (would indicate some of the shorter attempts were completed).
It's something UCF has to be aware of because if you sell out on the 1st and 10 run, you're going to let up a long TD pass.
Receiving: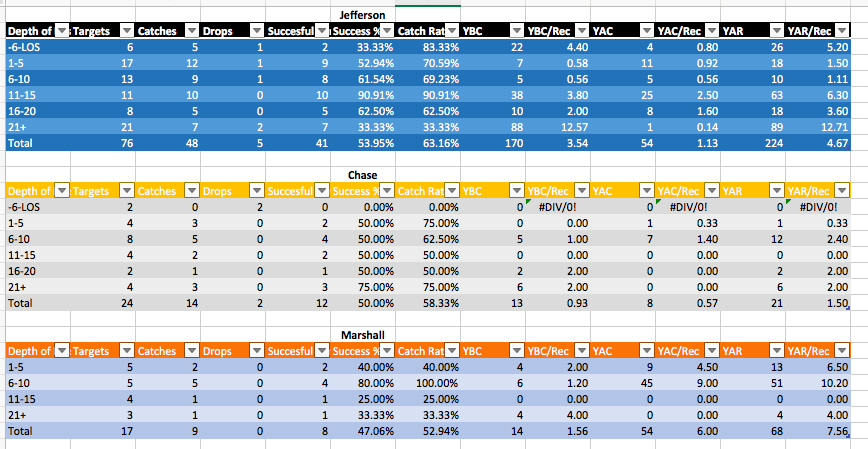 LSU will throw to a bunch of different guys, I won't go into it to cut down on length.
Red Zone Offense:
I mentioned in the defensive portion, that I thought the red zone was going to be huge so I mine as well give some offensive numbers.

Their passing in the red zone is disgusting. Only an 18% success rate compared to a 53% success rate running the ball.
LSU's offense isn't great in the red zone and if UCF can hold LSU to field goals, that is a win on every single drive.
O-Line/Pressure:
Kind of skipped over this by mistake. You saw with LSU's run game how the line is suspect. Well, it's the same in the passing game.

They allow a 29.21% pressure rate and have allowed 32 sacks on plays I've charted.
The thing is …

They keep in an extra blocker over 75% of the time and keep in 7 or more guys about 35% of the time.
This goes along with the lack of creativity. For a "tough" football team, your O-Line should be able to hold it's own without extra blockers on every single snap.

If you look at Burrow's numbers under pressure, you'll see that he struggles big time when teams get pressure without blitzing. When you're keeping in multiple extra guys to block and still allow pressure with 7 guys covering 3 downfield, it's hard to be effective.
Personnel:

The lack of personnel usage, isn't because Coach O is Sean McVay or Joe Moorhead, it's because the offense is so plain.
UCF has struggled to defend the run against "12" personnel this season, but LSU only runs that 27% of snaps and run the ball on 70% of the time out of "12" personnel. This is despite absolutely killing it on pass attempts in this personnel.
Throwing the ball out of a running look and running out of a throwing look will always be effective, especially when teams expect you to the run the ball every play.
Play Calling Tendencies:
Just something I like to do for fun with every team.

This is first and second down vs. third down. They struggle to throw the ball on third down.

Down and distance will show you how much they love to run the ball in short yardage.

In games with a one possession lead in the 2h, LSU really struggles. They go run 85% of the time on first down despite averaging just 2 ypc.
And finally,

Second down play calling based on 1st down. I only used the first quarters for this data.
After a successful run or pass that results in a second down play, LSU runs the ball 67% of the time.
After an unsuccessful play, they throw it 62% of the time.
Conclusion:
This was a lot of work and probably would've been better had I not just wanted to be done with it at a certain point.
I didn't include UCF charts because it would've just doubled this in length and it's long enough and also with only one game of Mack data, I don't feel it is significant enough. Everything I think about UCF is pretty accessible on here and I tried to mention some key areas of UCF in words.
Game wise, I think it's going to be very interesting. LSU's offense doesn't worry me at all, however that can change very easily if UCF keeps biting on fakes.
I think UCF has a chance to show the country something by controlling the line of scrimmage in this one. The numbers support it, but the game isn't played on Microsoft Excel.
Offensively, I hope Taj gets carries because he is best suited to be effective where UCF can be and obviously McCrae as well.
Defensively, the D-Line is what I'm looking at. I think Trysten Hill has a chance to do something special again.
We'll have to wait a couple more days to see what happens, but it should be worth the wait.