UCF's 25 game winning streak finally game to an end in a 40-32 loss to LSU in the Fiesta bowl.
It was a game that had a couple of big game changing plays and penalties from both sides that really could have dictated the game one way or another.
There are a lot of things that the casual fan would like to comment about why UCF lost and why LSU won and a lot of excuses made from both sides regardless of which team won.
I'm going to break the game down from the defensive side of the ball from a UCF perspective and will do the offensive side relatively soon as well.
But, to me, this game was a long time coming with the way the defense has been this season.
I don't think the defense has been bad, I actually think it's been better than most people.
However, they had a few weaknesses that I pointed out, and Randy Shannon refused to make an adjustment all season to fix it.
UCF struggled on passes between the numbers all season long, and it's something I pointed out since the ECU game.
Combine that and letting up big play touchdowns on predictable play calling that I pointed out in my preview makes you wonder what kind of gameplan Randy Shannon put together for this one.
Directional Passing:
It's where UCF lost the game it's not even a question. The inability to adjust to this all season is rather sad if you ask me. It's a total scheme thing and I'll use some gifs from the game to show this.

19 of 33 throws came between the numbers.
You might be saying "UCF got beat to the left sideline as well", those two plays I'll talk about in a little. They were both on very predictable play action deep passes and they both led to TD's. That is my other major point about this game that I'll get into.
But, if you look between the numbers, to the middle of the field, Burrow was 5 for 5, all successful plays. On these throws, LSU averaged 20.20 yards per pass attempt. That is… a lot.
LSU had two major plays on balls thrown between the hashes. A long TD pass and a 2nd and 15 pass that went for a first down from their own 17.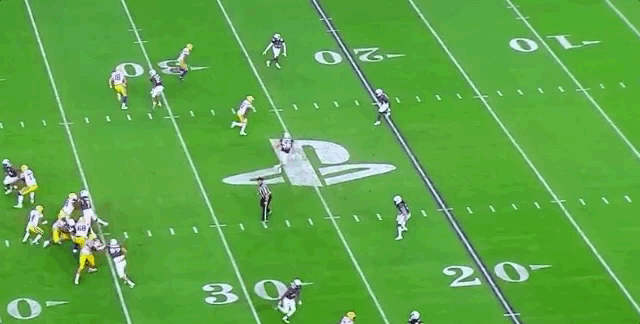 Here is the long TD pass. The reason for UCF's struggles to the middle of the field are obvious if you look at this play.
You'll see Grant is playing the inside slot receiver and Moore is playing the outside receiver. As the receivers cross, Moore is trying to pass off his guy to Grant who continues to follow his guy on the out route, thus leading the outside receiver wide open.
Not exactly sure if this is a designed man coverage or zone coverage. Moore seems to be forcing his guy inside towards Grant, while Grant seems to be in 100% man.
The other play to the middle of the field, was a two yard pass that went for 19 and it's the same thing over and over.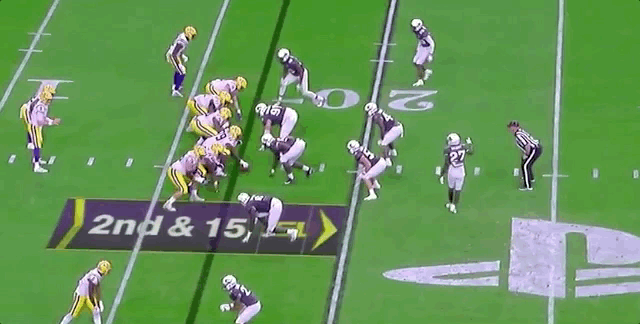 If you watch it from the broadcast view, it's really hard to see what goes wrong, but thankfully they showed us a A22 angle review.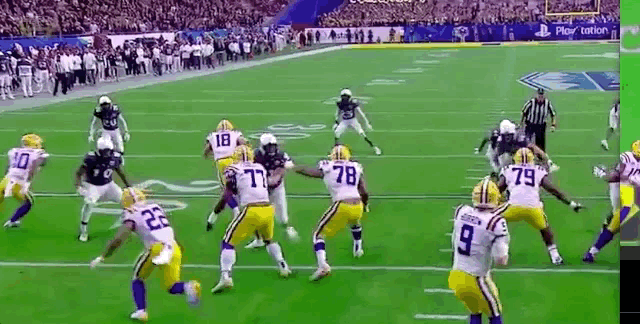 You'll see, again Moore is covering the outside WR, again the guy who ends up making the catch, while Causey is originally lined up on Foster Moreau, the tight end. Moreau looks to be running a 15 yard dig, while the outside WR runs a drag. Once Moore's guy goes inside, he drops off, seeming to be trying to once again pass off assignments again, this time with Causey who is already 10 yards downfield on Moreau. It leads to an extremely easy big play here.
Another one here on another 2nd and long. UCF's run defense was great, something I'll get into in a bit, but it didn't matter because their secondary was picked apart on plays like this.
Causey is following his man on a go while Moore passes off his man on the dig route. You can tell they're communicating because Causey has his back turned to the play and is able to still limit the YAC, but it's impossible to defend a pass like this.
Now, throws to the right (between the right hash and right numbers). Burrow attempted 10 of these. 5 were caught and 4 were successful. It's really not a terrible success rate and completion percentage to give up, but when you give up 14.50 yards per attempt, you don't need to hit at a high rate for it to make an impact.
On the most significant play to the right, Pat ended up on a WR, I think as good as Pat is, we can all agree this is not a matchup in his favor, especially 21 yards downfield that went for a TD.
This came a on 3rd and 7. UCF got in so many good spots on defense in terms of down and distance and ruined a good portion of them.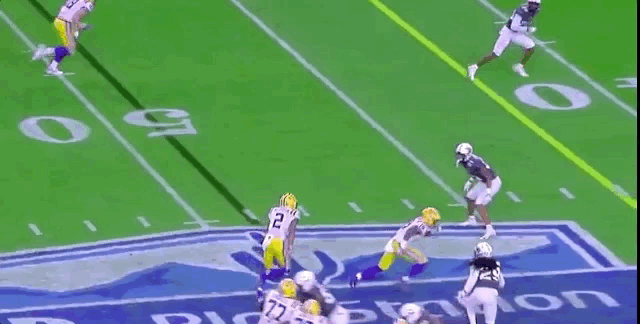 It wasn't exactly a pass off just two corners doubling a receiver and leaving the linebacker one on one downfield with a receiver. Not a great strategy if you ask me.
One more play, where the pass off man was again a failure was on a little dump off on a flat route to the RB.
It wasn't a huge play, but it's another example of the point I'm trying to make.
It also wasn't between the numbers, but is the cause for the disgraceful between the numbers statistics.
In my opinion, it's extremely sad that this was never fixed. It was a glaring weakness and if you're watching film it's pretty obvious if you ask me. It hurt UCF big time in this one.
1st and 10 Play Action Passing:
"Watching every game, something I noticed is LSU loves to take play action deep shots on 1st and 10 after rushing for a first down on the prior play."
I wrote this in my breakdown prior to the game. What did UCF get burned on for two TD's and 1 would've been TD had Causey not committed pass interference?
Yep, play action downfield passes after rushing for a first down.
LSU called 4 of these. One UCF did record a sack on, however it was an under center, one man route roll out attempt, not their normal shot play.
The 3 others? 1 PI penalty and then…

Two TD's. Throw 29 and 35 yards into the end zone. The first, was the first LSU TD of the game after LSU converted a 4th and 1.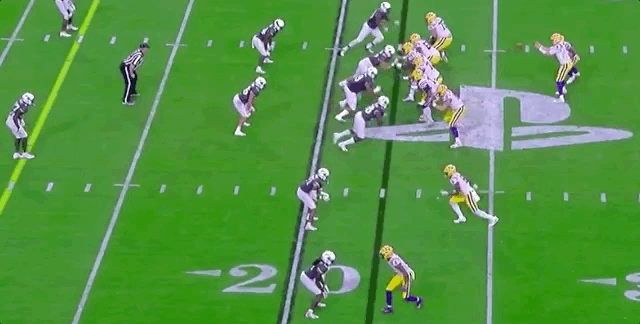 Really not bad coverage by Clarke, LSU hasn't exactly been great on these plays throughout the season, but Burrow was on point in this one.
It looks like Grant was the safety over the top and he was late.
Also, I know this play was only "22 yards", I count end zone yards as well which is where I get the 29 from.
The other, Moore got beat.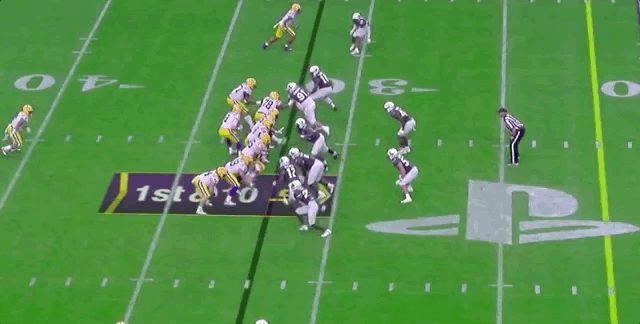 Shannon brings a safety blitz, in a situation where LSU likes to take deeps shots. Bold strategy and it definitely didn't work.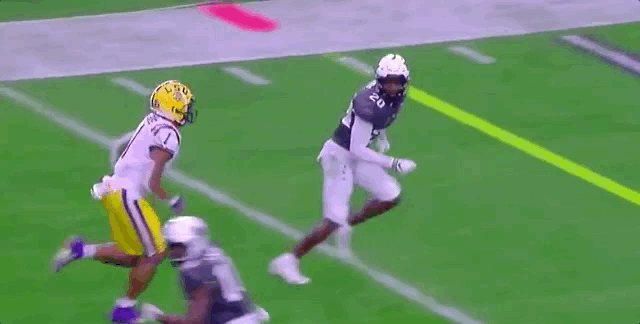 Moore also bites on the stutter step, allowing Chase to beat him. There was no push off either.
Side note, I actually thought the refs were pretty good. The only call I think they missed was a PI on Otis on the first drive on the 2h.
So LSU scored two TD's on plays where they've been predictable all season and it just seemed like UCF wasn't ready for them for some reason and the other two TD's came from attacking UCF's pass defense in an area they've been weak all season and refused to make an adjustment.
That's their 4 td's. Try and convince me that UCF couldn't be better prepared after a month to scout, get better and implement a game-plan. It sucks for the players if you ask me.
Since I have them, here are the non play action passing numbers as well.

Run Defense:
The run defense was amazing and not many people are realizing that. Everyone is saying that UCF got dominated on both sides of the line of scrimmage, which doesn't make sense.
I just showed you how LSU dominated UCF's defense.

UCF held LSU to a 46.67% success rate on rushing attempts (not including scrambles and kneel downs). The only place LSU was really able to have success was to the right end.
This is also below LSU's season success rate by 3-4%.

UCF also only let up 1.56 yards after contact, to the "more physical team" and only 3.64 ypc.


These were LSU's season numbers broken down by running back (top is Helaire, bottom is Brossette. UCF held them under their averages in every category.
"That doesn't have anything to do with the lines" well YBC certainly does, but I'll present you with further evidence.

UCF made first contact on rush attempts at or behind the line of scrimmage on 40% of rushes and had a run disruption on 37.78% of rushes. Brendon Hayes was a monster as was Titus Davis.
Just how good are those numbers though?

LSU only let up a run disruption on 14.21% of running plays and first contact @ or behind the LOS on 28.68% of plays. I think UCF's defense crushed those numbers.
Now, UCF wasn't able to get any pressure on Burrow which is what most people want to look at in terms of "winning the trenches".

LSU had 38 dropbacks. UCF blitzed 8 times, got 2 sacks and forced one scramble on these, but when they failed to get pressure on the blitz, LSU made them pay.
UCF only got 4 pressures on non-blitz plays. I believe LSU had a total of 38 dropbacks so the % there is very low.
However, it wasn't like Burrow sat in the pocket for hours and waited for WR's eventually get open.
I showed you some of LSU's successful passes. It was a lot of coverage break down and scheme oriented stuff where the ball is out quick and pressure is almost impossible to get regardless.
The mantra was that LSU was going to run it down UCF's throats, that didn't happen. UCF played better run defense against LSU than almost every SEC team and LSU beat them by playing non stereotypical LSU style football.
*I'm only talking about UCF's defense on this end, this has nothing to do with the flip sides of the ball for both team*.
Defense by Down:

UCF put themselves in great down and distances if you ask me. On second down, LSU had 8 ytg on average and 6.79 on third down. That should have been a good thing for UCF. However it let LSU get away from their run heavy self and throw the ball more successfully than they had all season.
Conclusion:
There's not really much more to talk about in terms of this one from the defensive side. In my opinion, it's a shame that something that hasn't been right all season, was never adjusted. It's a true scheme thing too. It's not a talent thing at all.
During the season, there isn't a lot of time to maybe completely fix this because I don't think it's an easy thing to just change and with little time between games, it's not going to just drastically change, but with a month before a bowl game, there is no reason UCF should lose a game because of this.
There is also no reason, UCF should get burned on the 3 play action passes that LSU threw on 1st down after rushing for a first down. It's just inexcusable from coaching game-plan perspective and it's a shame.
UCF's run defense was so impressive and the way they played should've led to more stops and fewer points than it did.