UCF posted their 17th straight win on Saturday when they defeated Pitt to improve to 4-0 on the season.
The teams performance almost flip flopped this week, as the defense tackled great and played lights out, while the offense struggled a bit. Yes, they put up 45 points, but they played a Pitt defense who let up 38 to a abysmal North Carolina team. If you break the offense down a per play basis (which I did) you'll see that compared to the UConn and FAU performances, they did not perform well.
It's not a bad thing to put up 45 points and have your QB be the national player of the week, when you don't play anywhere close to your capability, but to beat the better AAC opponents and potentially a NY6 opponent, you need to be better overall because those teams aren't committing dumb penalties and blowing as many assignments.
McKenzie Milton:
Milton was the Walter Camp offensive player of the week this week which is crazy considering he played his worst game of the season against an FBS opponent.
Don't get me wrong, Milton still played great, but he could have put up video game numbers with the amount of open receivers he missed.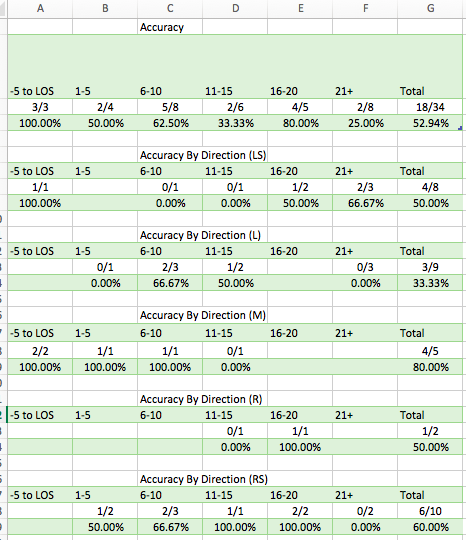 Milton struggled throwing deep against SC St and was 0-2 against FAU on such passes. Against Pitt, he struggled again. It is a little uncharacteristic as he was 39/60 last season on 21+ yard attempts. He also struggled with his short passing and intermediate against Pitt. The only area you can look at and say he was pretty good was the deep intermediate range.
Milton also didn't throw an interceptable pass (penalties aren't counted) which is a positive. He completed 18/34 passes and that's exactly what his accuracy was so no drops by receivers.
However, Milton missed 6 open receivers and I only mark a receiver as open if there is room for error on the pass and it can still be completed, so 6 is a good amount.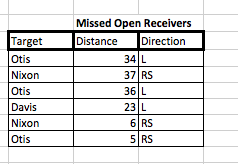 4 of them came on deep passes, all which would have gone for touchdowns. Exactly why I said he could've put up video game numbers. With the accuracy numbers he had last season, there's no reason to panic as 5 of the 6 missed open receivers were to Tre Nixon and Otis Anderson, guys who he wasn't throwing to last season so hopefully chemistry will come as the season advances. I know Otis did catch passes last season, but he is not someone who Milton was continuously throwing too.

Milton also struggled against the blitz, an area he had been making the opponent this season.
The O-Line has not been great and it wasn't against Pitt.
UCF allowed 9 pressures on pass plays.
Jake Brown allowed 4 of them, he has been a constant victim this season. After Jordan Johnson had a poor game last week, he allowed another 2 hurries against Pitt. Colubiale has picked it up on the receiving end, but his blocking continues to be suspect as he allowed another 2 hurries.
Brown also let up 2 run disruptions and Schneider for the first time this season allowed a couple as well.
It seems to be the same culprits on the O-Line and with UCF's depth there, it would great to see even more rotation then they already have.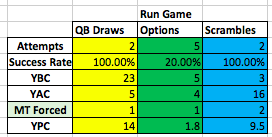 Milton's ability to run the ball has been a major factor this season. Pitt defended the read option and Speed option pretty well, but Milton was extremely effective on QB draws and scrambles. Forcing 4 missed tackles on 9 rushes isn't too bad for a QB, either. The unpredictability of QB draws, makes it a dangerous play for this offense.
Milton didn't have his best game and if he can get back to his old self on deep passes, it will really set this offense up for major success. This receiver core continues to get open down field and I don't expect that change.
Personnel:
I finally got my wish. UCF ran more plays out of "21" personnel than "11". It didn't result in what I expected, but it was still more effective than "11".

Snelson being out, really affects the personnel grouping Heupel can put on the field, but he's expected back this week so that will change.
It's important to note that Otis didn't line up as a RB a single snap, which to me is just dumb and kind of diminishes the "21" personnel grouping.

A quick reminder that he was the best rusher on the team last season and was also very good up the middle, an area Heupel loves to run.
Run Game:
Adrian Killins once again received the most carries and was once again the worst rusher. Look, I really like Killins, but he's just not being used right and I've been saying it for a while now.
However, before I post rushing stats, maybe Heupel learned that getting the ball to AK in space can work. AK was targeted twice out of the backfield, he had 135 yards on those plays with 113 of them coming after the catch. When you throw the ball to a RB, out of the backfield, they are normally covered by a LB, advantage Killins.
Against UConn, AK was targeted twice out of the backfield. He had 44 yards on those two receptions. He's 5 for 5 in terms of success rate on his targets (not including SC St). That is good in my opinion. 179 yards on 4 receptions out of the backfield, actually good.
Ok, back to the run game.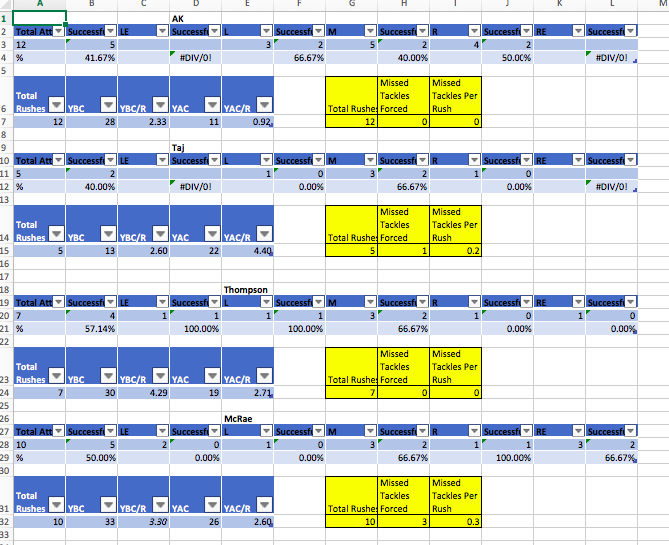 Killins numbers just are pretty ugly. 0 missed tackles forced on 12 carries, a 41.67% success rate, and only .92 yards after contact. Pitt was probably the most physical team UCF has played and it shows here.
Taj, I've been extremely high on. He was only successful on 2 of his 5 attempts, but absolutely bullied Pitt with 4.4 yards after contact.
McRae got double digit carries and in terms of success rate outperformed AK and Taj. He forced the most missed tackles out of all RB's and did well, both before and after contact.
Bentavious (hope I spelled that right) got all 7 carries with the reserves, but he still looked great and it would be interesting to see what he can do with the 1's.
My point on the run game continues to stay the same, but Otis needs some carries and hopefully that him getting none was just a result of Snelson being out.
With Milton at QB, UCF ran 71 plays. They were successful on 34 of them. That's a 47.79% rate which is not very good. Against FAU and UConn they were in the mid 60's.
The bright side here is they still scored 45 points so when the players and coaches say the offense can get better, it's extremely true.
Defense:
It's obvious the defense played excellent as the starters shut out the Pitt offense. Pitt ran 54 plays against UCF's starters. UCF held them to a 40.74% success rate. Just absolutely incredible.
Where UCF struggled against FAU was on outside rush attempts. Pitt ran the ball 16 times to the left end or right end and were only successful on 7 of them. However, they were over 50% successful when the ball carrier was a running back, so there is still room for improvement in this area.
One thing Pitt did, was throw a bunch of different personnel groupings on the field. This is good because Memphis likes to do the same.

One negative thing that jumps out here is UCF's ability to defend the run against multiple tight ends. In "12" and "13" personnel, Pitt was successful on 9 of 12 rushes.
Everywhere else, UCF was really, really good.
Tackling:
I think this is what everyone knows UCF has been awful at this season. 27 missed tackles against both FAU and UConn, wasn't going to cut it.
The starters only missed 6 tackles on 54 plays for an extra 33 yards. A major improvement from the first couple of weeks. No player missed more than one tackle either.
Pressure:
UCF got pressure or a run disruption on 19 of Pitt's 58 plays. On those 19 plays, Pitt only had one successful play. Also, on those 19 plays, UCF didn't blitz once. Getting pressure without blitzing is a major recipe for success.
An abundance of players contributed in this area.

Coverage:
17 of Pitt's pass attempts were thrown at a defensive target, only 7 were completed and only 3 were successful. Absolute dominance.
Brandon Moore was only thrown at once and once again he was in better position to make the catch than the receiver. He has dropped about 3 interceptions the last two games on like 4 defensive targets. It sucks that he's dropping them, but that is insanely good. He basically is taking his receiver out of every play.
Everyone was just really good that there's no point of going through all the numbers. The linebackers, safeties, slot corners, no one was bad in coverage.
I feel like it is only a matter of time before Milton starts to click on some of these deep balls and once he does, watch out. There are a couple of changes I've continuously pointed out on offense that I think would benefit UCF, but apparently Heupel and I don't see eye to eye.
The coverage has been excellent defensively all season. Against Pitt, UCF got a ton of pressure without blitzing, something I think a lot of people were concerned about under Randy Shannon.
Defending the run against multiple tight ends will be something to look at going forward, but then again, most teams don't use two tight ends in college anymore.
Setting the edge on outside runs needs to improve especially before the Memphis game because Darrell Henderson is very, very good.