UCF won their 18th straight over the weekend as they beat SMU 48-20.
While 48 points really jumps out at you, I don't think the offense played particularly well and it's been the same reasons for the past couple of weeks, for the most part.
However, this team has still been putting up crazy numbers, so when (if) they ever kind of play to their strengths more often than they don't it will be interesting to see how many points they can put up.
They also have not really faced a respectable defense yet and honestly may not play one until the bowl game.
I'm not going to go too in depth as I'll have more season total data when I preview the Memphis game in a couple of days. I'm also not going to talk about the defense against SMU, they were really, really good so we'll leave it at that.
McKenzie Milton: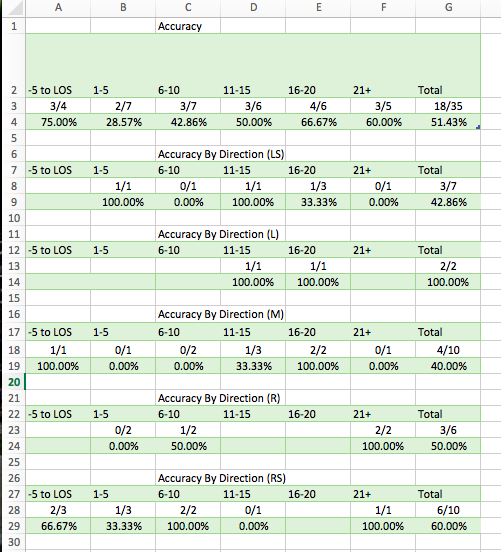 Now the third straight (fourth if you include SC St.) where Milton's accuracy numbers just are not very good again. I keep saying I think he'll get back into the rhythm he was in last season, but every week it doesn't happen, I start to think it is more a product of Heupel's offense than Milton's issue.
I have some theories and after the Memphis game, with 4 FBS games of data, I want to compare it to last season to see where the major differences are.
However, this week he was a lot better throwing the ball downfield which is definitely a positive.
Milton's legs had been a major plus on designed runs so far, but he didn't have a single designed run this week for some reason. I know after he got hurt it would've been playing with fire, but that was still essentially 1 half of football without one.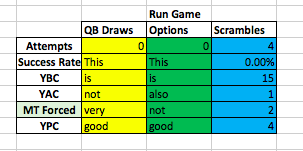 Milton missed 4 open receivers this week (for me to consider this you have to be very open) which is a couple lower than last week, but these are throws he needs to make. Most of them would go for big gains.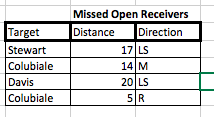 Now, that being said, it is extremely difficult to be consistently accurate when you're under pressure every single time you drop back.
SMU blitzed on 22 of 39 dropbacks, an extremely high rate and UCF's line just couldn't handle it.

Milton was also pressure on 7 of the plays where SMU didn't blitz. So on 29 of his 39 drop backs, he was under some sort of pressure. This is against a not so great defense too.
A lot of people may look at the number of sacks allowed and be like "well the O-Line has been great in Pass Pro", but Milton makes up for so much of the poor O-Line play because of his mobility and creativity.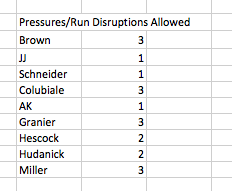 It has been a lot of the same culprits all season and with so much depth at the line IMO, I wouldn't mind seeing a couple of the "2's" get a shot. It's just simply not easy to have a successful downfield passing game with constant pressure.
Personnel:
This was upsetting to me. Snelson came back and looked great, but it also led to a crazy amount "11" personnel usage. Even in the prior games with Snelson playing, Heupel mixed it up a lot, however against SMU, he went back to his old Missouri tricks.

 70 out of 81 plays in "11" personnel. Once again it produced under a 50% success rate, while 2 running backs on the field was once again easily over 50%. A lot smaller sample size this week though.
The good news here is, Otis Anderson got more running back snaps, the bad news is, Otis Anderson got a heck of a lot fewer total snaps.
Runnnnnnnnnnnnnnn Game:
New game, same old question from me.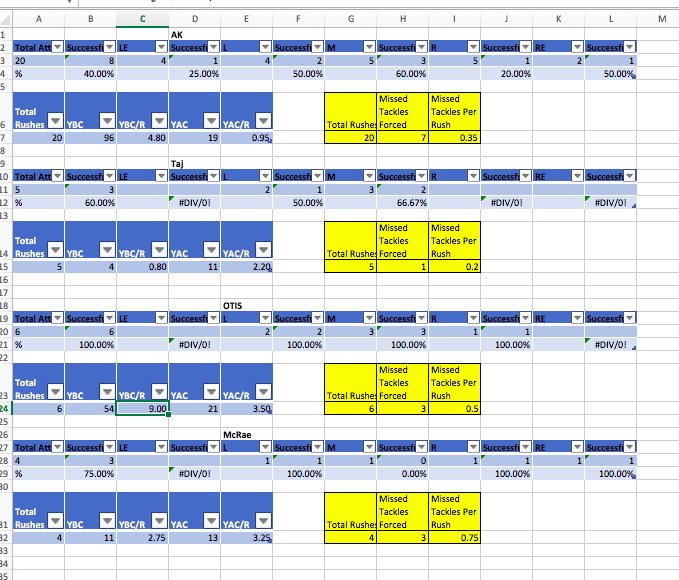 For some strange reason, Heupel feels the need to force AK more carries than necessary. He had some huge runs in this one and we saw what makes him so important to this team, and that's why he needs his touches. He is still an amazing football player with world speed, but that doesn't mean he's an every down between the tackles guy.
He hasn't been bad between the tackles, it's more of it's too much. Quality over Quantity.
Now, if UCF didn't have the talent behind him, I would be fine with his production.
Against SMU, he had 20 carries, 8 of them were successful, not great. 14 of his carries went for 5 yards or less and he averaged under 1 ypc after contact.
Otis, Taj, and McRae had 15 combined carries and produced at an 80% success rate. It's just hard to argue against the numbers.
Taj had 2.2 yards after contact per rush.
McRae had 3.25 and forced 3 missed tackles on 4 carries.
Otis, was well, perfect. 6 for 6, 9 yards per carry before contact and 3.5 after contact. He forced 3 missed tackles on 6 carries.
If I have to go out on the field and hand Otis the ball myself for him to get more carries, I might have to do it. I still have about 3 years of eligibility left.
Quarter Breakdown:
So scrolled across this tweet during the game and wanted to investigate a little. I didn't go crazy, but just did some basic research.

Now, against SMU the offense did look a lot worse in the 2q than 1st, but I think a lot of that gets judged off of just points.
I filtered out every play, by quarter, for the first 3 quarters for the FAU, Pitt, and SMU games and combined them together.
I left out the 4th quarter because every game has been over by then, thus gameplans and what not kind of get aborted.

First think that jumps out at me, is the consistency. Almost the same run/pass ratio per quarter and almost identical plays ran each quarter.
The second quarter statistically speaking, has been the worst. With a larger sample size the numbers could separate themselves a little more.
If you look at the second quarter, UCF actually has the high yard per carry, but the lowest rushing success rate. They also have by far the lowest yards per pass attempt.
With a high YPC and a low success rate, it leads me to believe they are getting put in longer down and distances in which they are running the ball in.
They also only have 63 yards after the catch on their competitions in the second quarter. This shows that defenses kind of have great coverage and may be able to anticipate UCF's pass play designs a little bit more after seeing them for a quarter.
Definitely will be something I can look more into with more data throughout the season, but it is something interesting to look at.
The yards per attempt difference in the second quarter is the main thing that jumps out as the difference between the other two quarters, but that's about it.