UCF kicked off their season last Thursday on the road with a 56-17 win versus UConn.  It was an extremely impressive debut for Josh Heupel. I broke down the game from an advance stats/analytics perspective.
It was nice to finally get to see Heupel's offense in action and see what he was going to with the personnel overload he inherited at UCF. I had charted every Missouri play from 2017, in which Heupel used "11" personnel (1 RB, 1 TE, and 3 WR) about 94% of the time. This was a major concern for me as UCF had a lot of success with multiple personnel's in 2017, particularly with two running backs on the field.
Otis Anderson was the main reason for this. Success wise, and overall, he was UCF's best RB in 2017 and he was also extremely successful as a pass catcher. I was worried he was strictly going to be playing in the slot this season and it was one of the main things I was looking at in the UConn game. Based on his touches/where he lined up, I charted Anderson as a running back.
The offense was extremely impressive and I'll break down a couple things I liked. The defense on the other hand was not very good, despite letting up only 17 points.
Personnel:  

UCF just dominated UConn's defense, so they were successful in any category you want to filter their plays into, but with 2 running backs on the field (Otis was in on all 14), they were successful on 12 of the 14. The 2 they weren't, an inaccurate pass by Milton to open Snelson and a drop by Nixon. They easily could've been a perfect 14 for 14 with two RB's  on the field.
This will be something I will definitely be keeping an eye on throughout the season and would love to see UCF play without a Tight End, but I highly doubt that happens because it makes too much sense.
The tight end is almost non-existent in Heupel's offense, real journalists don't know that because they just look at raw stats and see that Missouri's tight end tied for the most touchdowns by a FBS tight end last season.
Colubiale/Hescock/Roberson were in on 77% of the snaps and saw one target.
McKenzie Milton is Still Very Good:
I was really excited to watch Milton get back on the field. He was tremendous last season and got the recognition he deserved in the offseason, but he also put in a ton of work this offseason and it showed.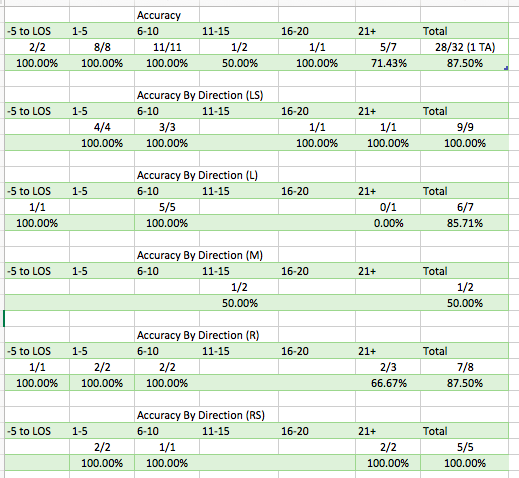 Milton was accurate of 28 out of 32 throws, that includes his one throw away. Off the top of my head, one of the throws was a pass behind Snelson and a deep ball to Nixon that he just missed a TD on.
Milton's decision making has been tremendous and I think that shows when looking at his accuracy numbers. When you include his ability to run the ball, it makes him almost impossible to stop.
Dredrick Snelson/Tre Nixon/Gabe Davis
A lot of people were concerned with Tre'Quan Smith going to the NFL, rightfully so because he is a tremendous talent, but I wasn't really concerned as UCF's other receivers were actually more successful than him last season. Gabe Davis, Tre Nixon, and Dredrick Snelson are all going to be NFL receivers in my opinion.
I completely forgot to make a chart for Davis, but he had 9 targets, 6 catches, 3 drops, and 5 successful catches. All 3 receivers had problems with drops, but I'll attribute that to it being the first game of the season. It's not a concern for me. These 3 guys had 25 of Milton's 31 pass attempts and if it weren't for drops, they were un-coverable.
OLine:
The line was extremely good, the only concern was Jake Brown. He was the only lineman to allow a QB hurry or a run disruption. He allowed 2 QB hurries and 1 run disruption. Colubiale also allowed a run disruption on a play were he just whiffed on his block. AK and Taj allowed the two other QB hurries.

Rushing:
As with everything else on the offensive end, the run game was very successful. AK, Taj, Otis, McRae, and Bentavious Thompson, were the 5 running backs who got carries. No one had a breakout game, but they were all extremely efficient.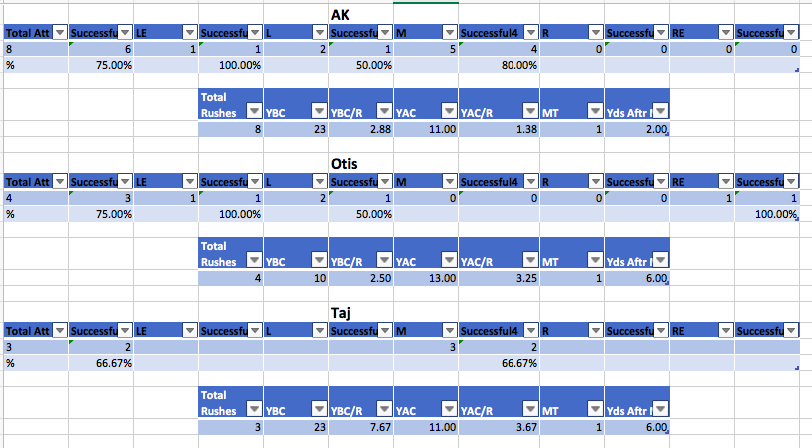 There is a bunch of other stuff in terms of tendencies and play designs I charted, but with only one game of data, I don't really feel like it is sufficient enough to look at right now, but will be as the season moves along.
All in all, there was no sign to be concerned, if anything I was more impressed with the way the offense was run/designed more than last season.
One main thing that I don't have data for, but just off watching the game, was the wide receiver splits. The Wide outs are split out so close to the sidelines that it opens up the whole field and forced UConn to go with a lot of 5 or 6 man boxes which is great for the run game.
Tackling:
With the change to a 4-3 defense, I didn't really know what to expect heading into the season and I still don't really know what to expect.
The main thing that everyone saw in this game was missed tackles. UCF had a lot of missed tackles at times last season as well and their tackling against UConn was piss poor.
UConn had 73 plays that were either a completion or a run. On those 73 plays, UCF had 28 missed tackles that resulted in a total of 127 extra yards gained.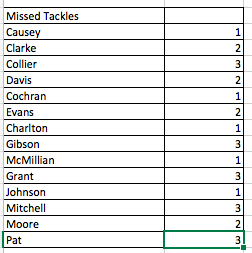 You can say tackling isn't a concern, they'll just work on it in practice, but this was an issue last season so I don't have confidence in saying that it is something that will be an easy fix. 127 yards of extra offense is way too much to be giving quality opponents. Pindell is an elusive QB who is going to make guys miss in the open field, but those misses need to be limited.
Secondary:
Pindell is not a very good quarterback when it comes to throwing the ball. He was still able to complete 27 out of 41 attempts, including 3 throw aways'. On 2 more incompletions, receivers were open and he made inaccurate throws. So on 29 of 38 passes thrown, he was throwing to open receiver. The coverage can get a little bit better outside of Brandon Moore who had an excellent game. Losing Aaron Robinson on the first kickoff was absolutely awful and hopefully he has a quick recovery because I think he'd be a huge help.

Defensive Line:
With the losses of Jamiyus Pittman and Tony Guerad on the defensive line, many people were concerned with the depth of this group. The two people who stood out to me, were Joey Connors and Trysten Hill.
UConn had 37 rush attempts not including scrambles. UCF had 15 run disruptions on these plays. A run disruption I consider as someone who disrupts the runners initial run direction in any form at or behind the line of scrimmage. 15 is a pretty high amount. Of the 15, Trysten Hill had 5 of them, absolute dominance. Mason Cholewa and Joey Connors both had 2 as well.
On Pindell's 50 dropbacks, UCF blitzed only 9 times and recorded 15 hurries or knockdowns, all by different players.
Overall, I think UCF's D Line was very good and could be a major factor in the success of this team.

Overall Defense:
UCF played really good against the run. Only 15 of UConn's 37 run plays were successful. I think the front 7 in the new 4—3 was a big question mark for a lot of people with the players lost, but this is a great sign.
Of their 41 passes, 20 were successful. Not bad to be under 50%, but also against one of the inferiors passing QB's they will face all season.
Pindell scrambled on 9 of his drop backs, 8 of them resulted in successful plays. This is a major concern when UCF has to face a dual-threat QB.
It was just UConn, but overall I think Heupel has the offense headed in the right direction. He did a great job mixing his scheme with the personnel he inherited. If he can continue to understand what combinations help make UCF the biggest threat to score, the offense will be tough to stop.
I think the defensive concerns are a big more serious. Tackling is a major issue. Also, 17 points looks good on the scoreboard, but 3 big turnovers helped this. A bad decision by Pindell and a fumble by a freshman on his first drive are not things you can rely on every game against the better teams.