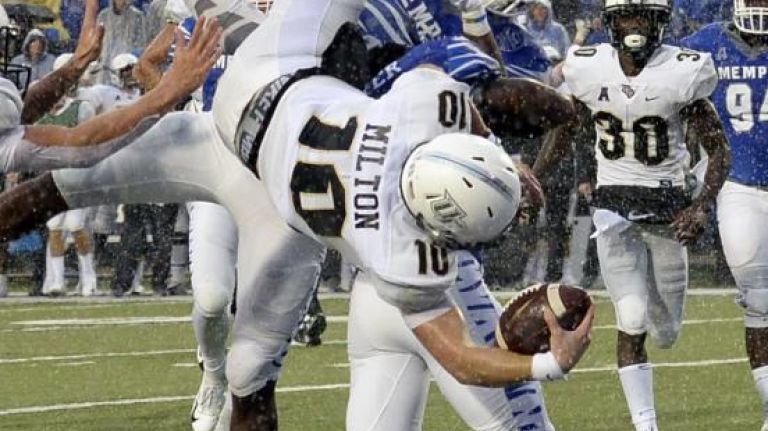 UCF survived on the road vs. Memphis last Saturday to continue their nation leading winning streak.
I don't think UCF should have won this game. In my opinion, they got out-coached the whole game until Memphis' final drive where Memphis managed the clock horribly, or this could have easily been a UCF's first loss of the season.
To me, and a lot of people won't agree, but UCF won this game because McKenzie Milton is one of the best quarterbacks in the country and because they have the luxury of someone with as much experience against top competition in Randy Shannon.
I will get into the defense later, but let's talk about why, despite two great 4th down calls, Josh Heupel's offense failed to have any sustained success and rhythm. This will get overlooked by the "gutsy" 4th down calls, but I think it's an issue UCF has had all season and finally got "exposed" because they were on the road against a good team.
In both situations, going for it on 4th down, were kind of easy decisions. Yes, many coaches don't have the guts to do it, but analytically speaking, they were easy decisions. With 2:51 left in the 3rd quarter, no momentum, and sign of offensive life and a defense that no one thought would hold Memphis scoreless the whole 2h you need to do anything possible to get some life back and when you're coaching a team that's won 18 straight, you can't coach scared.
That being said, I love going for it in both situations and am not knocking that because it does take some guts, however, that can't overlook the fact that Heupel's offense did not look good at all, despite Milton playing tremendously.
UCF ran 66 offensive plays, only 25 were successful, that's a 37.88% success rate. If you've followed anything I've posted about UCF's offense to date, you'll know how bad that is compared to every other game.
I will get into something that I believe is a possible reason, UCF is failing to establish any rhythm on some drives in a little.
McKenzie Milton:
If UCF has any other QB in the country, besides a handful, they lose this game. I think Milton was solely responsible for 10 points for keeping two drives alive, that UCF had no business scoring on.
The first one, was the drive at the end of the 1h where UCF was able to get a FG. Down by 16, with 2:04 left and Memphis getting the ball first to start the 2h, it is bizarre to me how Heupel can call this conservative. An outside run with AK for no gain and a penalty after the play set up 2 and 23. UCF ran down the clock to 1:37, and ran the ball again, for 4 yards.
On 3 and 19 from their own 16, Heupel was kind of forced to call a pass play to try and put Memphis in average starting field position. You're not calling any play on 3rd and 19 trying to get a first down and you can't convince me otherwise.  But Milton was able to find Otis 23 yards down field setting up UCF to have just enough time to get in FG range and even almost scoring a TD.
The second drive Milton showed his value was in the 4th quarter. Down 6, with a little over 13:00 left. Another negative run on first down (kind of a theme) and a play where Milton was forced to throw it away on second, set up a 3rd and 11.
Here's the pass Milton made.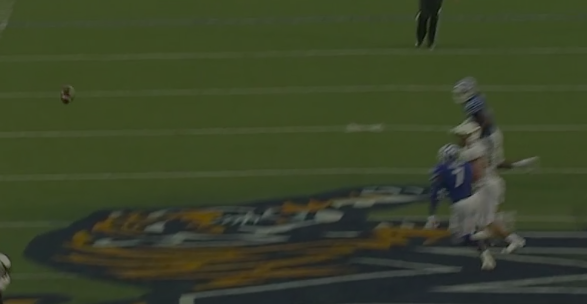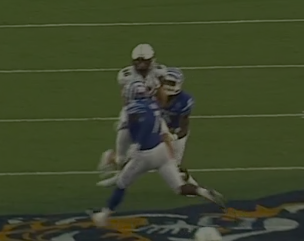 There are maybe 1% of college QB's making this throw 20 yards down field, in those weather conditions. This play eventually led to Milton's TD run, but without this pass, UCF doesn't take the lead and I don't think wins.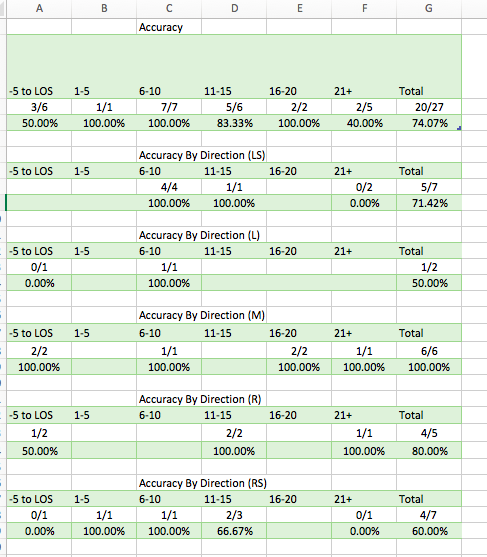 Milton's accuracy was spot on this week.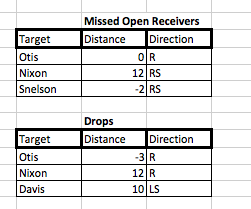 He only missed 3 open guys, the pass to Nixon, I think just slipped out of his hand.
There were a couple of big drops. All three of them were big plays and I think Otis' could have gone for 20+ yards. Nixon's drop was a tough call as he kind of tripped out of his route on a third down play, but the throw was spot on and I think he'd say he needs to make that catch.
The pass game once again struggled under pressure. This is sad because UCF max protected with the RB and TE a lot more than they should and Memphis only brought 3 guys a lot of the time.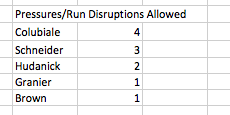 Colubiale continues to struggle blocking. He has had some huge catches over the last couple of weeks so it's hard to knock him, but at some point, blocking needs to be an emphasis.
Using the Pass to Set up the run:
Alright, this is my main point this week. I think, by now, we've all realized how important the run game is to Heupel despite him actually knowing which RB's to use.
There is nothing worse to hear out of a coaches mouth than "we need to establish the run" this isn't 1990's football anymore. This is also exactly what Heupel said in his halftime interview, down 13, on the road.
I think we can all agree, that an offense at this tempo, rhythm plays a big part and it's why successful drives look so good and bad drives just look absolutely awful.
While watching the game over, I kind of noticed something and so I put some numbers together to see if my observation was right.
Instead of establishing the run, I think UCF needs to use Milton and the passing game to set up the run. By this, I mean, UCF needs to throw the ball early in the drive more often than they are.
First off, you have one of the best QB's in the country.
Second off, let's look at the #'s.
So vs. Memphis, this is what we have.

The key to me, is the first two plays. Those are the least reliant on down and distance. So, on first down, an even 50/50 play split of run and pass. Only 1 run was successful (the first play of the game) and UCF averaged 0.43 ypc. 4 passes were successful, averaging 20 ypa (a little inflated from Davis' 75 yard TD.
0.43 ypc is basically saying, we'll just start the drive at 2 and 10.
On the second POD, another 50/50 run/pass split. Another absolute absurd difference in success rate.
UCF was awful on third down this game, in large part to being behind the chains.
Now, when the offense got a little rhythm and some positive plays, with tempo and momentum, when they ran the ball (POD's 4-7) they hit at a 9/14 (64.29%) rate.
You could say, we'll it was just one game and you'd be right. So, I put every FBS opponent UCF has played this season, into one chart.

Pretty damn accurate. Now, obviously the numbers are a little better, because they've played better in every other game, but the notion still shows true. A 48.57% and a 36.67% success rate running the ball on the 1st and 2nd plays of drives compared to a 65.38% and a 59.26% success rate when throwing the bal.
Once again, when you get to play 4 and on, the run game all of a sudden flips and the ypc almost double.
I'm not saying I'm on to something, but I think I'm on to something.
Run Game:
Not even going to get mad this week, because this just gets proven every week, but I'll still show the numbers.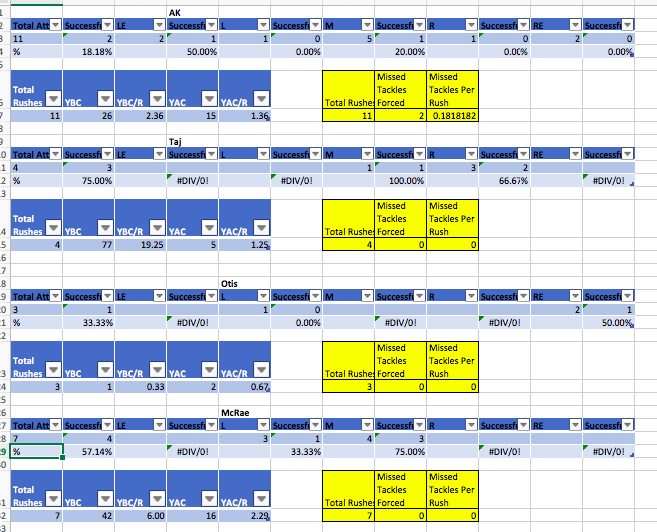 Otis didn't have a good game, as high as I've been on him this season, I have to admit that. AK was successful on only 2 of his 11 carries and the outside runs didn't help out.
Good thing, McRae and Taj's carries add up to AK's total carries. Combined, McRae and Taj were successful on 7 of 11 attempts. One of McRae's carries was 2 and 23 at the end of the 1h and one of Taj's was a 3rd and 11 on UCF's final drives so take those two out and they're 7/9. Pretty good.
I'm not one of those people who thinks teams need to be run 100% on analytics and that couldn't be more wrong. There is so much that goes into coaching in terms of play calling and personnel usage.
For instance, the 4th down decisions, why analytically, it's the right decision, you still need to have the guts and confidence to go for it in your own territory. I don't care what the numbers say, those, while the right decision, I'll still tip my cap to Heupel for those. But at the same time there is just no answer Heupel can give to giving AK the majority of carries that will be right.
The numbers, the data, the eye test all support otherwise and the only answer he could even say is "I feel he's the best guy".
Personnel:
Another L for me here, although it pretty much goes hand in hand with Otis having a bad game.

Just some really gross numbers. Maybe they should just run 14 personnel every snap.
Offensive Conclusion:
I look at success rate as the biggest indicator of how an offense/individual performs because it is the most accurate assessment you can get on a per play basis. Every play, of every game has meaning, yes the 4th down plays effected the outcome more, but if other plays were better, UCF wouldn't have been in that situation.
There is no arguing, that UCF's offense was bad against Memphis. IMO, Heupel needs to figure something out. There is too much talent and the QB is too good for them to post numbers like this.
I was going to kind of give some lee-way because of the weather in the 2h, but Milton attempted 14 passes that weren't throw aways in the 2h and was accurate on 10 of them. Pretty good, and pretty clear that the passing attack was not affected.
Defense:
Kind of a difficult game to evaluate the defense. Most people were calling for Shannon after the 1h, but UCF didn't play that bad in the 1h. The biggest problem was penalties, which I don't chart because to me, they're an independent variable and can't dictate success on a per game basis. This was really the first game UCF jumped offsides often and committed dumb penalties which cost them about 10 points and maybe more.
They also faced the best RB in the country and I think UCF fans realize how good Henderson is now.
Memphis ran 80 plays and UCF held them to a 41.25% success rate which is very good.
In the 1h, they were 21/46.
On rushing attempts, Memphis was successful on 13/28 in the 1h and 20/49 overall.
The part where UCF struggled, was on successful plays, they allowed them to become explosive plays. 10 of the 20 successful runs went for 10+ yards.
Now, missed tackles. Tackling wasn't too bad, but when it was, it contributed to these runs.
There were missed tackles on 8 of these 10 explosive runs. The 8 runs accumulated 171 yards (wow). Of those 171 yards, 113 of them came after a missed tackle. So, with sound tackling, that's 58 yards on 8 carries for 7.25 ypc.

 A majority of missed tackles came from the secondary, which against Henderson is just a mis-match.
Plays with missed tackles, were 9 in the 1h and 7 in the 2h, so you can't exactly look at that as the difference in each half.
I think the LB's and D-Line got a lot bigger push in the 2h.
UCF got a run disruption on 6 plays in the 2h. All 6 of them, they were able to tackle the ball carrier for a loss. Eriq Gilyard, filling in for Pat Jasinski had 2 big ones, Titus Davis had 3 and Randy Charlton kicked in with one. The young guys and the vet really stepped up.
Norvell got very predictable and went run, run almost every 1st and 2nd of the 2h which allowed UCF to be a lot more aggressive as they knew he wasn't going to let White throw.
Again, for some reason, UCF struggle to defend the run to the left end. On 16 attempts, Memphis was successful on 10 of them and averaged 11.63 ypc on these runs.
The only other thing I have is that teams need to stop throwing at Brandon Moore. He absolutely shut down Damonte Coxie one-on-one in the first half when they went at him about 3 or 4 times downfield.
Conclusion:
As a fan, all you can ask for is a win and that's what UCF did. However, from an unbiased perspective, I don't think this team is as good as a lot of fans think.
To me, the issue isn't talent on offense or talent on defense. It's just the offense just doesn't look good. A lot of issues that I've pointed out, made a difference this week because Memphis is good and UCF was on the road. It's easy to say they scored all these points at home against bad teams so the offense is good, but that's not how it works.
Defensively, I think UCF is better than last season, both production wise and coaching.
Offensively, in my opinion, talent wise, there is no drop off from last season.
If I were to say, Memphis only scored 30 points, you would think UCF would have won by three possessions and you can't blame the weather because Milton threw the ball with the same accuracy in both halves.