UCF rallied from 17 down at halftime to defeat Memphis in the AAC championship game behind the performance of Darriel Mack.
It was UCF's 25th straight win, all in which they've scored 30+ points. With McKenzie Milton out, many people wondered how the offense would perform with Mack at helm. Well, Mack silenced everyone who had questioned his ability with an almost unimaginable performance.
Memphis blew yet another big halftime lead, for the second time this season. I'm only going to focus on UCF's offense in this one, but will get to the defense sometime this week because I really want to look at Norvell's second half play calling.
Also, Mack's performance deserves its own spotlight.
I'm not sure how many people understand how good this performance was, but I'll try my best to break it all down with the advanced stats and analytics you can't get from a box score.
After the ECU game, Mack's stat-line was pretty ugly, but I thought it was a really positive performance and got some questioning about my breakdown which was totally understandable, but after this performance, it's hard to question Mack right now.
Accuracy: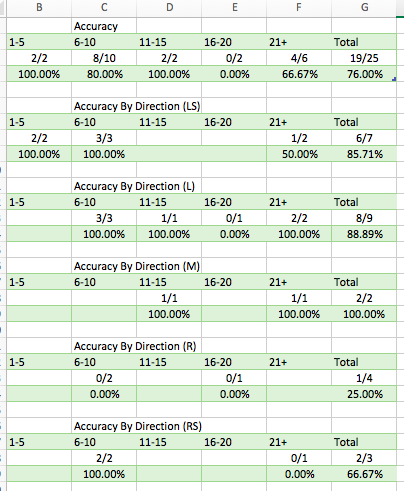 So Mack's box score will read 19/27, which is a little misleading. He had one completion to Gabe Davis that Snelson held on, and because it is a spot of the foul penalty, it resulted in a 1st and 9 from 1 yard ahead of the previous LOS. In the box score, it counts as a completion but not an attempt.  I didn't chart this play at all.
The 25 attempts in Mack's accuracy include every pass thrown to a targeted receiver. That eliminates the spike at the end of the first half and the ball he just threw to avoid a sack at the end of the first half.
He posted a 76% accuracy rate and the only area he didn't perform well was the 16-20 depth. Something that jumps out is only 7 of his 25 attempts, went to his throwing arm side of the field.
Another thing? Mack didn't throw a single inaccurate ball in the second half. Down 17 at halftime, Mack was just about perfect. Only 1 of his 2h throws traveled less than 7 yards in the air as well.
Throws By Route: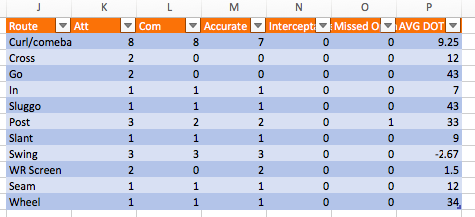 Mack threw to a variety of different routes throughout the game. He didn't struggle in any area really. A lot of people (myself included) were a little worried about his "touch" that for me, was on slants and crosses at intermediate distances. He did struggle on a couple crossing routes, the first play of the game was one where he threw it behind Gabe.
He threw a lot of Curls/Comebacks, and completed all of them. I think this is a great throw for Mack, given his arm strength. Throwing most of the time to sidelines, you need some velocity on the ball.
Also,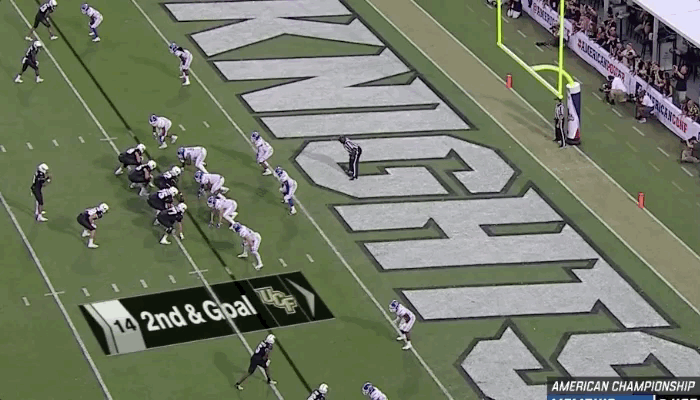 This ball was thrown with plenty of "touch".
Play Action/YPA/aDot:
This is where it gets good.

If you follow any sort of NFL QB advanced stats, you'll realize how stupid these numbers are.
First of all, play action was lights out.
Let's take a look at some plays: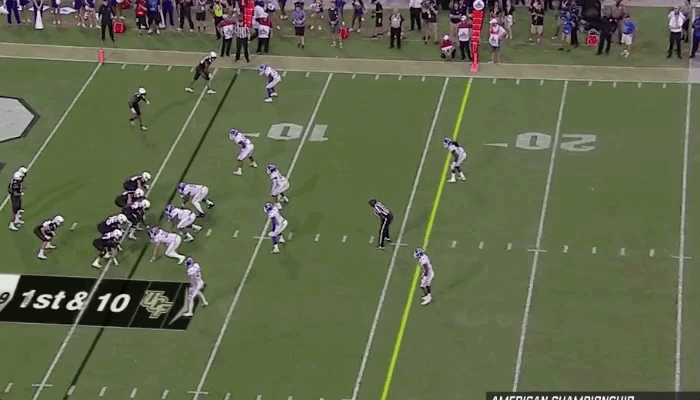 Backed up at the 6, Snelson goes in motion and the right safety comes up 3 more yards. By the time the pay fake is complete, the safety has no chance to help over the top and Gabe is going to win that one-on-one 9 times out of 10. Mack delivers just about a perfect throw.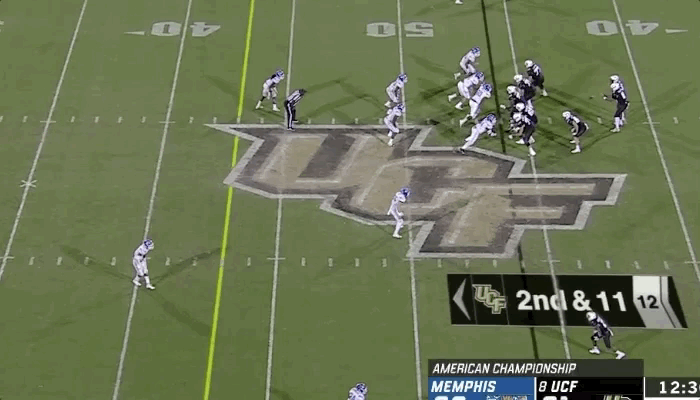 This may have been the biggest play of the game. Otis runs a mini wheel as Tre runs a slant? can't see because of camera angle, but regardless he goes inside and Otis goes around to the outside. The safety tries to jump the route for a pick, but Mack literally dropped this in on a dime.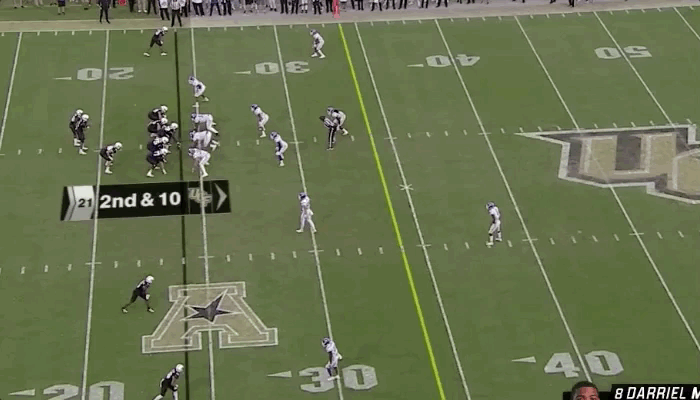 Another play action deep ball here. Snelson runs a post-corner-post and just puts the safety on skates.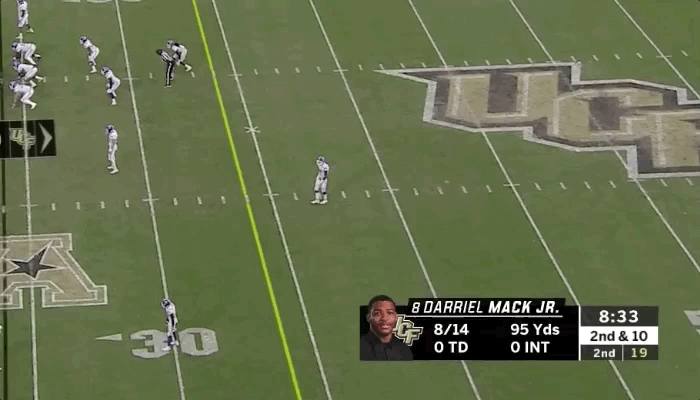 I mean that's just not fair.
Final one, the play that ended the game IMO: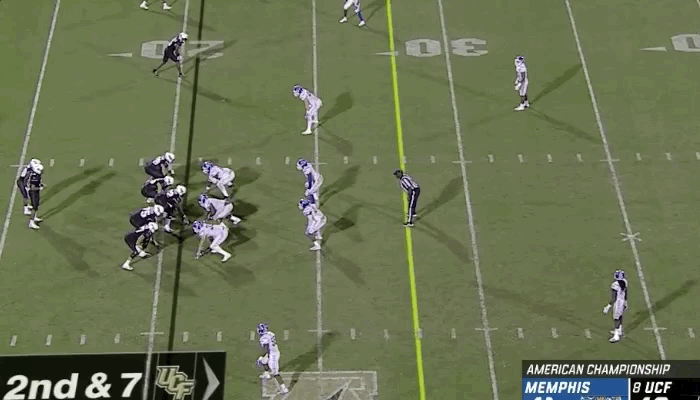 A little sluggo (slant and go) and Mack throws another perfect deep ball. If Snelson doesn't trip over his feet, that's a touchdown (second week in a row he did this to Mack).
All 4 of the plays involved play action, one-on-one coverage and most importantly great protection.
Mack loves the pocket, actually the first play of the game was a designed roll out and Mack threw a poor pass. The announcers said, there was going to be a lot of this, they couldn't have been more wrong.
If you've watched Mack play this season you know he's a true pocket passer. He's extremely calm and just trust his line because he knows his receivers can get open against any coverage.
Mack only threw one ball from outside the pocket, the first play of the game. He only scrambled twice and one was off of a broken tackle on a would be sack.

Back to these numbers.
Overall, on Mack's 25 targeted attempts UCF had a 68% success rate. That alone is just stupid good. I've probably charted around 50 total offensive games in the last two seasons, and I don't think any pass success rate comes close to that. More than half of those games are Milton and Drew Lock games too, so some pretty damn good QB's.
Now a 72% completion percentage is great no matter what. Mack did it with a 15.32 aDot (average depth of target). This means, on average, the first touch yardline of the intended receiver was 15 yards passed the line of scrimmage.
That is unheard of. He also averaged just about 14 yards per pass attempt, also unheard of.
Early Down Success Rate:
When I broke down Mack's first two games before the Memphis game, I mentioned how critical it was for Heupel to let Mack throw on first and second down and not be too conservative.

All Mack did on first and second down was post a 66.67% success rate with a 15.19 ypa. Is that any good?
Now, they did run the ball a crap ton more than I would've liked, but most of those came after successful passes, which I've mentioned I really like. A 54.17% success rate is good and you'll take it any game, but when your ypa is 10 yards more than ypc and pass success rate is 13% higher, it's pretty clear the pass was very effective.
The one thing that gets me really mad, is run-run on first and second down.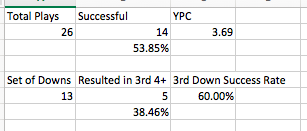 There were 13 instances where this happened so a total of 26 plays (1st and 2nd down 13 times). 5 of the 13 resulted in 3rd downs with 4 or more yards to go, not exactly the position you want to put your freshman QB in, especially when trailing. Thankfully, Mack over delivered and UCF converted 3 of the 5. But, on the 26 plays UCF went run-run, they only averaged 3.69 ypc.
Also, Mack's second fumble came on a 3rd and 5 after a run-run on 1st and 2nd down. Not saying that's an excuse for poor pocket presence/ball security, but it is a situation I feel could have been avoided.
Mack's Run Game:
This is one thing that I think makes UCF's offense maybe a little harder to stop than when Milton is playing (I'm not saying Mack is better). Milton's run game is very good and creative, but when Mack is at QB, it's like essentially having another running back on the field.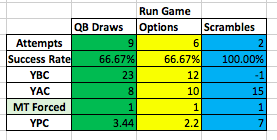 Mack had 17 rush attempts (not including the kneel down) and he was successful on 12 of those. His YPC wasn't great because a lot of his rushes were in short yardage situations, as they should be.
His first fumble came on a 1st and 10 designed QB draw out of empty. The play had no chance from the start.
33 yards after contact is awesome and any 4th and 1 should be a QB sneak. I think he got 5 or 6 yards on the one they attempted. You're just not going to stop him on a QB sneak for less than a yard.
Ball security was definitely a problem, but I don't look at fumbles as a predictive trend and the game is now over, so I'd rather look at how he performed and trust that his ball security will be worked on.
RB Run Game: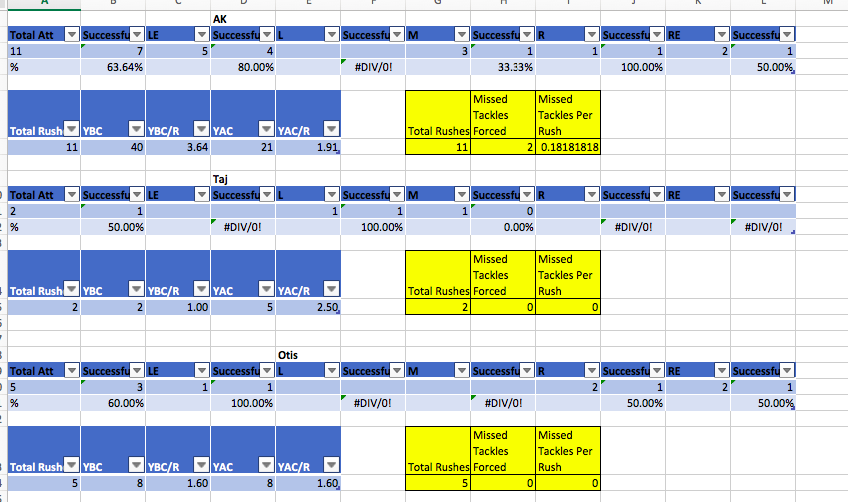 It was nice to see AK get going a little on the ground. I would say this was by far his best rushing game of the season. He had some great cuts to the outside late in the game and really showed I think what we've all been hoping for all season.
Taj, I think might get the short end up the stick with Mack at QB. I don't necessarily agree with it because I think he can be more than a power back, but with Mack at QB, you don't really need a power back.
Otis with 5 carries was nice. Nothing crazy, but nothing terrible. After the muffed punt, he could've easily took himself out of the game because at the time that seemed extremely meaningful, but he came back and made back to game-changing plays to start the second half, both as a receiver and that punt return was awesome.

And then there's Greg McCrae. We've all got what we hoped and that's a consistent workload for this guy, he's earned it. 23 carries, a below 50% success rate in a game where the offense was so successful, isn't the best, but over 25% of his rushes went for 10+ yards (explosive runs) and that definitely triumphs a few more unsuccessful carries than normal.
He was also great as a receiver. Heupel called 3 swing pass screens on 3rd and short, a play I mentioned in my Mack preview, and he caught all 3. Would have had 3 successful plays if not for Snelson whiffing on a block on the outside, but effective none-the-less.
Personnel:

A steady dose of "11" personnel, but I think that was by design to get Mack more protection on pass attempts. I think the only time a tight end was targeted was on the pop pass TD to Hesock.
But, UCF was also really good with "20" and "21" personnel, successful on 10 of 12 combined plays isn't too bad.
Conclusion:
Mack's performance was special, and if you understand aDot and YPA, it's that much more impressive. He did something that only Lamar Jackson has done in the last 20 years by rushing for 4 td's and throwing for nearly 350. That's pretty elite company.
It was an awesome game and you just have to be happy for Mack, all the pressure in the world on him and he delivered and then some and give credit to Heupel because he had a major part in this as well.