(11) UCF takes on (24) Cincinnati Saturday night in arguably the most anticipated home game in UCF history. Cincinnati comes in at 9-1, with their only loss being at Temple, in overtime, in a game in which they completely outplayed the Owls. UCF is winners of 22 straight and are looking to continue that.
This game will decide who gets one of the two spots in the AAC championship, probably for the chance to play for a NY6 bowl bid, so it's kind of important.
I charted every single offensive play Cincinnati has run this season vs. FBS opponents where Desmond Ridder was in at QB and the few non-garbage time snaps Hayden Moore has taken this season are included as well.
In total, I have 613 offensive plays from Cincinnati, in which I would consider all of the meaningful plays they have run. On the flip side, I've charted 473 plays on the defensive side of the ball for UCF. Not included in those 473 is the Navy game (triple option) and the SC State game (FCS).
I used analytics to break down Cincinnati's offense, how UCF's defense matches up against some of the things they like to do, and most importantly where UCF is a little weak and how Cincinnati should try and attack the Knights defense.
In my opinion, UCF's offense is going to score on any defense without having to worry about attacking defenses weaknesses besides maybe some of the top power 5 defenses in the country.
Cincinnati's defense has been terrific, but so was Temple's when UCF played them. If you look at the offenses of the opponents Cincinnati has faced, none of them compare to UCF's offense.
That is mainly why I looked only at Cincinnati's offense vs. UCF's defense and also because this takes me a long enough time as it is.
Before I get into everything, watching every Cincinnati game, made me realize their offense is a lot like Temple's, except Temple, in my opinion has the better skill players and are thus the more difficult matchup.
Personnel:
First thing I like to look at with pretty much every team is personnel usage.

Luke Fickell takes more of the Sean McVay approach when it comes to personnel usage. Whenever you're doing something McVay does, it's never a bad thing. Fickell uses "11" personnel (1 RB, 1 TE, 3 WR) on 77% of plays. McVay is in the mid to high 90's, but 77% is very high compared to a lot of teams.
However, Fickell doesn't exactly use the creativity or many different formations like McVay, which is a lot of why McVay is so successful. Not saying that Fickell isn't, because his team is 9-1, but the advantage of using only "11" personnel is forcing defenses to adjust and make changes pre-snap because of the different formations.
Cinci uses multiple tight ends in short yardage and in bad field position and they go about 77% run in these situations, but have more success running out of "11" personnel.

The bad thing for Cincinnati is, UCF plays the run great against "11" personnel and plays overall great defense against this look. They have only allowed a 41.58% success rate while struggling more against the two tight end look.
I expect Cincinnati to run about 80% of plays in "11" personnel which probably favors UCF. It allows them to matchup in a 4-2-5 defense which we primarily see with 4 down lineman, Pat/Gilyard and Nate Evans at linebacker and then Moore and Clarke as outside corners with Causey as the slot corner and two of Grant/Gibson/Collier at safety.
How Cincinnati can attack UCF through the air and what UCF must force Desmond Ridder to do:
The run game is going to be important for Cincinnati obviously and that's because Michael Warren is really good, but they are going to have to throw the ball if they want to win this game.
Desmond Ridder has been solid all season for the Bearcats and UCF's pass D has also been pretty impressive. I've kind of found a couple of weakness on both sides in which can become crucial in the game.
Well start with what I think Cincinnati needs to do.
Luke Fickell needs to attack this UCF back 7 between the numbers. UCF fans saw this with Temple, they just couldn't cover the middle of the field.

If you look at how dominate Temple was throwing the ball between the left hash and left numbers and then between the hashes, it is remarkable.
Now, looking at the season numbers:

Those are still the two areas you want to attack. Between the numbers, UCF has allowed a 68% completion percentage and a 50% success rate, both over their season averages. Now, the right sideline numbers are not very good, but I still don't think attacking Moore or Clarke is a smart thing.

Now, Cincinnati loves to throw the ball outside the numbers. 110 of their 223 attempts have gone to either the left sideline or right sideline, but they have been extremely successful between the numbers. A 50%, 54.84%, and a 57.41% success rate when throwing to the left, middle, and right respectively.
Their numbers may tell you to keep throwing to the left sideline, but it is not where you want to challenge this UCF secondary.
Play Action:
Furthering along in how Cincinnati needs to attack UCF's defense, but breaking it down a little so it's easier to read (if anyone actually made it this far).
Play action is something that, in my opinion, Luke Fickell doesn't even come close to using enough. There is almost no negatives to using play action for the most part, now I'm saying to use it every single throw, but it should be used often. Play action doesn't even need an effective run game to be effective and Cincinnati even has good run game.


Only 22% of Ridder's throws have been off of play action. Throw aways, spikes, sacks, and tipped passes are not included in any of this data, only passes thrown to a targeted receiver.
On the 49 play action attempts, Ridder has a 67.35% completion percentage and has thrown an accurate ball 75% of the time (includes drops). Cincinnati has a 61.22% success rate (very good) on such plays and are averaging 8.16 yards per attempt.
On the flip side, Ridder has a better completion percentage on non play action attempts, but Cincinnati has a significantly lower success rate and a lower ypa.
Luke Fickell is basically saying, we're better out of play action, but I don't care.
Well he should, because UCF's pass D is worse against play action than non play action.

UCF's defense allows about a 4.22% higher success rate and a full yard more per pass attempt on play action passes.
It's almost like play action works.
If you're interested, here are McKenzie Milton's play action passing numbers.

These are unbelievable (I just had to include them for anyone who hasn't seen).
The two ways in my opinion and backed by the numbers, to be effective against UCF's defense through the air are to attack the middle of the field and to use play action.
Luke Fickell must do this on Saturday night if he wants to get a historic win for the Bearcats.
So who is Desmond Ridder Throwing To?
I mentioned that Cincinnati loves "11" personnel. It means you'll see a lot of the same 5 guys on the field. Michael Warren at RB, Josiah Deguara at TE, Rashad Medaris as the slot WR, with Thomas Geddis and Kahlil Lewis as the outside receivers.
All three receivers have been pretty successful this season.

Deguara has also been very good and is extremely effective on short throws. They love to run a RPO with Ridder rolling out and Deguara sprinting into the flat and trying to make the defensive guy play one of the two.
Warren is a great runner, but he is also used a lot in the passing game. He has 26 targets, all on balls traveling 8 yards or less. However, this gets him in the open field where he can excel as he averages 8.75 yards after the catch per reception.
What UCF must force Desmond Ridder to do:
So, if you studied the receiving numbers above, you might be able to hint at what my key is here.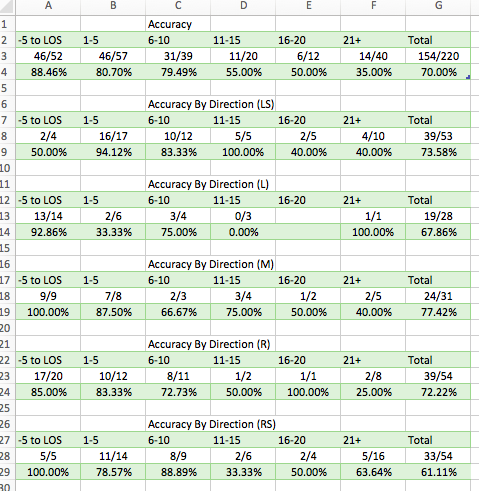 Taking a look at Ridder's accuracy chart, he is pretty consistent to all directions.
You'll also notice that 148 of his 220 attempts (67%) come on balls with aDot (average depth of target) of 10 yards or less. High percentage throws in other words and you'll see that he has been very good on these throws.
They love to run curls, outs, flats and comebacks and get the ball out of Ridder's hands quick, thus the high percentage of short throws.
Another reason for that, is his inability to throw the ball downfield. On passes traveling over 20 yards (deep balls) he has only thrown 14 of 40 accurately. Being around 50% on deep to intermediate throws isn't exactly great either.
This tells me that UCF needs to force him to throw deep. Press on the outside, which Moore and Clarke actually like to do and take away the short throws.
Some more information to back this up:

Ridder has thrown 75% of his interceptable passes on throws traveling 11+ yards. If you ratio that, with the amount of attempts, it is not a very good ratio.
If you look at UCF's defensive numbers. They are actually the worst at defending passes traveling between 1-10 yards by a large margin. They allow a 54% success rate on thse throws, while not allowing higher than a 42.22% rate anywhere else.
Once you get passed 11+ yards, their defense becomes very good. It won't be easy and it's why I don't coach/get paid a lot of money, but this is something Randy Shannon needs to figure out heading into this game because it is a clear strength of Cincinnati.
Ridder under pressure:

Not very good. Also another reason why they probably like to get the ball out quick. On non blitz pressures, Ridder only has 9 completions on 45 such instances. We know UCF doesn't like to blitz, so getting to Ridder with a 4 man rush can turn out to be very effective.
Ridder is a great runner, which I'm about to get into, but ironically has not scrambled once against a blitz.
Rushing Attack:
This is almost even battle for me, which is why I think it Cincinnati's ability/inability to throw the ball is going to be the biggest factor in this game.
UCF might not have the prettiest raw statistics when it comes to run defense, but I'm actually higher on them then most. They've faced Singletary, Henderson, and Armstead so far as well as Pitt's running backs who have gone off since, but I would put Warren behind the 3 names I mentioned before and it really isn't that close in my opinion.

His numbers are very good, but nothing jumps out at you. With Henderson, Singletary and Armstead there was that one thing that was extremely impressive.
I would say his best thing has been his consistency to every direction. 44 missed tackles on 202 rushes is nothing crazy and a sub 5.0 ypc is good, but it's nothing UCF hasn't faced.
Something I noticed against USF was how much he tries to force things to the outside.
The numbers don't exactly back it up, but it was the most recent game.

UCF struggles on runs to the left end which is primarily where Warren tries to bounce his runs. They must force him to run between the tackles, on designed between the tackles runs.
Also, Warren's 2.59 yards after contact is not much higher than UCF's average allowed 

I don't think well see much of Cincinnati's secondary backs, but here on their numbers: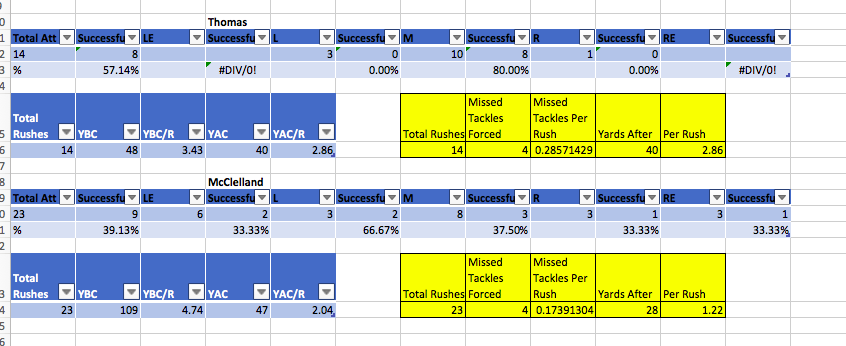 Just a combined 37 rush attempts between the two. Thomas has actually been very good.
Explosive Runs:
Something that can skew raw stats a bit are outliers. By this I mean, long rushes that don't frequently occur.
UCF is a team prone to letting them up and Warren is a guy who gets his fair share.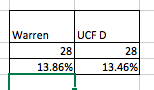 Ironically, I've charted 208 rushing attempts against UCF's defense and 202 rushing attempts for Warren. So it is basically an identical sample when comparing the two. Warren has 28 explosive runs (10+ yards) while UCF's defense has let up exactly 28 as well.
Warren will get 25(ish) carries if I had to guess Saturday night. 14% of 25 is 3.5 so I'll go out there and say Warren will have 4 rushes of 10 or more yards. It's not the end of the world if your a UCF fan, you can't contain an explosive back on every snap.
Ridder's Run Game: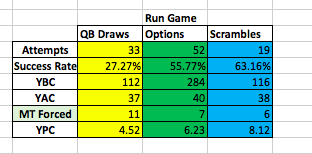 Ridder is going to run and he's going to run a decent amount. He has 85 designed runs on the season, about a third are straight QB draws. He has not been good on these and they normally come in situations with a decent amount of yards left to gain.
However, he has been very good on read options and scrambles. Russo, Temple's QB killed UCF on scrambles, but it was something he ordinarily didn't do, so I don't think UCF game-planned for his feet.
This week, Ridder is a known runner, and a good one, so UCF should be prepared which I think actually makes him less of a threat than Russo was on the ground.
Play Calling:
This is always something I'm interested in diving into very far and just never have the time to. I think every coach falls into play calling tendencies and it would be fun to look for. With Temple I noticed something just from watching the games and it was very accurate with what happened in that situation in the game.
With Cincinnati, nothing jumped out at me and I wanted to get this done so I didn't dive into it.
For fun, I look at how Fickell called plays in the first half compared to the second half while in one possession games.
Considering it is expected to be a one possession game, I figured it was relevant.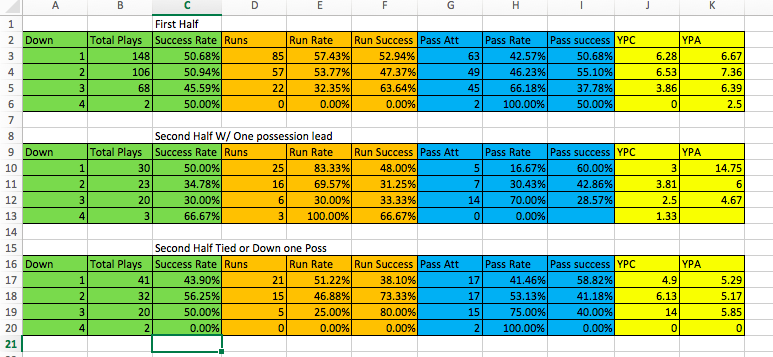 First half, the numbers are pretty normal, definitely a run first team, but nothing crazy.
In the second half, with a small lead, Fickell gets ultra conservative and his offense gets very stagnant.
An 83.33% run rate on first down and 70% on second down despite having just a 3 ypc average on first down a 31.25% rushing success rate on second.
It then forces him into obvious passing situation on third down and low percentage ones at that.
When tied, or losing, he sticks to pretty much the same approach as he has in the first half.
Just looking at everything that I've included with ypa, they are all extremely low, it is vital to stop the short passing game for UCF.
Conclusion:
I've now watched every single Cincinnati offensive snap this snap this season and I've probably watched every single UCF snap, both offense and defense, at least twice. I don't think Cincinnati really has much of a shot in this game.
Their offensive style isn't suited to for a shootout and in my opinion that is the only way UCF will lose a game which is why I'm scared of Houston.
Temple, I felt the same way and Anthony Russo played a way above his expected performance and they still lost by 12. I don't exactly know who has the better defense between the two, but it doesn't matter because they are both regarded as very good, but the talent UCF has on offense, particularly at QB is tremendous.
It should be an awesome game and I hope it lives up to the hype.
I have much more information so if you're interested in anything or won't to tell me how much this sucked tell me on twitter @Squints_15 or on here.