Darriel Mack is getting his second career start on Saturday as UCF looks to win back to back American Conference Championships.
Mack's raw numbers and statistics won't impress anyone, but I actually have a lot of confidence in Mack.
UCF's offense shouldn't and won't look the same as it did with McKenzie Milton at quarterback because Mack is a little different of a player than Milton is.
Also, Milton is one of the best QB's in the country.
In my opinion and I'll explain throughout the this, Josh Heupel is the only one who can slow down this offense and Darriel Mack from succeeding.
The drives may not look the same as they did with Milton, but that doesn't mean Mack can't lead this offense to the same overall scoring output as Milton did.
A lot of this will have to do with play calling and tailoring the game to more of Mack's strengths.
I think, in the 2 games Mack has played meaningful snaps in, Heupel has been very conservative with letting Mack play "loose" and really find a passing rhythm.
Heupel's been very fortunate to have inherited two of the best QB's in the country in Lock and Milton the last couple of years, now we'll find out how good of a coach he actually is because this is a team with a skill level above a lot of teams in the country and they have the personnel to win with pretty much any QB.
I'm going to try and gif some of Mack's throws in here, don't know if it'll work.
Accuracy: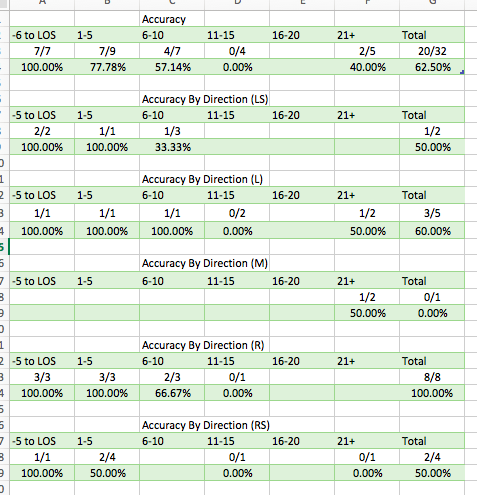 Once again, these are accurate completions and drops so good throws that are knocked away are not included and neither are throw aways.
With that being said, Mack has thrown two accurate deep balls, both to Snelson, one caught and one dropped.
Deep Passes:
Mack's best ball in my opinion is his deep ball. He's only missed on really one this season and all 5 of his attempts have traveled over 40 yards. Here's the one Snelson dropped against ECU.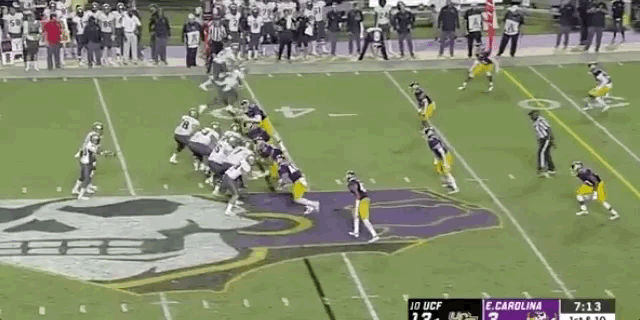 Absolute dime. A thing to note on this play is the protection. UCF went with a max protect here. Both McCrae and Colubiale stayed in to protect on only a 4 man rush. This gave Mack a ton of time to throw and let Snelson get open downfield.
Also, my third string quarterback in eighth grade doesn't give me any credibility to talk about actual football things like footwork, progressions and reading coverages, but the trajectory and touch on this deep pass is beautiful.
Teams are expecting the run vs. Mack and even with 7 guys in coverage, there was no safety over the top. There are few teams in the country and none in the AAC that can cover any of UCF's receivers one on one downfield.
This one, he overthrows an open Nixon. Once again, max protection and still no safety help. USF and ECU both put more men in the box vs. Mack than UCF normally faces when Milton is in.
Although Nixon was open, and he missed him, he put the ball in a spot where only Nixon had a chance to get it. You're not going to throw deep balls perfectly every time.
One thing I really like about Mack, is he desire to stay in the pocket. Young QB's who have the ability to run and break tackles like Mack can, usually love to get out of the pocket as quick as they can.
Here are two more deep balls he threw again ECU that resulted in PI's that Mack got absolutely destroyed on.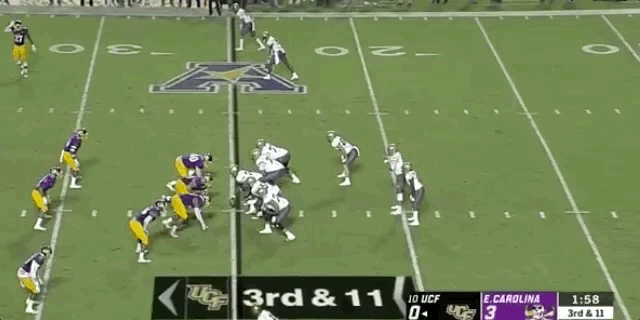 This ball was underthrown and Davis was open if he had got rid of the ball quicker, but he gets absolutely crushed on release.
Another huge hit Mack takes, but once again staying in the pocket as long as he can, giving his receivers a chance to get open downfield.
Look how many guys are within 10 yards of the LOS, this is stealing with UCF's receivers with the way Mack has looked on these throws.
Also, this was about as on the money of a throw as you can make. I don't think it was PI I just think Nixon missed it.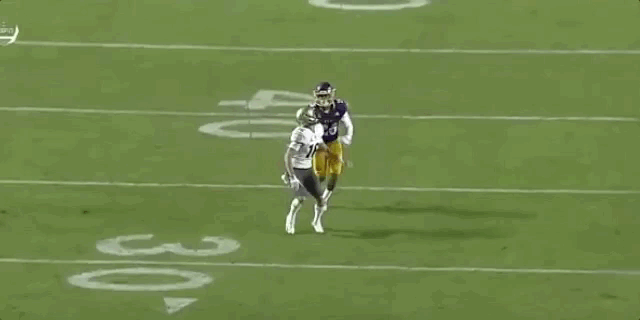 Mack's first pass against USF, a deep ball to Nixon: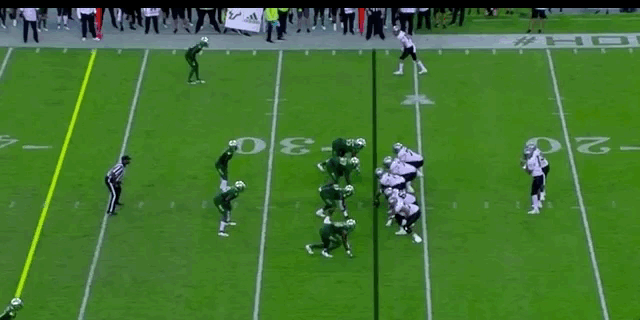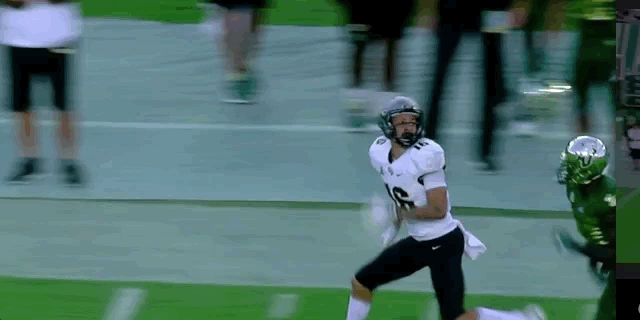 Another great throw that the defender just made a great play on.
Later in the game, Mack had Nixon open again: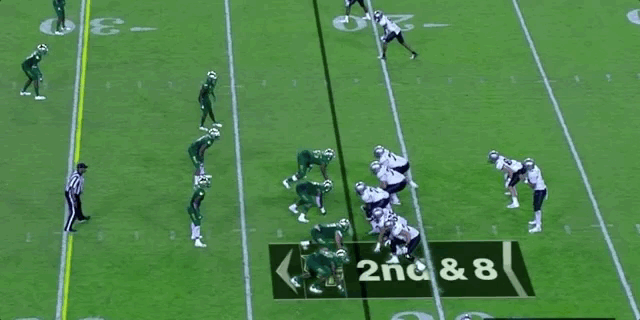 Great protection again, just a little too strong on the throw, but once again putting it in a spot only Nixon could go get it.
The best part about this throw? The very next play: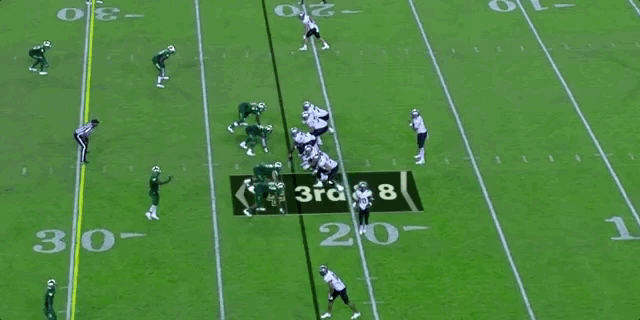 A phenomenal throw to Snelson, it would've went for 6 if Snelson didn't trip over his own feet.
One thing, Mack seems to emulate Milton in, is the effortless deep balls. Both guys simply seem to throw deep passes with 0 effort. Great trajectory and touch.
On every single one of these deep balls, Mack took his drop and remained patient when he didn't have something right away. He seems to trust the line (they haven't exactly given him a reason too) and is willing to take hits to stay in the pocket.
Intermediate throws:
This is the area I think Mack has struggled a bit and how the offense should get away from what they do a little bit with Milton. KZ is great at throwing slants and comebacks on the outside on intermediate attempts.
A lot of people have noted that Mack has a little bit of a lack of feel on throws and this is the area where that really matters.
I won't go crazy with gifs like I did on the deep passes, but here are two throws against ECU at intermediate depths that he misses.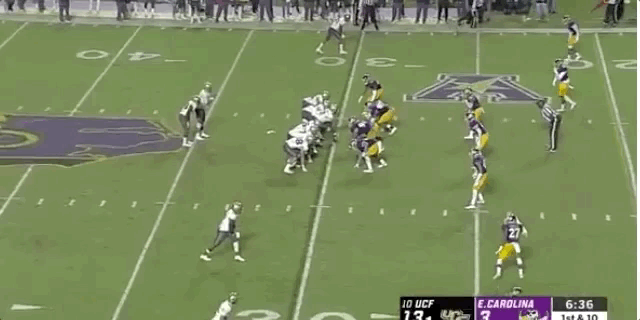 A very clean pocket and a wide open Davis, he simply just misses on this and it should have been intercepted.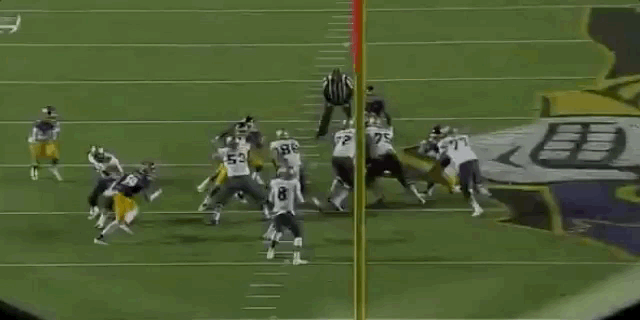 This would've been a TD. He doesn't miss by much and Miller just whiffed on his block forcing Mack to get rid of the ball way early.
He knew he was about to get crushed, but stayed in the pocket anyway. Not even a chance to set his feet here.
So should they only throw the ball downfield?
Mack is obviously going to have to throw some intermediate routes, but it should not be a major part of the offense in my opinion.
With the Milton injury, a lot of national people seem to have forgot that UCF has a ton of skill at skill positions.
Adrian Killins has been an extremely efficient receiver out of the backfield, Otis Anderson (if healthy) is a dynamic guy with the ball in his hands. We all know what Greg McCrae can do and Snelson in the slot can make guys miss as well.
What does this mean?
Short passes, at or behind the line of scrimmage. Mack hasn't missed one all season. It's an area where arm strength is important, as most are thrown a decent distance in terms of depth.
Heupel had gone extremely run heavy against USF until they pulled within 7 and Heupel realized the game wasn't over.
What allowed the offense to go down the field in 4 plays?
2 RPO's.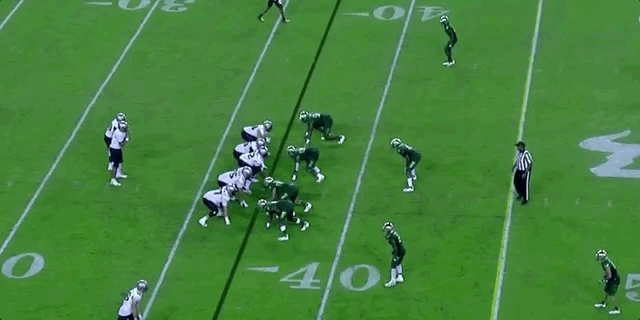 This is just a really good play from Mack. He made the right decision and it was an easy throw that UCF was able to gain about 13 yards on.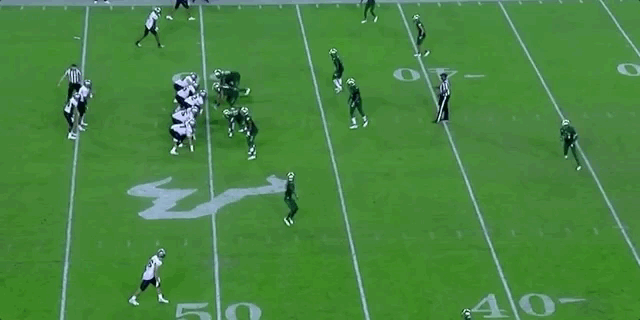 The very next play, same thing. A simple throw to Colubiale and another first down. The very next play I believe McCrae ran for a TD after the run game had done nothing since Mack entered for the most part.
As it was with Milton, so much of the offense is about Rhythm, get positive plays and move the chains. The defense gets disorganized and a little tired and that's when UCF's run game is at its best.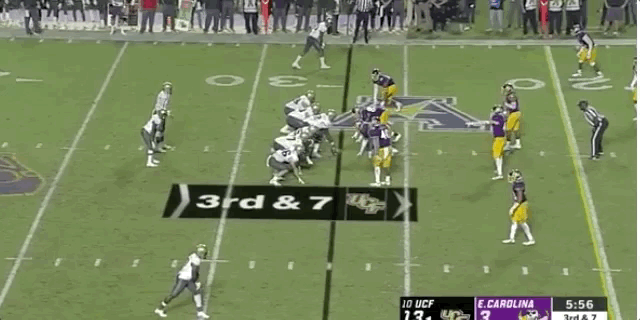 Here's a 3rd and 7, an obvious passing down so ECU isn't going to respect the run. Colubiale runs a nice block and release, Mack remains patient in the pocket as he's shown, throws a nice simple pass one yard past the LOS and Colubiale picks up another 11.
Another simple throw here. A little swing pass with the WR's blocking downfield for Otis, probably would've went for a good amount for if he didn't lose his footing.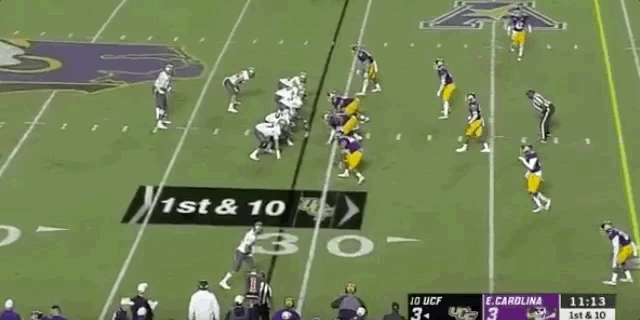 A simple play action WR screen on 1st and 10 for a nice gain. 7 guys all around the LOS, you don't need to run every 1st down because Mack is in, these plays work just fine. This is also a really nicely thrown ball. It's not lazored in there like some of throws are.
The last gif of the day:
The same play as Otis' before, but with McCrae. Another 1st and 10 pass, easy throw, and a nice gain.
A lot of this is what we saw with Frost last season and I hope this is what the passing attack consists of against Memphis. Mack has great touch on these short swing passes, he'll continue to develop it on quick slants and comebacks because he throws a really nice deep ball and short ball.
I will go into play calling in a bit in terms of run/pass and when UCF has scored with Mack on the field based on play calling to explain why UCF can't go run heavy against Memphis.
First, one more gif because it's my favorite Milton play: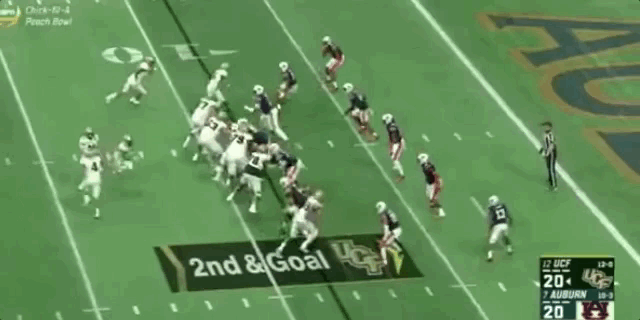 20-20 against one of the best defense in the country, in the biggest game of his career and he pulls this off. There's maybe one or two other QB's in the country who could've made this play.
Pressure:

I showed a lot of plays of Mack getting hit and his desire to stay in the pocket, but that doesn't exactly lead to good numbers. We saw above how solid he has looked with a clean pocket and the line is going to be huge this week. Even if UCF has to max protect, they need to keep the pocket clean.
Mack loves to stay in it and it's when he's at his best by far in his young career. As a great runner, we haven't seen him scramble much and I don't think he's thrown a single ball on the run outside of throwing the ball away.
Play Action/YPA/aDot:

Mack's been really good on non-play action passes. Now, his aDot and YPA aren't the highest, but that's alright.
Most of his deep passes above are on play action which might be the reason there wasn't safety help, but Mack hasn't been very good outside of those couple of throws.
Run Game:
This is really where I want to emphasize the point I'm try to make here and get into a bit of the play calling with Mack at QB.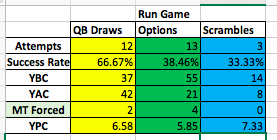 We know Mack is a great runner. His ypc on all 3 different run styles is very good and he's been extremely successful on QB draws in particular. His YAC is also very impressive. Now, UCF fans are going to be worried about Mack taking hits, but it's part of his game.
Milton's injury was a freak injury, they happen. He's taken a million hits in his life, there's no one to blame. As I may not have agreed with Heupel running the ball there on 3rd and 7 I believe after 2 unsuccessful runs after the previous drive going down the field and scoring because of your passing attack, the play call is not the blame.
This injuries just simply freakishly happen like Gordon Haywards ankle or Kevin Ware's leg, and it absolutely sucks that it did because of all that Milton has done and meant to UCF,.
Bottom line is, what happened to Milton, doesn't mean that Heupel has to be cautious about Mack taking hits, it's a major part of his game and he's built like a truck.
RB's Run Game:

These are the results of the 60 rushing attempts while Mack was in at QB in the ECU and USF games where Mack wasn't the ball carrier.
A 45% success rate is not bad, but it's what UCF fans are used to seeing because with Milton at QB: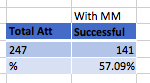 UCF has run the ball 247 (non Milton rushes) and has a 57% success rate on those.
With Mack at QB, teams have played 6 or 7 men in the box on 91.67% of the 60 rushing attempts.
With Milton, that number is at 67%.
It all comes full circle. Deep passing and quick passes outside the tackles are open because there are more men in the box as teams expect UCF to run, as they should.
Play Calling:
I don't know really where to go with this, but I think it's obvious that Heupel in both the ECU game and USF tried to go extremely run heavy and it didn't really work out.
I wanted to look at the difference between the 8 scoring drives and the 10 drives that resulted in a punt or turnover on downs while the game was still within 2 scores.

On the first play of those 18 drives, UCF has gone run on 13 (predictable much). However, they are 3/5 in terms of success rate and scoring drive percentage when it comes to passing the ball on first down.
When they run on first down, despite being less successful, they also have only scored on 38% of those drives (disregard the % listed above that's out of 18 not 13).
UCF has had 24 second and longs (7+) on these 18 drives. On 17!!!!!!! of them they have gone run.
To no surprise, 4 of the same pass attempts came on drives where points were scored.
There have been 12 3rd and 7+'s, Heupel has gone run 7 of these !! This is in games within 2 possessions.
Once again, 3 of the 5 pass attempts came on drives where points were scored.
I have confused myself greatly in Microsoft Excel so I give up.
The bottom line is, UCF has scored points with Mack at QB, but they have more drives that have resulted in no points than points. The biggest difference in those drives is pretty much letting Mack play vs. running the ball on 2nd and 3rd and long and just pretty much giving up on drives.
Mack hasn't been the most accurate, so UCF needs to limit the amount of obvious passing situations he's put in.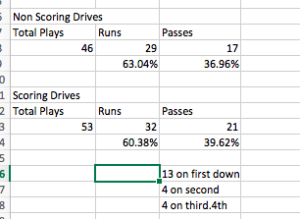 On scoring drives, 13 of his 21 passes have come on first down.
The percentages between run/pass aren't extremely different, it's all about when they are coming.
We saw McCrae run for 3 30+ yard TD's against USF, 2 of those came on drives where Mack made plays to get the offense in Rhythm.
The run game has been a lot less successful with Mack in at QB, but it's not easy to be successful when you're running the ball on 24 of 36 plays when you're behind the chains on second and third down.