Darriel Mack got his first collegiate start against ECU on Saturday and picked up his first collegiate win as UCF won their 20th straight game.
UCF's defense was able to force turnovers all game long and played pretty good to keep some of the pressure off of Mack.
However, keeping the pressure off Mack was probably a bad thing as the offense got very stagnant in the second half and it almost cost UCF.
The numbers, passing in particular, from Mack weren't great and a lot of casual fans will look at the box score and not be necessarily happy.
On the other hand,I actually think Mack played really good and showed a lot of promise for UCF's QB situation after Milton.
The second quarter, the one quarter I feel like Heupel let Mack play, might have been UCF's best offensive quarter of the season.
I took a look at some of the advanced stats from Mack's performance as well as the defensive effort UCF put out.
Accuracy:
70% of Mack's passes were accurate, which is a very solid number. You'll notice how more than half of his passes traveled 10 or less yards in the air, but he was extremely accurate on these. Heupel went with more of short passing game and getting his play makers in space, something I wish he'd do more of with Milton too.
The 0/3 in the intermediate depth range is obviously not good. Two of those came on slants to the left to Gabe Davis, where he was open and both would've went for big plays. With more reps and experience, Mack makes these throws and I don't see it as a concern.
Mack was extremely accurate throwing the ball to his throwing arm side (right). 10 of 12 passes to the right or right sideline were accurate balls.
He also was great throwing deep. Both of his deep balls traveled 45 yards in the air and he had no problem getting the ball there. He missed Nixon in the end zone on his first one, but put the ball in a spot where it couldn't be intercepted. Snelson dropped the second one in the end zone on a ball you probably couldn't have placed better and Snelson probably catched 8/10 times.
Mack also threw a ball in the 3rd quarter I believe down the right sideline to Tre Nixon about 46 yards in the air, once again, placed perfectly, but Nixon was interfered with.
Every single attempt Mack had, he threw from the pocket. He took some big hits, but stood in there which was impressive. As a guy who is a good as a runner as he showed, it was great to see him trusting his reads and not thinking run first.
Mack did miss 4 open receivers and he had one incompletion due to a miscommunication. If you look at his raw numbers in the box score, they won't jump out at you, but a few drops and 1 or 2 more accurate passes and he has a huge game.
Let's look at his numbers based on receiver routes:

Definitely a wide variety, but he showed he can make all the throws. The touch might not have been there on a couple passes, the slants to davis, and the Hesock drop stand out, but let's not forget it was his first college start.
He showed great arm strength, deep ball accuracy, and poise in the pocket outside of the first quarter which I contribute to some definite nerves. There's not much more you can ask from Mack in my opinion.
UCF's line did a solid job blocking for him, but getting the ball out of his hands quickly also helped limit the pressures faced.
He faced 6 pressures, 3 resulted in sacks, 2 were on blitzes. Two were on the first drive, one he probably held onto the ball a little too long, but I'd rather see him take a sack then force something.
One of the slants he missed to Davis, he was under pressure and the other two, he scrambled for a combined 20 yards, not bad.
I mentioned above, that the second quarter might've been UCF's best quarter of the season. It started with the final drive of the 1q that leaked into the second.
A 16 play drive, followed by a 6 play drive, followed by a 2 play TD drive, followed by a 10 play TD drive.
All 4 resulted in points, if the first two were punched into the end zone, instead of settling for FG's, this game is over by halftime. But, the sustained success is what makes those 4 drives so great. Being able to produce 4 drives straight, I'm not sure UCF has done maybe outside of the UConn game.
12 (60%) of Mack's passing attempts came on these 4 drives. He had 8 of his 12 completions (66.67%) on these. 75% of them resulting in successful plays. It's baffling to me, why Heupel was gun shy in the 2h. Mack proved he can take care of the ball and efficiently move the ball when he has his arm as a threat.
Mack's Run Game
I think the best part about Mack playing, was one of the best runners on the team actually had the most carries.
Mobile QB's are so scary and hard to defend in college and Mack proved that.
We all know how much Milton's legs matter to the offense and it's probably even more evident how much Mack's meant.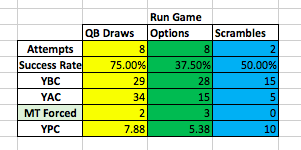 *Doesn't include sacks and kneel downs like box scores*
On designed QB runs, Mack was a beast. 6 out of 8 were successful, he had more yards after contact then before and averaged nearly 8 ypc. The read option game wasn't necessarily great, but the threat was still there. He had a 77 yard (I think) TD called back late in the game that only resulted in a 17 yard gain. He's physical, fast, and elusive which is nice to have from the QB spot.
Speaking of physical, Mack was contacted at or behind the line of scrimmage 5 times, he averaged 3 ypc after contact on these, that number blows almost every running back in the country away.
Overall, I was really impressed with Mack, the 25 or so plays, the offense was open, he showed out. He was, for the most part, accurate, poised, and effective. He's only a freshman and this was his first ever meaningful reps that wasn't a handoff due to Milton leaving for a play.
Let's remember Milton's first couple of games as a college QB, you're not going to light it up right away, but Mack showed he has potential to follow in Milton's footsteps.
Defense:
Another great performance and they really kind of saved the game after UCF got very conservative in the 2h. I charted 95 plays for ECU (a lot and very time consuming), ECU was only successful on 38 of them (40%). Anything below 45% for the defense, is really good.
In the first half, ECU was 14/43 (32.56%). UCF's D stepped up until the offense got in rhythm. The amount of plays and score definitely had an impact in the 2h defense as ECU was 24/55 which isn't great, but better than the 1h. However, UCF was able to come up with some massive turnovers, something you can't rely on game to game, but you'll take 'em when they come.
I think we all wanted to see how the defense would defend the rushing ability of a mobile QB, something that has been a bit of a concern. Well, ECU's QB ran the ball 23 times total, only 8 were successful attempts. He averaged 3.87 ypc, 2.52 of that coming before contact.
UCF only allowed him to scramble twice, which went for 12 total yards.
Brandon Moore continued his dominance in the secondary, even though he allowed a completion in garbage time.
He was targeted 4 times. All 4 of them coming on passes over 10 yards down field, only that 1 catch was surrendered.
ECU probably did what most teams should and avoid Moore as much as possible. They picked on Nevelle Clarke a little, well at least tried to. Clarke was thrown at 9 times and allowed a 44.44% completion percentage. Pretty good. He also had a pick.
There is an area I think UCF showed they can be exploited on defense. It's their ability to defend slot receivers.
Moore and Clarke are lockdown for the most part and it really takes out most of a passing attack.
On 11 attempts, on balls thrown inside the numbers, and not thrown at Moore or Clarke, but thrown to a receiver, ECU completed 7 passes. 8 of the times, the receiver was open and they averaged 12.55 yards per attempt on these throws. Now, 7/11 isn't terrific, but when you look at how good UCF's Pass defense has been, it stands out and 12.55 ypa is concerning.
To further this, on balls thrown to RB's or TE's, again guys Moore or Clarke are not covering, ECU was successful on 10 out 18 pass plays. These plays averaged 8.33 yards per attempt. It's a bit nit-picky, but a 17/29 success rate definitely raises some eyes when UCF helf ECU to a 41% success rate for the game.
The D-Line and LB's were great in getting pressure on both passes and runs. UCF had a run disruption/stop/hurry/knockdown on a third of ECU's plays. Not one of the 32 resulted in a successful play. That's incredible and shows how important this is.
It is a long list and a lot of people contributed to here's a picture of the 32 plays and the players that contributed.

Titus Davis has been a beast all season.
Eriq Gilyard once again came up huge. Not only did he contribute in this category multiple times, but he had the biggest play of the game. On the ECU jump pass that resulted in a Gibson sack and Evans 95 yard fumble recovery, it was all because of Gilyard.
He struggled a bit in coverage throughout the game, but came up huge when it mattered. Almost every time, a team runs that jump pass play, the TE is always open. Gilyard didn't bite on the run, the true freshman stayed disciplined when he could've sold out to stop the QB draw. Ahlers went to throw the ball, saw Gilyard just blanketed on the TE, and double clutched, allowing Gibson to make the hit.
It is something that might go unnoticed, but in the film room, Gilyard is getting all the credit, rightfully so.
Now, UCF gets a nice 10 day break before they take on Temple in a huge game. It's a game, I think the defense has a chance to dominate again. They been performing at a high level all season.