UCF's defense did one of those things where they let up a bunch of points in the first half and barely any in the second again in the conference championship.
When this happens, everyone seems to want to praise Randy Shannon for his "defensive adjustments" during halftime.
I wrote about why I don't think this has necessarily been true throughout the season and that there are many more factors that go into points allowed then people realize. 
In the AAC championship, there was one difference on the defensive side of the ball. That was Trysten Hill. UCF would not have come anywhere close to winning this game without Hill and he deserves all the credit, not Randy Shannon.
Everyone knows how talented Hill is, but what the difference he made on Saturday was Ed Oliver like. You probably noticed him making a couple of big TFL throughout the game, but other guys had a few too.
Let me explain:
In about the middle of the 2q, Hill had his first big play and  I thought to myself, why don't I keep track of every play Hill is on the field and compare it to when he's not.
Hill didn't play a single snap on the first defensive plays of the game. Memphis scored 3 TD's in those 10 plays on 3 drives.
His first drive came after Mack's second fumble where Memphis took over at Midfield. UCF held Memphis to a FG. Memphis' next TD drive? A 2 play TD drive, Hill not on the field. So of Memphis' 28 points, Hill wasn't on the field for a single snap on any of the drives. He was on the field for the TD that came after the Otis muff.
Numbers:

Overall, Memphis ran 74 plays, 38 runs with a 52.63% success rate, averaging 10 ypc. Not great. Without Hill on the field, Memphis ran the ball 16 times. 81.25% of them were successful and Memphis averaged 19.13 yards per carry.
WITH Hill on the field, Memphis ran the ball 22 times. Only 7 of them were successful (31.82%) and Memphis only averaged 3.36 ypc.
That is what you call a difference maker. And no, this isn't by coincidence.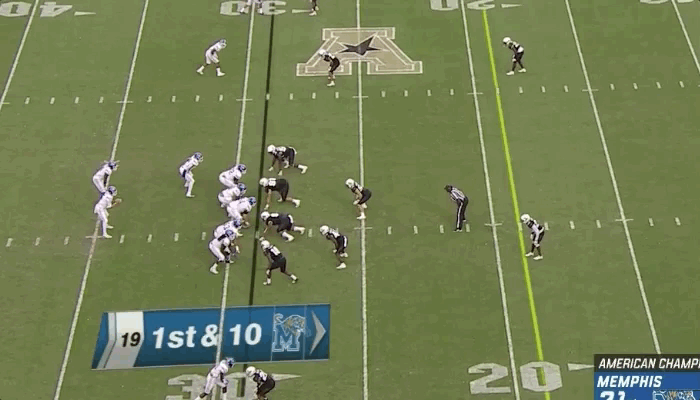 Hill's first defensive drive, immediate impact. Beats the initial blocker and beats the tight end for a nice 4 yard loss.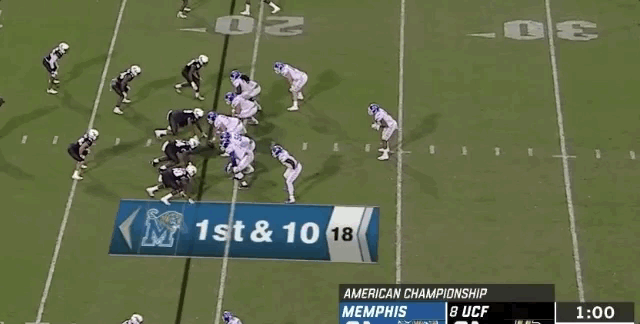 Memphis ended up scoring on this drive, but it wasn't anywhere near Hill's fault. If you've ever wondered what a run disruption was, there is no better example of one than this. It's why raw stats and box scores are dumb. There's about 3 guys in on this tackle and Hill isn't one, but he's the one makes the whole play. He beats his guy off the ball, gets in the way of the pulling guard which causes the pulling tight end to run into the guard. Hill essentially forced three guys to block him on this play leaving the LLB (Evans) and the LOLB (Titus) with one guy to block two, and that one guy was late.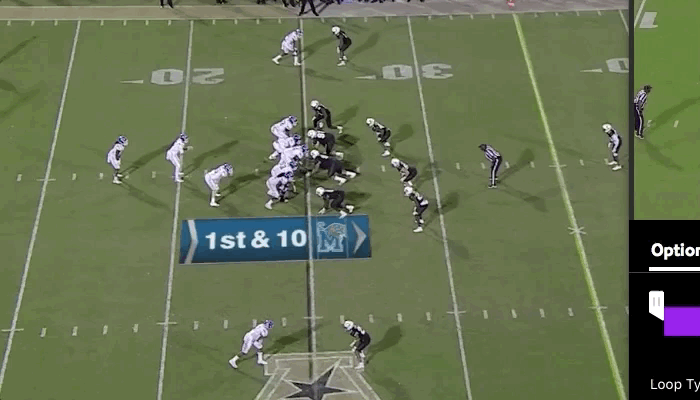 First defensive play of the 2h, nice to see Hill starting the half, Hill forces the double team leaving Grant waiting in the hole for Henderson. This isn't a run disruption to me, because it didn't happen at or behind the LOS, but it's still a major impact play by Hill without it showing up in the box score.
Another play Hill makes, but Causey will get credit for the TFL. Forces a the guard and tackle to block him off the snap, and then bull rushes the guard so Magnifico can't get over to block.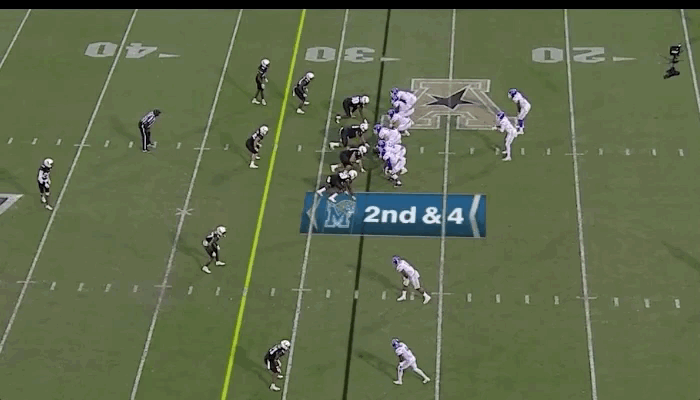 Here are two more plays Hill makes, that I won't go into detail because you should get the point by now.
Hill played 46 snaps, by my count, he had 10 combined run disruptions and hurries. That is unheard of. UCF is lucky to have 10 of these in a game, let alone by a single player. The Cincinnati game was easily the best defensive line play of the season. UCF had 24 of these on 81 plays. On a little more than half the snaps, Hill had a little less than half the RD's/H/K by himself.
Memphis Run Game:
Memphis clearly busted off some big runs and had some decent success on the ground, but it wasn't all as bad on a per play basis that you would think.

Runs to the left end had been something UCF struggled against all season. Against Memphis, it was the right end.
But, a 52.63% success rate against this rushing attack isn't bad. Runs to the left end were 3/4 on plays weren't on the field as well so his impact continues to show.

The explosive runs are what made UCF's run defense look worse than it actually was. And most of these were more than explosive. However, Memphis', on the season, had an explosive run about 21% of the time, so UCF really held them right around their average. Again, just more explosive than you would hope.

Henderson finished the season with over 1,100 yards after contact I believe I saw on the internet. So holding Memphis to 3 yards after contact per rush isn't too bad at all.
Defensive Personnel:

UCF hasn't been good against 2 TE looks all season and I expected Memphis to show a lot of them. Well, they didn't and they should have.
On 19 carries out of "12" personnel and one out "22", Memphis had a 65% success rate and averaged over 9 ypc.
Memphis wanted to roll out a lot of "21" personnel, which they have done all season because Tony Pollard is a great do it all guy. But, losing that extra blocker really hurt them as they only had a 38% success rate. The ypc is high, but that is because two of their really, really long runs came out of this personnel.
I honestly have no idea why Norvell didn't run more two TE sets with how good they've been running the ball with them and how poor UCF has been against them especially because Norvell got super conservative in the 2h and wanted to run the ball.
Mike Norvell can learn a lot from this game:
The thing I went into this game wanting to look for, was how Mike Norvell blew yet another huge lead by not scoring a single TD in the 2h. That got overcome when I realized just how good Trysten Hill was.
Norvell is one of the top G5 coaches and is highly respected by everyone and can get a P5 job whenever he wants, but that doesn't mean he's perfect.
He got ultra conservative in the 2h and it cost Memphis. 
For the purpose of this exercise, I took out the final drive when Memphis was down 15. On 1st and 2nd down, Memphis ran 51 plays, they ran the ball 35 times with a 51.43% success rate. Most of those occurred on the first couple of drives because they were only successful on 6 of 20 first down runs with Hill on the field and he didn't play in the first three drives.
Memphis had a 50% success rate on early down passes and completed 11/14, which is pretty good. White also scrambled twice for 7.5 ypc on early down pass attempts, those are not factored into either the run or pass category, but are a designed pass play.

Let's look at just the second half. They ran the ball on early downs 13 times and only threw it 6 despite the run game being almost completely shut down in the 2h.
2 of those 6 passes came after unsuccessful runs, setting up a second and long and 3 of them came on 1st and 10, a down and distance they ran the ball on 70% of the time in the second half despite only averaging 2.86 ypc.
I understand the run game is what got them the lead, but this just can't happen. Norvell and Memphis were the underdog heading into this game and they played to not lose, rather than to win. Getting ultra conservative and not even running the ball out of the right personnel is just inexcusable.
It is almost identical to what happened in the first meeting, but the heavy rain gives Norvell a pass in that one.
Conclusion:
Darriel Mack's performance was something special and one of the best I've ever seen, but Trysten Hill was the real MVP of this game. Randy Shannon better be buying this guy steaks every night leading up to the Fiesta Bowl.
Everyone knows LSU is going to run, run, and run some more, Hill needs to be on the field as much as he can be. I'm interested in going back and looking at the statistics for the whole season and look at Hill's impact because it was that important in this game.
And if you think it's just a coincidence that the numbers with Hill on the field vs. when he's not are extremely different, you're wrong.
If you actually watched the game, you'd have realized that the defense started playing a whole heck of a lot better before the 2h started.
With all that said, Mike Norvell's super conservative play calling had a major impact in this one as well.