UCF was able to hold off Temple Thursday night to extend their winning streak to 8 on the season and 21 total.
It wasn't exactly pretty if you're a fan of defense, but it was an exciting game if you don't root for boring football.
I broke it all down with analytics and advanced stats. The good, the bad and the ugly.
Offense:
It took 7 games, but the way UCF's offense looked against Temple, reminded me of last season where I felt they could compete against any defense in the country. It was the first time all season, outside of the UConn game, you were surprised when they didn't score on a drive.
To me, the biggest difference was Heupel finally used his personnel correctly.
Personnel:
I'll start with personnel. Now, Gabe Davis got hurt early and Otis Anderson got hurt late so that caused Heupel to use Otis in the slot a lot more and then using a tight end primarily when Otis went down.
We finally got an abundance of 20 personnel. Unsurprisingly, UCF performed really well with 2 RB's and 3 WR's on the field. 11 of 15 successful rushing attempts is pretty good, I'd say.
"11" personnel was really good against Temple as well. Overall, UCF was just really good on offense, it's almost impossible to come up with anything bad to say about this performance. I could dig really deep and probably find something, but it's the first time all season I don't have something obvious and we're gonna keep it that way.
When I say "Heupel finally used his personnel right", I don't exactly mean personnel groupings.
Adrian Killins finally didn't get force fed up the middle and treated like a work horse back that he isn't. Killins got 3 targets in the passing game on balls thrown behind the LOS, 2 being screens, with a ton of space. All 3 of them turned into successful plays and he had 69 yards after reception on those 3 plays.
He also had a deep ball underthrown lined up in the slot when he was matched up against a LB. It didn't work out, but you'll take that matchup 100 times out of 100 if you're Heupel.
Running Game:
The major question of personnel usage came with the running backs. Heupel is a run first coach, despite liking to air it out. However the running back usage had been a mess.
AK, as mentioned above, was finally used the right way. That allowed for a couple of things. 1. Greg McCrae and Taj McGowan get more carries and 2. AK being more effective with less carries. Quality over Quantity.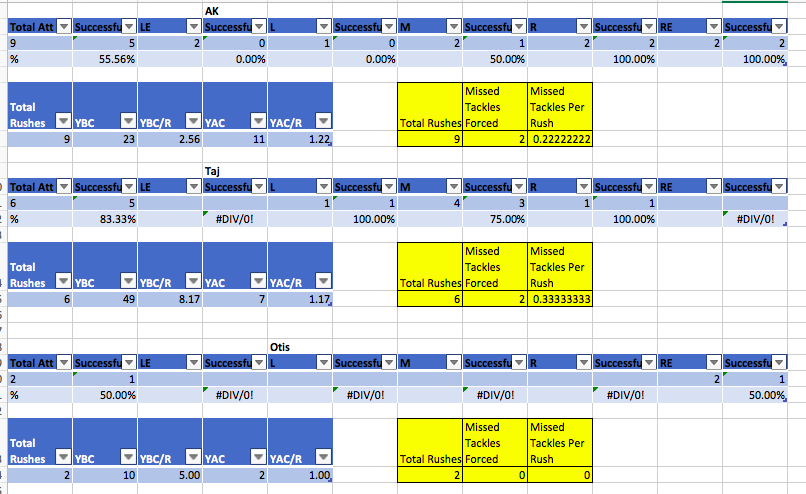 AK with a good success rate for the first time in a few games is nice to see. Taj, once again dominated in his few carries, but there was a slight increase in his touches.
Otis had a couple of carries early, but was forced into the slot which really limited the chances he'd normally get to run the ball, but we all saw how important he is on that 57 yard catch and run. It sucks not being able to get more carries and Otis is probably a little upset, but being able to step in and be a full time WR when someone goes down is extremely valuable to have.
Although, Marlon Williams is a pretty damn good receiver who can't quite seem to impress Heupel for some reason. He made an incredible catch to start the last TD drive in the 4th Q and has done that his whole career at UCF.
Rant over, back to the run game and Greg McCrae because he was awesome:

16 Carries, 13 successful. Those are video game numbers. There was a reason I said he was UCF's MVP halfway through the season. Heupel finally opened his eyes in the 2h. I believe he only had like 4 carries in the 1h. 5 yards after contact per rush, and 7 missed tackles forced are very impressive as well.
I think McCrae's time has finally come.
Play of Drive:
While were on the topic of the run game, I'll mention this. After, the Memphis game, I had discussed how UCF needs to start throwing the ball on the first 2 plays of drives more often. It had shown throughout the season, when I combined every game. However, against Temple, Heupel went 11 of 14 runs, 8 being successful plays on the first play of the drive. My assessment kind of back fired, but McCrae getting more touches definitely can change that.
Also playing a top 10 pass defense and a bottom 30 run defense did show, but nonetheless, I was wrong, at least for this game.

Offensive Line:
The offensive line had been kind of struggling, but against Temple, they were unbelievable. It showed with the rushing success.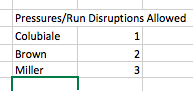 I think one of these might have come on a running play. Colubiale's was on an Otis screen pass so he was a much improved blocked this week for sure which is great to see because he's had a positive impact everywhere else.

Temple didn't really blitz either which helps out the line a bit.
McKenzie Milton:
Milton returned after something like 18 days off. He was definitely a little rusty, but he still played really good. By rusty, I mean, he missed a couple of throws he normally makes and might not have been 100% back up to game speed with reads and timing.
The throw he made to Colubiale for the TD, shows exactly why Milton is a special QB.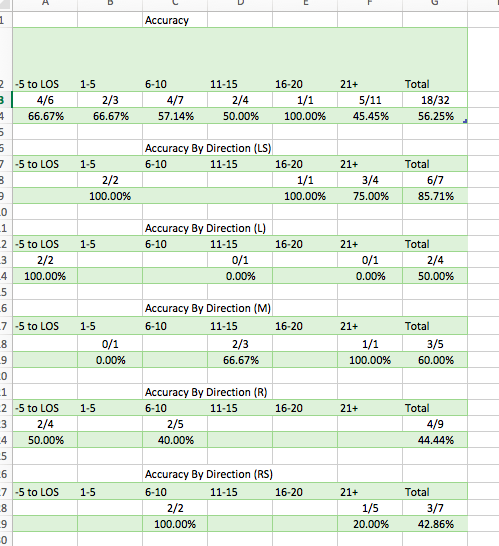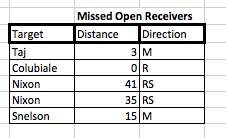 I actually really like this from Heupel. Deep shots and short passes. Gabe Davis and Tre Nixon are impossible to cover one on one on the outside as we saw against one of the best pass defenses. Milton has just slightly missed Nixon for long TD's about a dozen times this year and you have to think they're going to find the rhythm any moment now and watch out when they do.
Snelson is a do everything guy. He can win deep, and he can make plays after the catch. With the speed UCF has their is no reason to be throwing 11-20 yard throws, unless they're wide open like Snelson was on Milton's INT.
It was nice to have Milton back and looking extremely healthy.
His feet didn't do much, but that's all good when the RB's are producing like they did.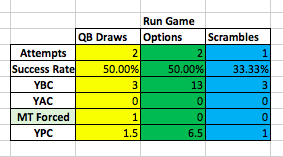 Defense:
It wasn't pretty. You can look at the box score if you want the numbers, but I'll try and look deeper into it than that.
Tackling, wasn't great, but it wasn't bad so I won't do missed tackles. I was at work for the 1h and had to follow on gamecast/twitter and twitter made it seem like the tackling was really bad when it really wasn't.
Pass D:
So this is really all I'm going to talk about because it is what needs to be discussed.
I mentioned after the UCF game, that I felt I had found a weak spot in UCF's pass D.
"On 11 attempts, on balls thrown inside the numbers, and not thrown at Moore or Clarke, but thrown to a receiver, ECU completed 7 passes. 8 of the times, the receiver was open and they averaged 12.55 yards per attempt on these throws. Now, 7/11 isn't terrific, but when you look at how good UCF's Pass defense has been, it stands out and 12.55 YPA is concerning.
To further this, on balls thrown to RB's or TE's, again guys Moore or Clarke are not covering, ECU was successful on 10 out 18 pass plays. These plays averaged 8.33 yards per attempt. It's a bit nit-picky, but a 17/29 success rate definitely raises some eyes when UCF held ECU to a 41% success rate for the game."
This is what I wrote.
Now, Brandon Moore played awful, there is no denying that I actually think he got benched if he wasn't hurt, but the he was certainly not the only problem.
Any coach who doesn't come in with a game plan to throw between the numbers against UCF's defense needs to be fired until something changes on defense.
Yeah, UCF held Temple to 6 points in the 2h, but it wasn't because of this.

I took out tipped passes and throw away so it's not = to Russo's 52 attempts.
Temple threw 31 passes between the numbers. The receivers was open on 25(!) of those. The only reason the numbers aren't worse, is because they can't be and because Rashard Causey actually played really well defending passed to the right. But to the middle and left, 16 out of 22 successful pass attempts. Major, major weakness for UCF's defense.
Individual Coverage: 
I'm going to start with Pat. Pat's an unreal football player and a major part of this defense and is getting put into bad position by Randy Shannon. I had Pat as the primary target on 8 pass plays. 6 of them were successful (75%), 7 were completed, and 7.33 yards were averaged after the catch. But look who he is being asked to cover: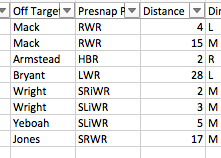 He only got matched up with a TE once, a play he got hurt on or he would've made the tackled for just a 5 yard gain.
3 targets on balls 15+ yards downfield against Temple's skilled wide outs, that's just not fair. You can't blame Pat for this, something needs to be figured out.
Nevelle Clarke who's been really good, was really good again. He made an incredible interception on pure football anticipation.
He was involved in 9 targets. 4 completions, and only 7 total yards allowed after the catch.
Brandon Moore: Clarke's partner in crime and a guy I've been really high on all season because he deserved it, allowed 4 catches on his 4 targets, all for big gains. The TD he bit on the out route and got burnt.
The one cross across the middle kind of seemed like a zone miscommunication between him and Grant. This was his last target faced so not sure if this led to him getting benched (if he didn't get hurt)
The two other catches allowed, he actually had good coverage the throws were just better, but he didn't allow any yards after reception.
Rashard Causey: Causey had himself a game. He didn't have any interceptions, but he was the reason for the two interceptions that happened.
I had Causey as a target on 8 throws, only 2 receptions against, both were successful plays, but he came up big. You can't get complain about a 25% catch rate against and having such good coverage on 25% of your targets, you create an interception.
Aaron Robinson seemed to be the guy to fill in for Moore. He allowed 2 catches on his 4 targets.
Keenan Johnson: Johnson allowed 4 catches on his 4 targets, but minimized the big play.
There were too many pass attempts to go through everyone, but I think I touched on the main guys in pass defense.
Run Defense:

Armstead's success rate on the season was around 57% and he pretty much maintained that against UCF. However, UCF's run defense kind of flip flopped in terms of where they allowed successful rushes based on direction.
I think what everyone noticed was the QB run game from Russo. Something he didn't do all season, but when you're going to leave 10-15 yards on pass plays for the QB to run, any QB is in college is athletic enough to take advantage of that.
Russo scrambled 5 times, all 5 were successful and he averaged 11.2 ypc. That's just not going to cut it vs. D'eriq King and Barnett.
Overall
Temple ran 97 plays they were successful on 53 of them (54.64%) which isn't actually as bad as it looked.
On designed passes they were 33/60 and rush attempts they were 20/37. Armstead was 16/27, it just shows how important he is to this offense.
In the first half Temple was 27/51 and in the second half they were 26/46. Although Temple only scored 6 points in the 2h, their offense was actually better on a per play basis. I contribute this to starting field position, two turnovers, a missed fg and a turnover on downs.
The 2h points against makes you think that adjustments were made, but were they really? I'll leave that up to you to decide.