With half of UCF's (FBS) games in the books, I thought it'd be a good time to kind of poll all of the game by game data together and take a look at how the season has been so far in whole.
I'm only going to focus on offense and will try and get to the defense next week, but both together will just be way too long because this is going to be long enough.
I want to compare some individual stuff to last season and some of Heupel's situational play calling to kind of how he called games at Mizzou to see if anything has drastically changed.
Overall, there will be a lot of information so I'll try and break it down by topic as best I can.
*The data I'm using from last season doesn't include the FIU and Austin Peay games*
Passing Game: McKenzie Milton Accuracy
*Throw Aways are not included*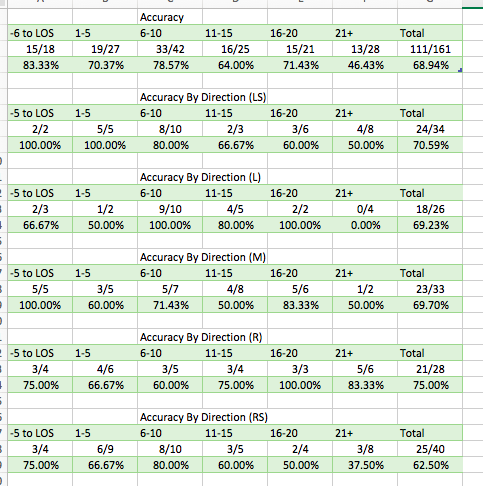 Like last season, overall, Milton has been extremely accurate. He's regarded as one of the best QB's in the country for a reason. If there is one area you can say he is struggling, it is throwing the deep ball, something he was best in the country at last season.
Still, an about 50% accuracy rate on pass attempts traveling 21+ yards in the air is nothing to complain about.
Here is his chart from last season under Frost: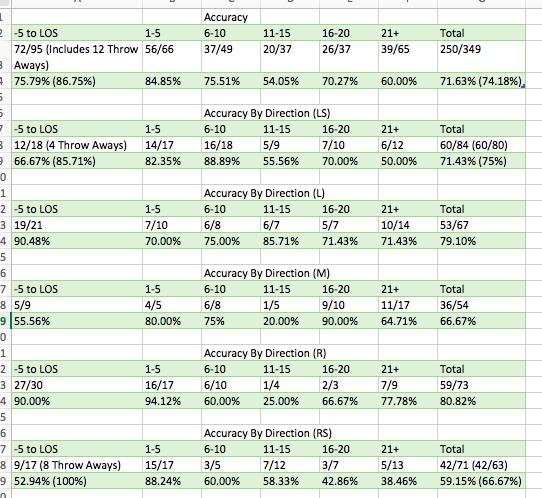 He has improved massively in intermediate range (11-15).
I threw this in here to kind of compare what distance throws he made last year vs. this year.
A lot of people had mentioned to me they felt Frost called a lot of simple quick hitters.
If you take out the throw aways from last season, Milton threw 149 passes that went behind the LOS-5 yards downfield. Divide that by the 11 games and you get 13.55 attempts per game, which would be just under half of the 31.73 attempt per game average.
This season, only 9 attempts per game come in this range out of 32.2 average attempts. This are extremely high percentage throws and easy completions. These 45 plays, have hit at a solid 51% success rate. It is a great way to kind of extend the run game and get guys in space. Average yards after catch is 8.03 which shows they can really help get ahead of the chains.
Now, what a lot of people mentioned pre-season was that Heupel's offense is going to involve more down field passing. I had said that Frost's offense last season and Heupel's at Mizzou both roughly attempted 1 deep pass every 5 pass plays, so there wouldn't be much of an increase in this area.
Through the 5 FBS games, Milton is throwing a deep ball about 1 in every 6 throws, so this area is actually trending down under Heupel compared to last season.
Milton struggled throwing to the right sideline last season and it has been his weakest direction this season as well. Tre Nixon is the guy who loses the most from this. Replacing Tre'Quan Smith in the downfield passing game was going to be almost impossible. He caught 15 of 22 downfield targets last year which is incredible.
Nixon is an unbelievable talent and it has shown. He's been targeted 11 of the 28 downfield attempts from Milton, he's only caught 4, but has been open 3 times where Milton has missed him. Once these two get in a little more work together, this combination has the potential to be a difference maker.
I will go into depth on receiving in a little.
Offensive Line:
A big issue the last couple of games for UCF offensively has been the battle of trenches. Milton is able to make the line look better by avoiding sacks, but that doesn't mean it doesn't have a major impact on the pass game and in the run game.

UCF has faced 60 blitzes on 183 designed drop-backs this season, about 33% of the time. On those plays, they are below a 50% success rate, have allowed a sack and been forced to throw it away twice. Really not terrible numbers, as blitzes are designed to do just this. They can also be great opportunities for big plays.
However, on the 123 plays where UCF has not been faced a blitz, they have allowed a whopping 30 pressures. On these 30 plays, Milton hasn't even been able to get a chance to try and complete a pass on 33% of them. The once he is able too, he is only completing 35% of his passes.
Now, UCF has played a relatively weak schedule and this is something to think about in a potential NY6 bowl game where your opponent is much better. I think last season, this was neutralized a little by the short passing game, which I mentioned the difference in attempts above.
The line has a major impact in the run game as well.

On 191 rush attempts, UCF has allowed a run disruption on 23 of them. Roughly 12% of rushes are disrupted due to the O-Line. These are considered plays where an O-Lineman is bull rushed, misses their assignment or just completely whiffs on the block at or behind the LOS.
With UCF's giving the bulk of their carries to a less physical back, it is not surprising at all to see the above yards per carry numbers. Taj McGowan was the only back to convert one of these plays into a successful one.
12% is not a bad percentage at all, but you can see how much these impact UCF's run game. If you take out plays where UCF is blitzed and combine pressures on passes with run disruptions allowed, they occur on roughly 35% of plays which seems like a decently high percentage to me and clearly negatively impacts offensive production.
So who is allowing these pressures and run disruptions: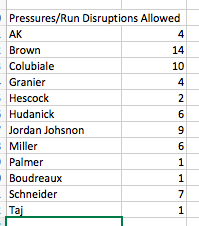 Brown and Colubiale definitely stand out, especially because Colubiale runs a route on most pass plays, so his allowed % is probably the highest on the team by far.
Wyatt and Tyler have been the best starting O-Lineman and Bailey Granier has been solid as well. Granier and Schneider split snaps at about a 50/50 split.
Definitely something to monitor as UCF has a lot of depth as this position, but there is no doubt Miller, Hudanick, Brown, and Kelton all were great last year and have a ton of experience as well. There are numerous ways blocking numbers can be improved and the biggest one is simply just get the ball out of Milton's hands quicker, something UCF did more of last season.
The Run Game:
My favorite thing about this season has been how well Heupel has used his surplus of talent at the running back position.
For reference, here is Mizzou's directional running last season under Heupel's lead.

Coming in to the season, it was obvious UCF was going to try and run the ball between the tackles and we've definitely seen that done plenty of times even.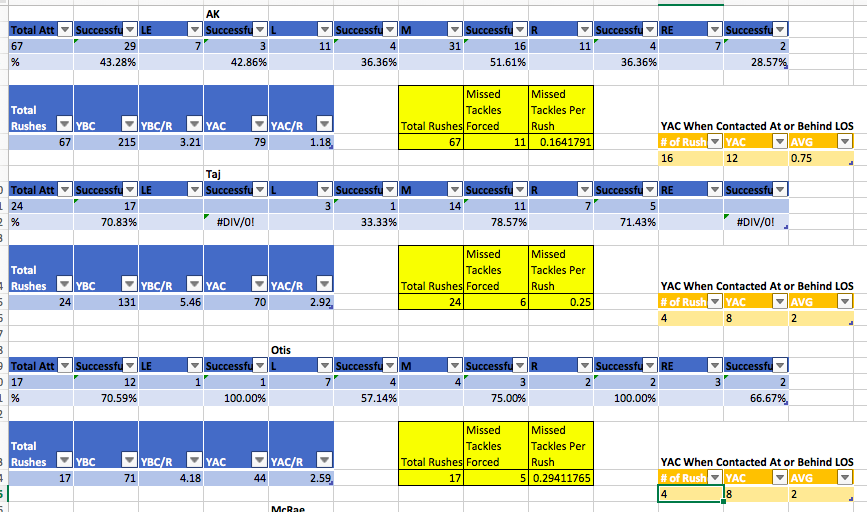 Here's what we got going on here. 2 running backs with over a 70% success rate, one over 60% and one under 45%. Try and figure out which one gets the ball the most.
McRae, Taj and Otis have a combined 74 carries. AK has 67 alone. Now, contrary to poular belief, AK is actually running the ball up the middle pretty effectively. Nowhere near the effectiveness of the other guys, but that hasn't exactly been the problem.

If you look at AK's numbers from last season, this year is kind of trending towards the same direction. Up the middle good, not so much elsewhere. Although last season running to the RE was extremely good.
I would love to hear Heupel's reasoning behind using AK as the premier back as I think we all would.
The numbers and the eye test can't be more obvious.
Greg McRae went from a walk on to an absolute stud. Taj McGowan is really good and Otis is Otis.
I've kind of touched on this after every game so no point of going further into it.
Otis Anderson:
Coming into the season, I thought he was UCF's most important offensive player, and I still do, despite his limited use.
I went into deep detail on his production last season and want to kind of look at how it's been this season.
I already touched on the rushing numbers so this is primarily wide receiver focused.
This is all from last season, how he fared as a receiver from the backfield and split out, as well as being the lone RB on the field or being in either "21" or "20" personnel.
His numbers are far and away better when playing with another RB and his receiving numbers are drastically better when split out wide.
This season, he as 18 targets, only 8 receptions and only 7 successful plays as a receiver.
He has 15 targets when lined up S/W/T and 7 receptions, so he has 1 catch on 3 targets out of the backfield.
His average depth of target is 11 yards when he's S/W/T compared to only 7 yards last season, where he was much more effective.
He has only 3 targets in "11"personnel and only 1 reception.
It's obvious this kid is really good with the ball and showed last season how good he is as a receiver. Heupel is using him a lot S/W/T with another RB on the field which is where he thrived last season. But, 4 yards more average DOT is a significant amount and I think Otis' skill set might suit the short to intermediate range a lot more like we saw last season.
Receiving:
Something I haven't looked at all season.
So mine as well now:

So, Gabe and Nixon definitely are Milton's two main targets this season. Snelson missed a game or he'd probably be at about the 30 target range.
Heading into the season, we all expected Snelson to be the clear #1 guy.

His numbers last season were great and with the loss of Tre'Quan, he seemed like the obvious guy. I think the full time move to the slot has had a major impact on his production. Not this it's bad, but just that I think he's really good and should be used more.
I say the move to the slot for a couple of reasons. If you look at the chart of Milton's passes, you'll notice how many of them go to the sideline. Davis and Tre are pretty much lined up outside the numbers every snap so that has a major effect on why they have a significant amount more targets.
Also, Otis and Marlon have been rotating in and when they come in and Heupel stays with "11" personnel, Snelson is the one who needs to come off.
Another big thing heading into the season, was how much Heupel uses his tight end. That was the farthest thing from true and it's shown this season. Colubiale has been really good catching the ball, but 3 targets a game isn't some crazy tight end usage.
I had Akins at 47 targets in 11 games last season and he might've actually missed one. Add in Colubiale's and Jordan Franks' tight end looks last season, and UCF had about 5 tight end targets per game.
Marlon Williams might be my favorite guy on the offense just because he's so good and takes advantage of every opportunity he gets.
Flash back to last season:

15 of 21 targets caught, all for successful plays. This just screams, good things happen when the ball is thrown to this guy, good things will happen.
This season, he leads the team in catch rate and yards after receptions average. He played a huge role in both of UCF's scoring drives against Memphis that didn't come on 70+ yard TD plays. Bottom line is, someway, somehow, he needs to be more involved in the passing game. He's big, fast, and physical.
I've mentioned I'd love to see more "10" personnel with him as kind of a hybrid tight end whenever UCF wants to use a true TE and not have them S/W.
Situational Play Calling/Personnel Usage :
Something I have not looked at, at all so far this season besides after the Memphis game where I think I made a great point.
Before I get into some of the stuff, I understand Heupel is a first year HC and as I've said before, no coach is anywhere near perfect no matter how long they've been coaching. However, he has been an OC since 2010, everything I've looked at/look at is from an OC standpoint essentially.
Also, comparing his first year to Frost's first year is not fair. Heupel inherited the second best QB in the country in terms of passing efficiency and a 13-0 team with a ton of returning talent (thanks to Frost). No matter how much you hate Frost, you can't deny that. Frost's first season, he inherited an 0-12 team, a losing culture, no QB, and for the most part, not the right guys to fit the style of offense him or Heupel run.
Back on track… I pointed out the play calling based on where in the drive UCF was at after the Memphis game, so for the people that didn't see that, I'll recap real quick.
A big thing Heupel has shown and said in interviews, is the need to establish the run. This is old school football and not remotely true in correlating with success in today's football.
However, their is definitely a need to run the ball, but "establishing the run" is BS.
If you look at this chart:

You'll see "establishing the run" early in drives has not worked, while passing has been extremely effective. We can all agree that Heupel's offense gets into rhythm and when it does, it looks crisp and clean. That's when the run game is effective. If you look from play 4 of drives and on, the run game is dominate. The pass game is good too, don't get me wrong, but that's not what the issue is.
Time for some personnel #'s:

I was scared these numbers would look worse heading into the season. I can't really complain too much. Two RB's have been used 34% of plays, while I would love to see that flipped to 66, I don't think it will happen.
It's a small sample size, but UCF has been extremely good without a TE on the field. For all 7 snaps in "10" personnel, Marlon was on the field, all 7 were successful.
The run success out of "20" personnel is just incredible although it is a small sample size.
UCF has just been better outside of "11" personnel, but Heupel is quietly escaping his roots.
He has actually used "11" personnel about 1% less than Frost did and "21" personnel almost 10% more. Having Jordan Akins who was essentially a WR probably had a bit to do with that, but I can't complain too much about this.
Play Calling by Down and Distance is something I'm sure everyone is interested in.
Good thing is, I made a nice and colorful chart to distract everyone from the numbers.

The only place there is really a 50/50 split between run or pass is on 1st and 10 which watching games live, most people would probably think it would be a higher run %.
Other than that, Heupel's play calling does get a little predictable, but I also highly doubt any other team has these percentages.
The thing that stuck out to me is on plays with 11 or more yards to go. Heupel has run the ball 13 times for a solid 0% success rate. Let's stop pretending these positive 3 or 4 yards are going to help get the drive back on track. Called pass plays have hit on 8 out of 17 attempts. Much better than 0 for 13 if you ask me.
We all know how bad UCF was on 3rd and 4th and short last season, so that is a major positive to see here.
I also took a look at 1st and 10 runs by itself because that's probably the biggest thing people want to know just from watching games.

The run up the middle has actually been very successful. Obviously all these YPC numbers could be higher, but on 1st down, getting 4 yards a pop, you can't complain.
This does not contradict my previous statement of using the pass to set up the run. There are more 1st and 10's than just the first play of the drive.
This is already very long so I'm going to end on that. I have a ton more information if you're interested in anything just ask me on here or twitter or anywhere.
If I had to give a Mid-season MVP award outside of the obvious Milton, it would probably be a split between McRae and Taj.
Best lineman I'd give to Hudanick right now. Best receiver, I'd probably go Gabe even though all 4 of them are really good, but I think Gabe is the best NFL talent on offense so I'll stick with that.
Overall, it comes down to this offense getting in rhythm. Getting the ball in the right guys hands and being more aggressive early in drives are the two biggest things I could point out.
I watched all of Missouri's games last season and it looks the same as this year. The good drives look really good and the bad drives are hard to watch. Need to keep the good drives really good and get the bad drives to still look average.
At 6-0 you can't complain as a fan, but Heupel and staff always know there's ways to get better.