UCF and Temple face off Thursday night in a match up between two teams undefeated in AAC play.
Both teams are coming off a bye week and both have their most important offensive player questionable for this one.
McKenzie Milton said out UCF's last game @ ECU and Temple's running back, Ryquell Armstead has missed Temple's last two games. If I had to guess, I'd say both will be playing in this primetime AAC battle.
I went through and charted every offensive play from Temple's season in which Anthony Russo was their starting QB. Russo won over the job after Temple started 0-2 with losses to Buffalo and Villanova in which Frank Nutile ran the offense and an injury forced him out of week 3 action.
With Russo at the helm, Temple is 5-1, including a 21 point win at Maryland, and a home win over then #20 Cincinnati. Their only loss came at Boston College, in a very close game, back and forth game.
Many UCF fans believe this might be the hardest remaining game on the schedule, but I would disagree.
I broke down Temple's offense using analytics and advanced stats to explain why I don't believe Temple's offense is a major threat.
I looked at just about everything outside of raw numbers you can think and identified some predictable play calling from Temple.
Personnel:
Personnel has slowly turned into my favorite thing to look at when I look at offenses. It's not interesting at all, but for some reason I love to see how coaches like to use their personnel differently and where they are most effective.

 Temple, interestingly enough, does not use any personnel more than 41% of plays. Like most teams, "11" personnel is most commonly used. For Temple, "12" personnel is by far their most successful package of the 3 mainly used.
As more of a run first team who when they throw, gets the ball out quick, the more blockers, leads to better production.

If you look at how UCF's defense has fared against the personnel's Temple uses, you'll see they are weakest against "12" personnel. If Temple were smart, they'd run a lot of "12" personnel Thursday night.
One thing I noticed about Temple's personnel usage, is they kind of tip their play call with their personnel.
Out of "20" personnel (2 running backs, 3 WR's 0 TE's), almost 80% of the time it's a pass play. Out of "12" personnel (1 RB, 2 WR's, 2 TE's) they run the ball 70% of the time despite having an outstanding 63% success rate throwing the ball.
Play Calling:
While I'm on the topic of play calling, I'll jump into this now. I identified a situation where Temple goes run 80% of the time despite it being 2nd and long.
Taking out the 2h of games due to score and the clock having an influence in play calling, Temple threw an incomplete pass on first down 18 times, normally setting up 2nd and 10, but I believe their was about one 5 and one 15 thrown in there. On those 18 second downs, they ran the ball 80% of the time (14).

Defensively, it's a nice situation to be in. If UCF can sit run here, it has the ability to set up a lot of 3rd and longs.
From a Temple perspective, this isn't good to see. They have a 50% success rate and average 13 yards per attempt on their 4 pass attempts.
On their rushes, they have a 43% success rate and average 9.36 ypc, but 91 of those yards came on two rushes. If you take those out, they average 3.33 ypc.
The logical reason coaches fall into this play calling trend is because they don't want to go pass, pass, pass, punt because it looks "stupid".
I also charted Temple's down and distance play calling:

Once again, the run/pass %'s aren't as close to 50/50 as you'd like and if I had the time to break this down a lot further based off previous plays and personnel usage, Temple's play calling is probably extremely trendy.
Interestingly, I mentioned before about 2nd down runs after an incomplete pass, but if you look at 2nd and 8-10 to go, it's 61% pass. This tells me that after an unsuccessful run or unsuccessful completed pass, Temple is going to pass again.
Passing Attack:
I'm not exactly sure QB play is the reason Temple is now 5-3 after changing quarterbacks after their 0-2 start, but it kind of just worked out that the team won with Russo, so Geoff Collins stuck with him.
Here's Russo's accuracy chart: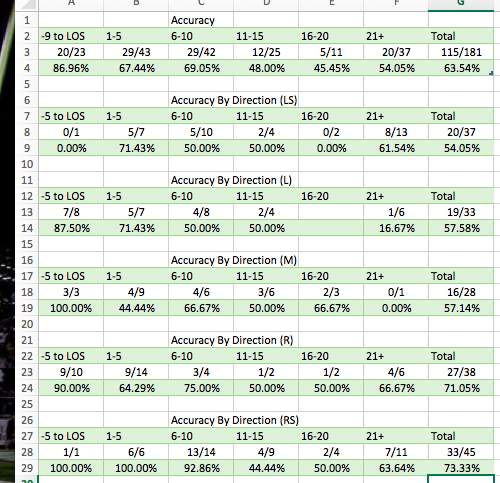 He is actually a good amount more accurate than his 56% completion percentage.
Temple loves to throw the ball quick. They will run a ton of quick outs, curls, hitches, and mix in a lot of one on one vertical passes where the ball comes out quick. The line has barely let up any hurries/knockdowns because of this, so don't expect UCF to get pressure, it's not a cause for concern, it's more of the offensive design.
Russo throws the deep ball extremely well and Temple's receivers tend to drop a lot of them. He also throws the ball to his throwing arm side, about 20% more accurate than to the left.
Isaiah Wright and Ventell Bryant are still Temple's primary receivers as it seems this is their 10th year playing college football.
Temple will play more than a handful of receivers, so I took a look at the 4 with over 20 targets.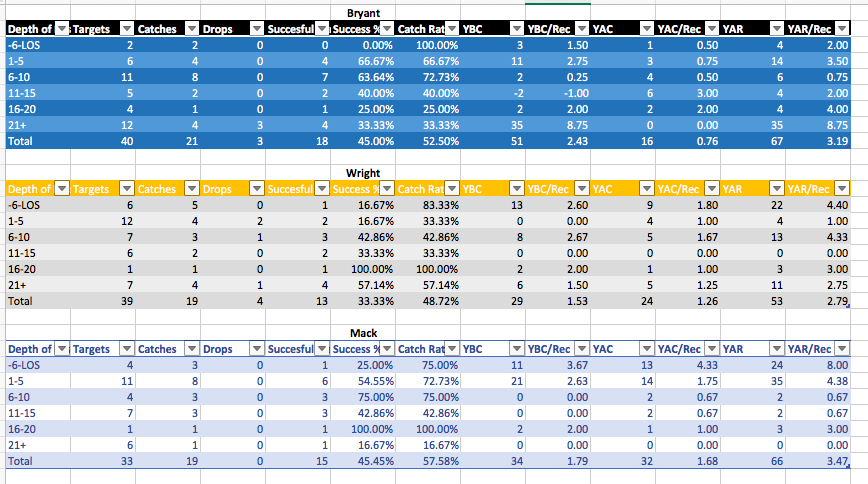 Bryant is the main deep threat, as his highest % depth of target is the deep ball, but all 4 of these guys are deep threats.
Mack is the only sure handed guy as Bryant, Jones and Wright have a combined 10 drops which is not good.
Another thing to look at, is yards after reception/reception. It is eye glaringly low and speaks to the types of throws Temple makes. Outs to the sideline and curls/comebacks where the receiver doesn't exactly have time to turn and run.
A semi-weakness of UCF's pass defense this season has been when Brandon Moore and Nevelle Clarke aren't being thrown at. It speaks volume to how good both those guys are.
Almost every snap they are covering the guy lined up as the left wide receiver and the right wide receiver.
So most of these plays are coming from slot receivers, tight ends, and half backs.
I broke down Temple's target share and production by pre-snap position.

Just under 50% of their targets go to LWR and RWR which is a good thing for UCF's defense.
32% of targets go to slot receivers and the remaining percentage of targets goes to inside slot receivers, tight ends and backs.
An interesting thing here… I mentioned before about Russo's accuracy to his throwing arm side (right) of the field, if you look at the targets to left wide receivers, left slot receivers and left tight ends, you'll see that the production is significantly lower than when targeting guys lined up on the right side of the field.

UCF's pass defense has been very good. The issues with the non Moore and Clarke targets are more in depth than this graphic, but it still shows just how good Moore and Clarke are.
Everyone wondered how UCF could replace Mike Hughes, I think Brandon Moore's coverage might be more impressive, just look at those numbers.
Run Game:
I'm going to go out on a limb and say that Armstead's status for this game is more important than Milton's. I've said I think both will play, but Armstead may be limited.
He is so important to this run game and as a team that lives by the motto "Temple Tuff", the run game is important to their offense.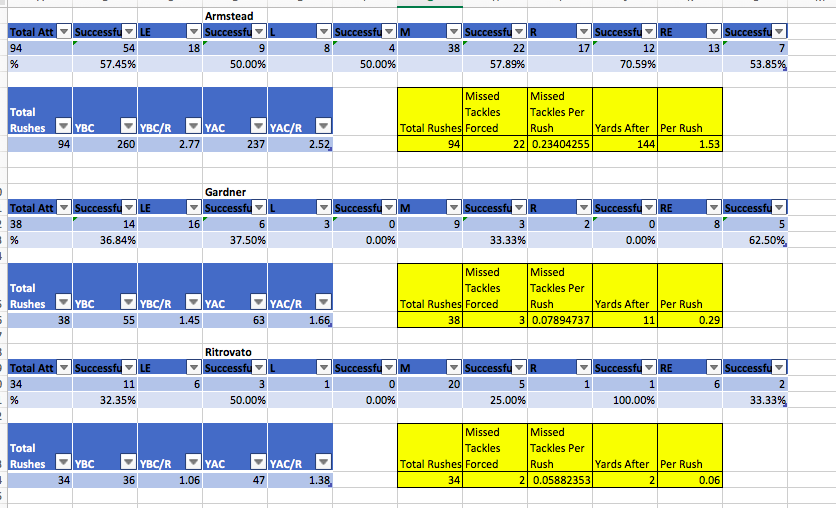 This team is just nowhere close to the same running the ball when Ritrovato and Gardner are in the backfield. They are both in the mid to low 30's in success rate, struggle to make guys miss and struggle to gain yards after contact.
The area you want to attack UCF's run defense is to the left end. Armstead is the only back Temple has that has shown he can do this. Running up the middle is no good for opposing offenses against this defense and that is Ritrovato's main game (which he doesn't do well by the way)
Almost half of Gardner's attempts have gone to the left end, but he's not bee very good.
A lot of UCF's run struggles quote on quote, have come against Devin Singletary and Darrell Henderson, easily two of the best running backs in the country, so their run defense is probably better than numbers actually show.
Armstead is really good, but he doesn't match up with Henderson and Singletary. So in my opinion, for Temple to have any success on the ground, they need Armstead to be close to 100% because the drop off in success behind him is evident.
Luck/Starting Field Position:
This is the last thing I'll take about. Watching the games and charting every play makes you play really close attention, so you kind of see things that don't necessarily stand out while watching games live.
I also don't really think this is "luck", but I'm not sure what else to consider it.
Temple will run a lot of fake punts, and they've scored I believe two TD's in the last 6 games because of this. They also have a punt return, and I believe 3 total defensive TD's in the last 6 games. That's 42 points, not from the offense.
Obviously all this stuff is part of football and is a product of coaching and execution, but I believe turnovers are an independent variable from game to game and if UCF isn't prepared for fake punts, then they don't deserve to win.
I looked at Temple's starting field position on their 20 TD offensive TD drives.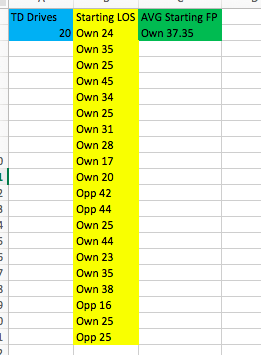 Av average starting line of scrimmage of their own 37 is very, very good. To put this in perspective, UCF's average starting field position is the 26. Temple's average starting field position is their own 31 on all drives, including TD drives. It goes to show how much starting field position means to this offense.
UCF's offense and special teams normally doesn't allow for good starting field position for opponents though:

On 57 opponent drives, the averages starting LOS is their own 27.
A little more than 25% of Temple's TD's in their last 6 games have come from reasons other than the offense.
Things I feel are due for regression, water always levels out.
In the Cincinnati game, Temple was gifted 10 points on careless Cincinnati fumbles in the 1q. Cincinnati missed 3 field goals and then went for it on a 4th down because they didn't trust their kicker. Temple won in OT.
Bottom line is, I don't feel Temple is anywhere near as good as their 5-1 record with Russo at QB.
We'll see what happens Thursday night, but I don't expect UCF to commit the turnovers or have the coaching and special teams lapses that have benefited Temple so far this season.