UCF's offense did not look very good on Saturday against FCS opponent, South Carolina State. The starters still put up 38 points, but it wasn't very pretty. After a nearly flawless performance in Josh Heupel's debut, Saturday's performance raised some question marks.
A lot of this blame has been put on McKenzie Milton. It was probably the hardest game to watch him play since his freshman season and the numbers showed that. However, I don't think there's reason to panic with Milton, more so the offense and the way it's run.
Milton has earned the right to be the player that the blame will be placed on the offense in poor showings by turning himself into one of the best quarterbacks in the country. This is a testament to how good he is. To me, he simply, just wasn't on his game.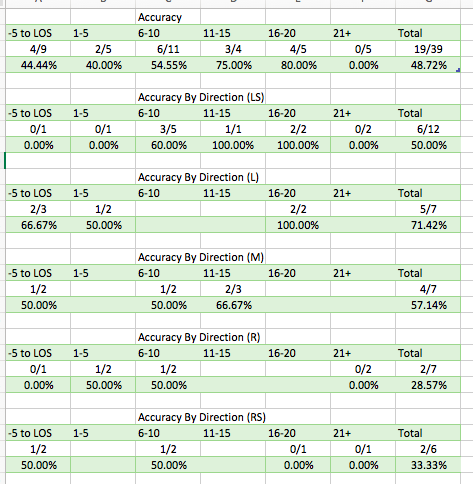 Looking at his accuracy numbers, it's not pretty at all. If you look at the UConn numbers posted in UConn recap article and look at the 2017 numbers, this is far from close to any of his past performances.
If you look at his raw stats, you'll see he had more competitions than accurate passes which is never a good thing.
Milton was also the best deep ball passers in college last season. Saturday, he didn't throw an accurate deep ball and 3 of the 6(!!) interceptable passes he threw were on balls traveling over 21 yards in the air.
Based on what we've seen from Milton the last 14 games, you can't look two much into this performance especially in a tough game to get up for mentally.
However, there is one thing in the passing game I was interested in. Quick bubble screens to WR's and short passes outside to WR's are a staple of this offense, but SC State might have put on tape just how to stop this.
I looked at passes Milton threw from the right hash to the left numbers and vice versa that traveled 5 or less yards in the air. These are 5 yard throws, so naturally you think they should be easy competitions, but in college, the hashes are wider than the NFL and these passes are really traveling about 30 yards in the air.
South Carolina State's D-backs were playing physical and not giving much space to UCF's wide outs so the time it takes for a ball to travel that far, allows the DB's to make a play.

The numbers here aren't pretty. It's an adjustment I think Heupel has to make based on gameflow on and how the defensive backs are playing. It's a big part of his offense, but SC St just showed every opponent how you can defend this if you want.
The Run Game:
I think it's pretty obvious that the rushing attack has been very successful so far this season. No matter who is running the ball, it's working and like I mentioned preseason, running the ball up the middle is Heupel's staple.

16 out of 30 rushing attempts up the middle and 62.50% of them were successful.
My question is, why isn't the ball be running run more, especially on early downs. Milton dropped back to pass 42 times in 3 quarters against an FCS team in a game that was never even remotely close.
Milton had 7 less attempts against UConn in a conference game.
If you take a look at early down (1st and 2nd) success rate and play calling, you'll agree with me.

UCF ran 61 plays on 1st and 2nd down, 32 of them successful. 25 of those plays were runs, with 14 of them successful, good for a 56% success rate which is excellent. Now 50% is still really good, but it's not even close to 56%. Throw success rate out the door, well not really. If you look at the total YPC on rushes, UCF gained 6.76 yards per carry on plays run not on 3rd down.
Throwing the ball, they produced 6.59 yard per pass attempt. Still a good number, but when you are running the ball at a higher success rate and gaining more yards, why aren't you doing it more?
Also, if you read my preseason comparison with Heupel's offense last season, he ran the ball almost exactly 50% of the of the time. This is with a team that was trailing a decent amount of the time and had a QB who might be the first to go in the upcoming draft.
Now, there are NFL studies that show that running the ball doesn't improve play action passing and I actually agree with that in the NFL, but I feel in college it does. With spread offenses and linebackers and safeties who aren't as disciplined as NFL guys, I feel it has an effect.
Running the ball successfully forces defenses to bring more guys into the box, which opens up room for receivers downfield.

I left out stacked boxes because they were all goal-line plays. Against a 6 man box, UCF was really good at both running and throwing. When SC St tried to stop the run, they were able to, but UCF was able to still throw the ball decently.
If you break down those 14 passes, 8 of them went 10 yards or more in the air. 6 of them, the receiver was open. Milton only threw 4 of those 6 accurately, but the point is made that forcing teams to stop the run against an offense with this wide of splits, is going to allow for open receivers down field.
Now, back to play action. Of the 42 dropbacks, 34 involved some sort of play action. I'm not very good at math, but that equates to about 81% of pass attempts. If you're not running the ball at all, play action is just wasting a little extra time for the QB to go through his reads and deliver the ball instead of creating passing lanes by moving the LB's.
Marlon Williams:
The smartest thing Heupel could as a head coach is move Marlon Williams to tight end. Not necessarily a complete position change, but use him like a Jordan Akins. In fact, Williams is probably a better blocker than Akins was so it makes even more sense.
Look, every media member who wrote about Heupel's offense at UCF said the tight end would be more involved. They couldn't have been more wrong and I couldn't have been more right. The few people that actually saw my article detailing how UCF's offense will look can back me up on that and if not, it's like the second article on this site.
Colubiale was great last season as a role playing tight end and 8 of his 11 targets were successful. Him coming back was big for the program, but he's caught one pass in two games. He's also allowed 2 pressures and 1 run disruption in terms of blocking. He just doesn't fit into Heupel's system as he did Frost's.
Williams is a guy that I think is extremely underrated and is a very good player. Heupel's idea of this was to use him in the run game. This has been very unproductive as Williams has gone nowhere on the few rushes he has.

Look at his receiving numbers last season. He had a 71% success rate and averaged the most yards after contact out of all UCF's receivers/tight ends. Physicality and tight ends kind of go together the last time I checked.
With the addition of Tre Nixon, it kind of hurt Williams in terms of getting snaps this season. He's caught 3 passes (not including the 4th quarter against SC St), 2 of them were successful. The unsuccessful one, he still forced 2 missed tackles and created 3 yards after contact. His catch against SC St went for 21 yards where he dragged the defender for 10 yards after contact.
This almost makes too much sense that it seems to easy of an idea.
Williams isn't going to be a down grade when the tight end is not split out and he's an upgrade as a receiver when the tight end is split out wide.
Would you rather have a safety on Williams or Colubiale if your Heuepel?
The defense played great, but that's expected against an opponent that just can't come close in matching physicality with you. I didn't chart the defense because it will skew numbers and we'll see if they improved for real against FAU.