Friday night, FAU heads to Orlando to face UCF in a matchup between two of the most exciting offenses in the country. Lane Kiffin is one of the best offensive minds in college football and he's proved that with the turn around he's produced at FAU. On the other hand, UCF hasn't lost in 15 straight games and in those 15 games, they've scored over 30 points.
Two of the best players in the country will be future by each team as well. Devin Singletary led the NCAA in rushing TD's last season and McKenzie Milton finished 8th in the Heisman race so if you like offense, this will be a great game to watch.
I broke down each teams offense and what each team needs to do to win using analytics and advanced stats from both this season and last season.
For FAU, I charted 8 offensive games from last season and all 3 from this season (only the first 3 quarters in Oklahoma and Bethune Cookman games the scoring differential in both). I charted their defense against Kyler Murray's offensive plays and the first half of the Bethune Cookman game (I wanted to do the third quarter, but JetBlue's wifi let me down. I didn't chart the defense vs. Air Force because they run the triple option.
For UCF, I charted 10 games from last season, Mizzouri's 10 games from last season, and the offense in the first two games this season. I only charted the defense for the UConn game because SC State is one of the worst FCS offenses so those stats would skew data.
FAU Offense Vs. UCF Defense:
FAU lost Jason Driskel after last season. This season Kiffin went with Chris Robison an Oklahoma transfer to lead the offense. In my FAU season preview, I mentioned that I thought Robison would be an upgrade over Driskel. My thought process behind this was, Driskel couldn't throw the ball downfield. Look at his charting from 2017.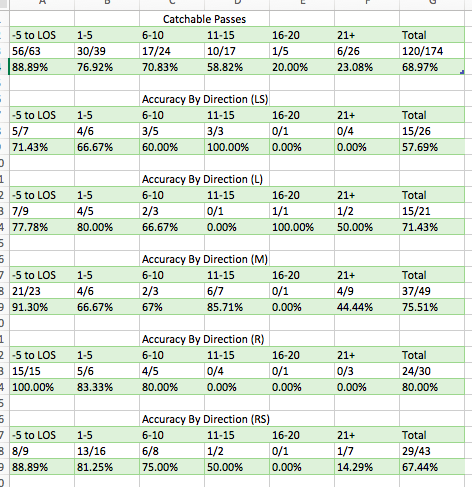 He was just 17/48 in throwing catchable passes on balls traveling 11 or more yards in the air. FAU's offense was still able to be succeed because of Kiffin's creativity in the short passing game which has continued over to this season.
In just 3 games, not even 12 quarters, Robison has attempted 37 passes traveling over 11+ yards. He's thrown an accurate ball 18 times on those 37 attempts. Not amazing, but not terrible, definitely an improvement over Driskel. If you take out the Oklahoma game, Robison's first ever college start against his old school and arguably the best team in the country, he's 14/25, good for a 56% accuracy rate. He is only getting better every game and is a QB you have to worry about.
UCF's defense faced 10 passes on balls that traveled over 10 yards. 40% of them resulted in successful plays for UConn's offense, but the receiver was open on 60% of them. Against these 10 plays, UCF also had an INT. Nevelle Clarke faced 3 of these targets, 2 of them were successful. Look for Robison to try and take advantage of who Clarke is matched up on. Brandon Moore was lock down in the season opener and shut down his two deep ball targets. I expect Robison to try and avoid Moore as much as possible.
FAU also really likes to use the Tight end in the pass game and they have a really good one in Harrison Bryant.

Last season he caught 18 of 23 charted targets and produced a 73% success rate.
So far in 2018, Bryant has caught 9 of 12 targets and has been successful on 8 of those plays. He's gained 96 yards after receptions with 38 of them coming after contact.
Against UConn's tight ends UCF's defense allowed 7 completions on 9 targets with 6 of the 9 resulting in successful plays.
Look for Harrison Bryant to have himself a game against the Knights defense as Kiffin loves to get him involved and it looks like a favorable matchup.
Kiffin's offense has been so successful in the short passing game. He loves the jet sweep pass which I'll get into in a sec, but he also loves to run a play action fake with a slot receiver or tight end coming across the LOS to run a flat route right at or behind the LOS. I mention this because both UConn and SC St ran this play numerous time against UCF and off the top of my head I don't believe they stopped it once.
Onto the jet sweep pass, or a pop pass, whatever you want to call it. It's really just a glorified run play.
FAU has run 99 designed pass plays this season that I've charted, 13 of them have been a jet sweep pass. That's a pretty significant amount in my opinion. However only 6 of them have been successful.
All 13 have been thrown to their 2 play making receivers, Willie Wright and Jovon Durante. Willie Wright is one of my favorite players in college football and you can read about why in my FAU preview. Durante is new to Kiffin's offense this season, but he has quickly become the focal point.
He has a cool 28 targets in 3 games. Converting 17 of his 21 catches into successful plays. He has also been open 4 times on incompletions where Robison was inaccurate.
Durante has 142 YAC and has forced 7 missed tackles resulting in an extra 47 yards of offense. Tackling is something I'll get into in a little.
He is also an outstanding deep threat. He has been targeted on balls 21+ yards down field 6 times and he beat his defender on all 6. Robison only connected with him 3 times, but you better keep a safety over the top, which is something Richie Grant and Kyle Gibson did a great job of against SC State.
Devin Singletary is one of the best RB's in the country and UCF is going to need to contain him. Last season, Singletary forced a missed tackle every other rush. On his 54 carries this season that I've charted, he has forced 30!! That's good for an extra 131 yards rushing. He is also averaging right around 2.0 yards after contact.
As you can see, FAU's offense is very diverse. The easy thing to do as a defense is simply say let's focus on stopping the run. It sounds easy, but it's not because Singletary can beat you 1 on 3 and last season he actually got better when there were more people in the box.
Trying to stop the run, sets up a defense to be vulnerable against play action. FAU uses play action on half of their passing plays. On the 43 passes that involved a PA fake, FAU threw 23 successful passes. Well over 50%.
Against UConn, UCF faced a play action pass 15 times, allowing 9 completions for 110 yards. Good for 7.33 yards per attempt which is a pretty good amount.
For UCF's defense, they have to be able to get pressure without blitzing. It's happened only 7 times to FAU this season and only 1 of them have resulted in a successful play. The 8 times they faced pressure on a blitz, they've turned 6 of them into successful plays. UCF didn't blitz much vs. UConn and Shannon is known not to Blitz much. This is a good start, but they need to create pressure.
An area UCF can look to attack to generate pressure is the left side of the line. On 24 plays where FAU allowed a run disruption or QB hurry, 17 of them have been allowed by the C, LG, and LT.
Red Zone scoring is going to be huge in this one. Field goals are not going to cut it and should be looked at as turnovers with a participation trophy. Just off watching the games, FAU struggled to score TD's in the red zone. Now I'm going to look at the data and see if it's true.
They've run 30 plays in the red zone. 14 have been successful, not great considering how good their offense is outside of the red zone. They are 9 of 19 in terms of success rate on rushes and 5 of 11 on passes. They just need to be better on Friday.
UCF only faced 10 red zone plays vs. UConn and allowed a 50% success rate (3 rushes, 2 passes). There is no glaring advantage to either side here as the data is limited with only a few games played by each team, but it is definitely going to be a major factor in the result of this game.
The biggest thing I'm looking at is tackling. Against UConn, UCF allowed 127 yards on 28 missed tackles. I've mentioned Durante's and Singletary's ability to force missed tackles, Willie Wright is also in a category with them. If UCF struggles to tackle, it could be a long Knight (pun intended) for UCF.
Summary FAU O vs. UCF D:
-Attack Nevelle Clarke downfield, stay away from Brandon Moore.
-If I was UCF, I'd shadow Durante with Moore or always leave a safety over the top.
-Get Harrison Bryant involved as much as possible. Bryant is really good and UCF struggled against Tight Ends vs. UConn.
-Don't allow short passes to turn into big plays. FAU loves jet sweep passes, don't allow these to turn into big plays when they are an opportunity to put the offense behind the chains.
-Don't bite on play action.
-Get pressure without blitzing.
-Tackle (obvious, but true.)
-Win the battle of the red zone.
UCF Offense vs. FAU defense:
I don't really know much about UCF's offense yet. I really would've liked to see the how they did against UNC, but well we didn't. SC St is a horrible FCS school and UConn has allowed over 9.5 yards per PLAY this season so it's really hard to get a grasp on it. Milton looked unreal week 1 and seemed to overlook SC St week 2.
If there is one thing for sure with the offense, the rushing attack is legit. I'm going to go off this more of FAU's defense than UCF's offense because I'm a little more confident in that.
FAU's defense is an interesting one. They are really good, but Oklahoma lit them up. Now, Kyler Murray is the best QB in the country and is better than Baker Mayfield and if you want to argue that, you're wrong. CeeDee Lamb and Marquies Brown are two of the best receivers in the country and Rodney Anderson was one of the best RB's in the country before he got hurt. It' s impossible to judge FAU's defense off that one game and it just wouldn't be fair.
Early down rushing is something I think UCF needs to do more of.
Against SC State, UCF was 14 for 25 on rushing attempts on first and second down. They produced 6.76 YPC on these attempts. Against UConn, they had 29 such attempts, 20!!!! Of them were successful and produced 8.76 YPC. Just insane numbers. Look, Milton is one of the best QB's in the country, but that doesn't mean throwing the ball every play is the right move. Running early, allows for short yard 3rd downs and a more tired defense. When you run as successful as UCF has been, it sets you up for play action passing. Milton completed 12 of his 18 PA passes for 13.58 yards per attempt vs UConn and 18 of 34 for 12.33 yards per attempt against SC State. UCF needs to use the run game more than they have been.
FAU has faced 11 play action passes that I've charted, 7 resulted in successful plays.
Another thing UCF needs to get back to this week is allowing Milton to use his feet. FAU has faced 5 QB rushes/scrambles allowing an 80% success rate and 9.8 YPC.
Last season, Milton led the nation in deep passing, this season, he was incredible against UConn and awful against SC State in this category. Well, he has a chance to get back on track as FAU has allowed a 75% success rate on deep passes. Kyler Murray and his receivers are a slightly above core than what UCF has, but I'd take Milton to Nixon/Snelson/Davis over a lot of groups in the country.
Let's now look at FAU's D-backs and kind of see who UCF should throw at. I feel bad and this is poor on my part for not using names, but I charted just using numbers and I'm on the plane without WiFi so I can't look them up.
#3 has been thrown at 8 times, only 3 have been completed. He's allowed 2,15,0 yards before contact, and 0,0,3 yards after contact on those receptions. 6 of these targets came 10 or more yards down field.
#9 has been targeted 3 times and all 3 have been successful.
#23 has been targeted twice on passes over 20 yards, both were completed. Definitely a guy to look at attacking down the field for Milton.
FAU has blitzed 16 of the 61 plays I charted, they have allowed 10 successful plays on those.
UCF has faced 9 blitzes on pass plays, turning 5 of those into successful plays. 4 completed passes on 8 attempts averaging about 10 yards per attempt. Milton has also scrambled once for 7 yards against the blitz.
FAU seems to be an aggressive defense blitzing over 25% of plays and it's something UCF should be able to take advantage of with a strong offensive line and a mobile quarterback who is extremely good at throwing on the run and improvising.
I mentioned UCF had a problem with missing tackles and FAU is no different. On 61 plays, FAU missed 27 tackles accounting for 218 yards of offense. Oklahoma has elite skill players, but UCF's skill players aren't too far behind in terms of talent.
Tackling for both teams is going to be a major thing to watch in this one.
It's so hard to really break down UCF's offense under Heupel and I wish this game was later in the season so I had some more data because I'm really looking forward to this game. I also think UCF could have benefited from getting more game reps and comfortability in with the new offense.
It should be an extremely entertaining game Friday night. Both offenses have ways to attack these defenses, we'll see which Coach did their homework this week.