UCF extended their winning streak to 16 games while improving to 3-0 in 2018 with a convincing win over Lane Kiffin and Florida Atlantic. There were a lot of positives in this game and not many negatives, but we'll take a look at everything using analytics and advanced stats from the game.
Josh Heupel now has 3 games under his belt and there are certainly some things that I wish he'd use more of on the offensive end, but he has impressed me thus far in terms of using his personnel wisely after what I saw him do at Missouri which had me nervous heading into the season.
It's also nice having one of the best quarterbacks in the country in McKenzie Milton and we'll jump into his numbers right away.
Now, it's very clear Heupel limited Milton against SC State and really didn't want him doing much, which makes me just question why not play Darriel Mack and get him some reps with the 1's.
Milton performed nicely against FAU. It wasn't his best game throwing the football, but it certainly wasn't a bad one.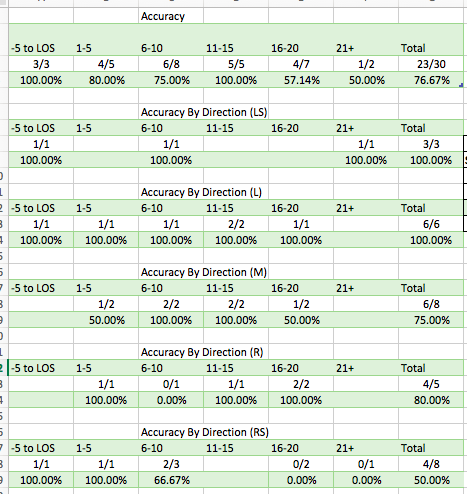 Milton threw 30 balls, not including passes thrown away. 23 of them were accurate passes. He only took 2 deep shots this week, which is a little less than normal, for both this season as well as his downfield passes from last season. One pass was completed and the other he missed an open receiver, but I'll take 1 out of 2 deep ball completions any day of the week.
Where Milton really excelled was on intermediate passes. Balls thrown 11-20 yards down field, he was 9/12 in terms of accuracy. Just an overall solid game for McKenzie.
I mentioned in my preview, that UCF needed take advantage of FAU's defense when they blitz. Well, UCF did just that.

Milton faced 7 blitz' and completed 5 passes, all for successful plays.
However, Milton struggled when he faced pressure that came from 3 or 4 man rushes. FAU kind of ran a QB contain with the front 3/4 and played zone with the remaining 7/8 guys. Milton struggled here when he had to hold onto the ball longer than he wanted to.

He only completed one pass in the above situation on 7 pass attempts. He did have a successful scramble on top of that one completion, but this is definitely something to look at going forward.
Milton faced a decent amount of pressure and there were a few run disruptions allowed.
There were 11 plays the above occurred. Jordan Johnson uncharacteristically allowed 6 of them. He's been amazing for this O-Line so I'm going to chalk this up as a down game for the Center. With his attitude and confidence I don't think it is a concern.
Adrian Killins also allowed 2 pressures while pass blocking. Tyler Hudanick had 2 allowed as well and Wyatt Miller and Jake Brown each had 1.
The thing Heupel didn't allow Milton to do against SC St was use his legs. I think Milton's running ability is the single most dangerous weapon for the offense and we saw this against Auburn, the best team UCF has played during their 16 game win streak.
I broke down Milton's rushes by QB draws, Read Options, and scrambles.

He had 10 designed runs. 8 of them were successful plays and he gained over 7 YPC. He also is extremely good at making people miss. He forced 5 missed tackles on those 10 attempts and that's including rushes where he gives himself up early to avoid a hit.
It was nice to see Milton allowed to be Milton again and the offensive production certainly showed it.
Personnel Usage:
This is something I'll be anxious to see every single game. If you have read anything I've wrote about UCF heading into this season, personnel grouping was my biggest concern. Heupel is almost there, but he just needs to flip his numbers a little more.

"11" personnel is still his most used, but he is starting to get out of his comfort zone and I'm loving it.
Otis Anderson was on the field for every snap run in either "20" or "21" personnel. UCF had a 71.88% success rate on those plays. That is… well, pretty damn good. Otis might not be getting the touches that he wants, or that I think he should get, but his impact on the game is much larger than only when he has the ball in his hands.
UCF ran "10" personnel 5 times. These 5 plays, Marlon Williams was on the field in my ideal Marlon Williams should be UCF's tight end situation. All 5 of these plays were successful and Marlon himself continued his outstanding production for UCF turning both his targets into successful plays and forcing a missed tackle to get in the endzone.
At times, it's almost like some of the stuff that I say, makes sense. Crazy world.
Run Game:
A lot of people are unhappy with the run game and they're just wrong to put it nicely.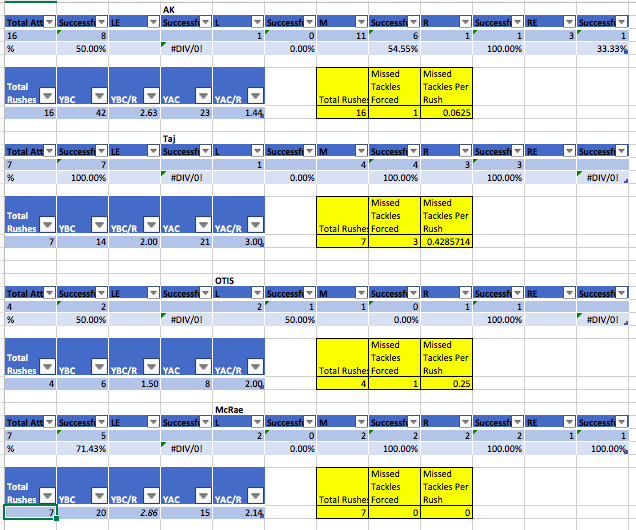 Runs up the middle were successful 12 out of 18 times, good for a 66.67% success rate. AK, although I don't agree with him being a bell cow, had a 54% success rate up the middle.
McGowan and McRae need to get more carries it's that simple. They both have been beasts all season. Against FAU, TAJ was 7 for 7 on his rushes while gaining 3 ypc after contact.
McRae was 5 for 7 in terms of successful runs on his attempts.
The discrepancy in carries does not equate to the production in the backfield and I hope that is something changed moving forward.
Early Down Success:
This goes along with my point that people who are saying the runs up the middle aren't working. As shown above, almost all of UCF's rushes are up the middle.

UCF ran 67 plays on 1st or 2nd down. They ran the ball on 39 of those plays. 29 of them were successful and they averaged 7 yards per carry. That is good, not bad. Now, they were 18/28 on pass attempts on early downs as well and actually gained more yards per attempts through the air than on the ground.
UCF is rushing at such a high success rate and averaging an exceptional amount of yards per carry, people diminishing this are crazy.
The better part about averaging 7 ypc here, is that UCF didn't even have any crazy long rushes to skew the average, it is a true average.
It was nice to see Michael Colubiale replicate what he did last season in his limited action. He did have a drop, but it wouldn't have resulted in a successful play either way.
He had 6 successful plays on his 8 targets. His 2 that were unsuccessful were when he was lined up as a true tight end. His 6 successful targets were when he was split out wide. I think this is something important to note and focus on as we see how his role grows through the season.
Overall, the offense was very good and Heupel's clock management in the 4th quarter was outstanding.
The few things I'd like to see different are more Marlon Williams in "10" or "20" personnel, more plays run out of "20" and "21" personnel than "11" and "12", and getting Taj and McRae more involved in the run game.
Defense:
Besides the missed tackles, I actually think the defense played really good. FAU was only successful on 34 of their 75 plays (45.33%). Now look at the success rates I just posted for UCF's offense and tell me that isn't good.
Tackling:
Tackling was bad against UConn, tackling was really bad against FAU. I actually charted the same exact amount of missed tackles in both games, but FAU had 11 less plays of a sample size. FAU also turned their forced missed tackles into 80 yards more than UConn.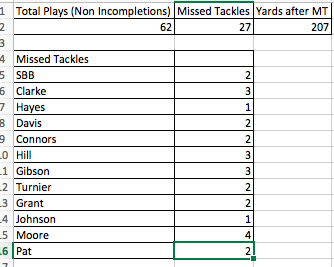 207 extra yards on 27 missed tackles just can't happen. Those 34 successful plays FAU had could've easily been cut down to 25. I get it, Devin Singletary is really good, I've done plenty of charting on him and know more than anyone what he can do. He wasn't the only one making guys miss though so that is not an excuse.
Run Defense:

FAU dominated UCF when they ran to the outside. 20 for 34 successful plays on outside rushes. Compared to all of FAU's other plays, that is crazy high.UCF did well against the run with 7 in the box and didn't do horrible with 6. Against better passing teams, 6 in the box is going to have to get the job done.
Pass Defense:
UCF was incredible in coverage. Brandon Moore is turning himself into the next Mike Hughes, minus the hands. Moore dropped two interceptions against FAU, but that's alright.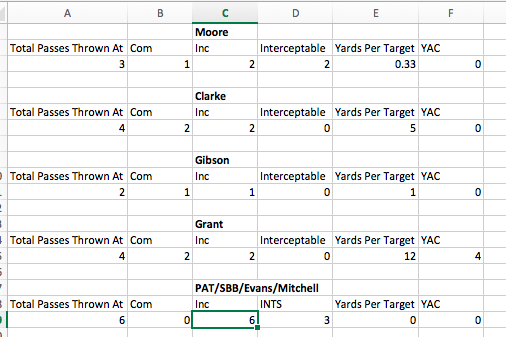 Moore was targeted 3 times. He allowed 1 catch. It went for -1 yard. That should be a -.33 yards per target not a positive. His other two targets, he dropped an interception. This is a guy who is on the field for every pass.
Along with Moore, Clarke is on the field ever pass as well. He did pretty good too. 2 catches on 4 targets that went for a total of 20 yards, but he didn't allow any yards after the catch.
Safety play in coverage has been great all season and it was again despite a couple of deep balls on Richie Grant, but that will happen against speedsters like Durante and Willie Wright.
Now, the linebackers in coverage were sensational. They were targeted 6 times, didn't allow a single catch and recorded 3 interceptions. You can't get better than that.
The limited yards after catch allowed is something that stands out to me and that is a major positive.
Defensive Pressure
In my preview I said UCF had to get pressure without blitzing. They did so 9 times. Those 9 passes, 3 interceptions, 5 incompletions, and 1 completion. UCF only blitzed 3 times and based on those numbers, you can see why. When you have coverage as good as UCF has, you don't need to blitz.
This was a great performance by UCF. I don't think the 36 points allowed really shows how good the defense played. They need to continue to improve their tackling and work on forcing outside rushes inside, and this defense will be in some serious business.
I'm looking forward to UCF putting up back to back positive showings on both sides of the ball in this Pitt game. Many people are looking forward to it and I think UCF should dominate both sides of the ball in this one.
The FAU performance showed a lot of promise and people who don't think so, need to look at some of the real numbers. Box scores never tell the true story.