Lane Kiffin turned Florida Atlantic into one of the most talked about teams in the country in a single season. Kiffin led the Owls to an 11-3 campaign in 2017 including a C-USA championship and a 10 game winning streak to end the season. Not many people knew what to expect from FAU in 2017. Now, in 2018, Kiffin has hype to live up to as the Owls are one of the best group of 5 schools heading into the season.
Using analytics and situational analysis, I took a look at FAU's offensive dominance in 2017 and why I expect their offense to be even better in 2018 despite losing their starting quarterback.
As a heads up, I was only able to chart 8 of 14 games due to not having access to the other 6 videos. Dug myself to far into the season before I realized this, but I have games from the beginning, middle, and end of the season, so I feel the data is pretty reliable.
The big things I wanted to look at with FAU's offense is personnel usage, Devin Singletary, Willie Wright, Harrison Bryant, and why losing Jason Driskel might be a blessing in disguise for the Owls.
Personnel:
The first thing, I like to look at when studying an offense is personnel usage. I believe using multiple personnel's is the best way to create matchup problems against the defense. Joe Moorhead the new coach at Mississippi State and one of the best offensive minds in college football, believes using "11" personnel (1 RB, 1 TE, 3 WR) is the best way to attack  defense because it allows you to have your best players on the field at all times. I won't argue against this as he clearly knows a lot more than me, but coaches are very successful both ways.
Let's take a look at Kiffin's personnel usage:

About 69% of plays were run out "11" personnel, the most popular personnel in modern day football.  "10: and "12" personnel were the other two used greater than 10% of plays. Out of "12" personnel, FAU had a 63% success rate, compared to 53% out of "11" which is still very good, but "12" personnel is clearly where they thrived. As a run first team, with one of, if not the best running back in the country, this is no surprise to me, and I'll explain why in a little.
FAU really struggled in "10" personnel, having just a 37% success rate. I will explain my thoughts on the reasoning behind that in a little as well.
Offensive Line:
FAU started the same offensive line for all 14 games in 2017, but only two of those starters return this season. However a couple of players return from 2017 injuries who should be able to fill the vacated positions. This is a line that dominated in 2017 and losing 3 starters should be a little concern, but I don't believe it will affect this offense.
Devin Singletary:
Devin Singletary absolutely dominated in 2017 and deserves all the hype and Heisman talk he is getting heading into 2018. To be honest, I never watched him closely until I started this project and he is the real deal.

I charted 169 rushes for Singletary. He had a 58.58% success rate on those rushes which is unbelievable. Of his 169 rushes, only 58 of them went outside the ends. This tells me he doesn't try to bounce everything outside and that he loves hitting the hole at full speed. Running between the tackles he was successful on 69 of his 111 rushes.

Singletary only averages 2.83 yards before contact, but bullied tacklers. 3.16 yards per rush after contact is good stuff. A major reason why I think Singletary outweighs the offensive line losses.
Another reason? His ability to create positive yards when contacted at or behind the LOS.

52 of his 169 (30.77%) of his rushes, he was hit at or behind the LOS. He still averaged 2.54 yards after contact on those rushes. For reference, Saquon Barkely, the #2 pick in the NFL Draft, averaged 0.47 YAC on the same type of rushes.
Singletary forced 78 missed tackled on his 169 rushes. About 1 every other rush.
So stopping Singletary has an easy solution, stack the box. Wrong.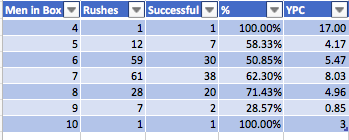 Against a 7 man box, pretty much the most you can put in there against "11" personnel, Singletary had a 62% success rate and averaged  8.03 YPC. Throwing another guy in the box to should help slow down the run game. Not against Singletary, he posted a cool 71.43% success rate against 8 man boxes, however his YPC did drop significantly.
9 and 10 man boxes are unrealistic against Lane Kiffin's offense unless it is a goaline situation as all 8 of those carries were.
I mentioned personnel before. Here are Singletary's numbers based on personnel usage:

If you give Singletary more big bodies to block, he's going to have success. A tight end in the game corresponds to Singletary being the best he can. Good thing for FAU, their top two tight ends return and I'll talk about one of them in a little bit.
If there is a weakness in Singletary's game, it would be his receiving. He doesn't have bad hands as he reeled in 13 out 13 catchable targets, but only 5 of his 18 targets were successful plays. It's something to look at during the 2018 season to see how this will improve with in my opinion a better QB option.
The Loss of Jason Driskel:
It's hard to say that Driskel leaving is a good thing for FAU, but I truthfully think it is and they don't even have a starting QB named yet. Regardless if it is Chris Robison or De'Andre Johnson, there is an upgrade at talent.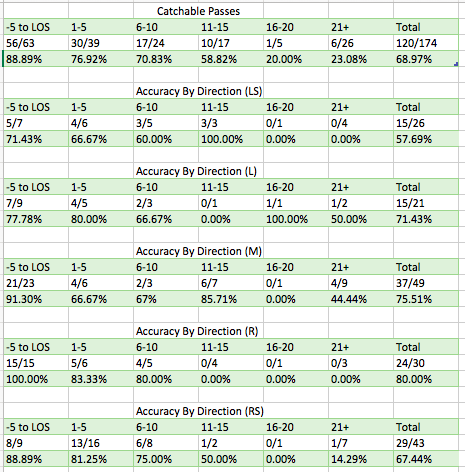 Looking at Driskel's passing, 102 of his 174 (58.62%) were thrown behind the LOS-5 yards in the air. He had 31 attempts on balls thrown 16+ yards down the field and only 7 of those were catchable. Of those 31 attempts, 9 of them were also interceptable passes.
Looking at his numbers, it is clear Kiffin felt most comfortable with Driskel throwing screens and short passes to his throwing arm side.
Decision making is a huge part of the RPO offense and that is something Driskel excelled at. Because of this, he had great success running the ball on option keeps despite not being the most athletic quarterback.
With Kiffin's track record coaching quarterbacks, I have confidence he'll have his starting QB making the right decisions and not forcing anything.
The main reason I think having a more talented throwing QB will benefit the Owls is because of Devin Singletary. Singletary forces the defense to play 7 in the box which allows one on one's across the field.

If you look at how FAU fared depending on how many men in the box, they struggled to throw the ball against 5 guys in the secondary. Just 41 out of 116 passes were successful. When teams tried to load up to stop the run, Driskel was able to make plays due to his decision making and Kiffin's offensive schemes.
Receiving:
FAU didn't have any dominant receivers last season due in large part their lack of ability to throw the ball downfield. Kaleb Woods emerged as a threat once he returned from suspension and Kamrin Solomon also was a reliable target, but their departures don't worry me because of Willie Wright. Wright was phenomenal last season.

Wright caught 37 of his 55 targets and had just 2 drops. He also had 7 inaccurate balls thrown his way on plays he was open. Wright is lightning quick and lethal in the open field. Kiffin used him exactly how he should. He had 25 targets behind the LOS mostly all pop passes, just an extension of the run game really. Of those 25, he turned 20 of them into successful plays producing over 11 yards aver the reception.
Another key returner for the Owls, is tight end Harrison Bryant. He is critical in the run game, but he's a fantastic receiver as well.

17 of his 23 targets were successful plays. Not many tight ends in the country, if any, can say that. Bryant benefited a lot from Kiffin's offensive schemes and teams biting on play action, but regardless his numbers are impressive and he is key to FAU's success.
Play Calling:
Not many things to point out here. One thing I am confused about is Kiffin's play calling deep in his own territory.

With one of the best RB's in the country and a clear run first offense, FAU when backed up only ran the ball 25 out of 57 times. With a 50% success rate compared to around a 40% rate when they dropped back for a pass. Every other area on the field, FAU ran the ball more than they threw, except for where you would expect them to be a little more conservative.
A positive:

1st down success tends to correlate to putting points on the board and FAU thrived on first down. They posted a 62% rate on rushes and a 56% success rate on passes. Getting ahead of the chains is critical when you are a run first team.
This shows when looking at FAU's success rate when failing to gain significant yards on 1st or 2nd down. On 2nd down and 8+ yards to go, they were just successful on 26 of 81 plays and only 13 of 41 passes. A typical passing situation. On 3rd down and 4+ yards to go, they were only successful on 21 of 84 plays. 12 out of 51 passes in those situations as well.
When struggling to throw the ball in obvious pass situations, it's hard to beat teams that can match your talent and speed. Having a QB like Robison or Johnson this season will help FAU keep drives alive that they weren't able to last season. Against Oklahoma and UCF this will be critical early on.
Recap:
What Lane Kiffin did in 2017 was remarkable and there is no reason to think it was a one year thing. With their 3 most significant skill guys; Singletary, Wright, and Bryant all returning this season FAU will be better than they were in 2017.
With the departure of Driskel, the passing game should open up a little bit more than last season and that just means bad things for defenses.
Singletary can run against however many guys you want to put in the box and if you can't stop him with 6 in the box this season, it is going to be a long, long season for opposing defenses.